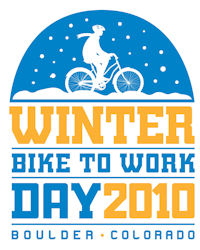 People bike to work in all kinds of weather, but not everyone thinks of winter as bicycle commuting season. But as this round-up of Winter Bike To Work Days in Kansas and neighboring states proves, you really can ride your bike all year long!
On Wednesday, December 16th, Fort Collins, Colorado held their third annual Winter Bike to Work Day:
"It's events like these that keep our local bike culture thriving," said Dave "DK" Kemp, the city's bicycle coordinator. "Some people, at first, thought we were crazy for hosting a Winter Bike to Work Day, but once they gave it a go, they realized how easy and fun it is to do."
On January 20, 2010, Boulder, Colorado will hold their second annual Winter Bike to Work Day. At least 733 people registered for last year's event, which city officials said was aimed at raising awareness about year-round cycling.
And not to be outdone, cyclist in Wichita, Kansas are also holding a Winter Bike To Work Day on January 20, 2010:
Boulder is having a Winter Bike to Work day, so we thought it was a good enough reason to get Wichitans back in the saddle. Yes, it will be cold, but that's part of the fun. Just bundle up! If we have enough interest, maybe we can talk a downtown area bike shop/or restaurant into providing a rally point for some hot-chocolate to warm up!
Learn more: Boulder, Fort Collins, Wichita
Here's a presentation from Boulder on Winter Bicycling Tips & Techniques:
Are there any other cities in the region holding Winter Bike To Work Days?