From the Coasters Bicycle Club, news of a bicycle swap meet on April 25th hear Wichita: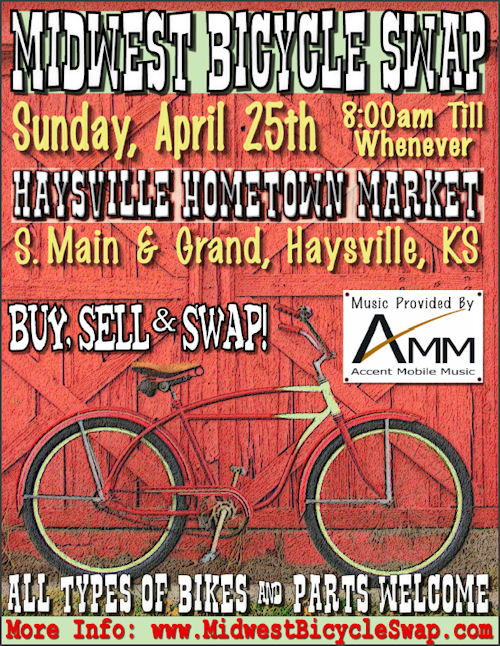 Where: Haysville Hometown Market @ S. Main and Grand, Haysville, Kansas.
When: Sunday, April 25th. 8:00am till whenever. Vendor setup 7:00am.
All types of bikes, parts, bicycle related clothing, memorabilia etc.
Music by Accent Mobile Music.
Bring a bike to ride, and enjoy the Haysville Hike and Bike Path. The Haysville Hometown Market is part of the Hay's Village Historic Park.
Vendors:
This swap is open to vendors wanting to sell any kind of bicycles, parts, memorabilia etc… Antique, Road, BMX, MTB — it's all welcome. Bring your own tables and chairs. Bring change. Pavilion Booths are $5 and have electricity, concrete floor and need to be reserved. All other spots are free and on a first come basis.
Learn more at midwestbicycleswap.com