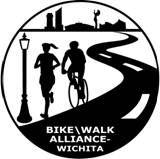 The Bike/Walk Alliance-Wichita, along with the Wichita Area Metropolitan Transportation Planning Organization, and the Kansas Department of Transportation, is hosting a Navigating MAP-21 Workshop on April 4th in Wichita.
The workshop is intended to help bike/ped advocates, government agency staff, and elected officials learn about dealing with MAP-21, the "Moving Ahead for Progress in the 21st Century Act", the new national transportation bill that significantly changes the landscape for funding bike/ped infrastructure. MAP-21 has reduced the amount of money available for bike/ped, and has changed how that money is apportioned.
During the workshop, participants will:
Learn how to utilize all MAP-21 funding programs for bicycle and pedestrian projects
Learn how to use the new Transportation Alternatives (TA) program, as well as the program's key characteristics and requirements
Understand the important roles advocates, agency staff, and elected officials play in securing funding
Share knowledge and experiences in a local context, working together to develop local priorities for funding bicycle and pedestrian projects.
The workshop is being conducted by Advocacy Advance, a partnership between the Alliance for Biking & Walking and the League of American Bicyclists to "boost local and state bicycle and pedestrian advocacy efforts".
The workshop is offered at no cost to attendees, and a lunch and light refreshments will be provided.
The workshop takes place at the Downtown YMCA, 402 N. Market, in Wichita, KS on April 4, 2013, from 8:30am to 3:30pm.
Although the workshop is free, you do need to register at advocacyadvance.org.
If you have any questions about the workshop, or need further assistance or special accommodations of any kind, please don't hesitate to contact Barry Carroll with the Bike\Walk Alliance – Wichita at barrycarr@aol.com or 316.249.2804.
Here is the flyer for the event: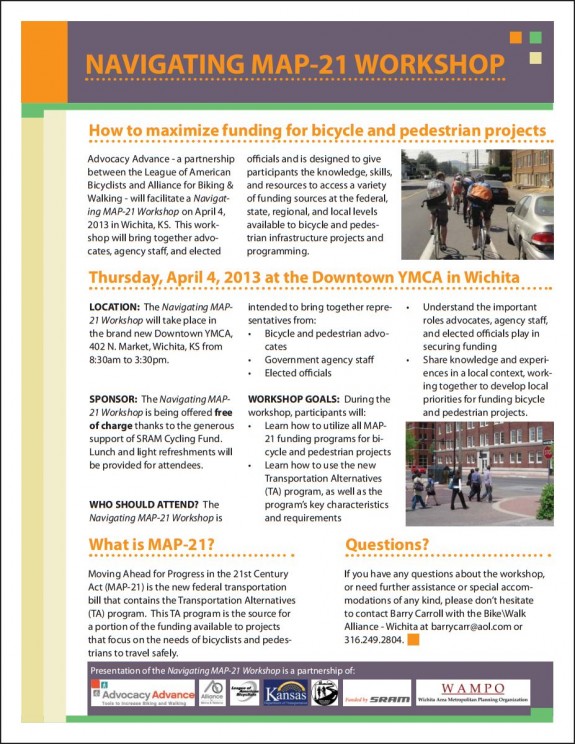 If you're an advocate for bicycling and walking in your community, please consider attending this free workshop, and please invite your local city and county officials.
This Wichita workshop is a great opportunity for all of use to learn more about this important funding mechanism. Don't miss it!
If you're unable to attend the April 4th workshop, consider attending one of the other Navigating MAP-21 Workshops around the country, including July 18th in Northwest Arkansas, and October 17th in Omaha, Nebraska.