Late last week, I was in Wichita for the Navigating MAP-21 Workshop, hosted by Bike Walk Wichita (which recently changed their name from "Bike/Walk Alliance-Wichita"), and took the opportunity to explore a bit of the city by bike.
Here's my report from the trip … feel free to ride along!
The Workshop
The workshop was led by Brighid O'Keane of the Alliance for Biking and Walking and Darren Flusche, Policy Director for the League of American Bicyclists. Peter Lagerwey, who spent over 27 years managing bike/ped projects and programs for Seattle, and who now works as private consultant, was the featured speaker. Peter consulted with the city of Wichita on their recently-approved Bicycle Master Plan.
It was a packed room at the Downtown YMCA, with over 50 participants, including city staff from Wichita and surrounding communities (and from around the state), KDOT staff, including Kansas Bicycle and Pedestrian Coordinator Becky Pepper, staff from WAMPO (the Wichita Area Metropolitan Transportation Planning Organization), and advocates from around the area and the state, including Bike Walk Wichita, Prairie Travelers, and KanBikeWalk. Three Wichita City Council members, Pete Meitzner, Janet Miller, and LaVonta Williams, were also in attendance. Council Member Williams was the keynote speaker, and shared her vision for making Wichita more bicycle-friendly, and how the Bicycle Master Plan fits into that.
There was a great deal of information provided during the workshop, much of it very technical regarding securing funding through the various mechanisms in the federal transportation law. I'm still digesting the wealth of details, but my takeaway was this: While the merging of the former "Transportation Enhancements" and "Safe Routes to School" programs into a single "Transportation Alternatives" program has meant a reduction in the amount of funding for bike/ped projects, there is some increased flexibility on the state and local level, and there is additional funding available through related programs such as the "Highway Safety Improvement Program" (HSIP), the "Congestion Mitigation and Air Quality Improvement Program" (CMAQ), and the "Surface Transportation Program" (STP). All told, there are still numerous funding avenues for worthy bike/ped projects, though the competition among communities can be fierce.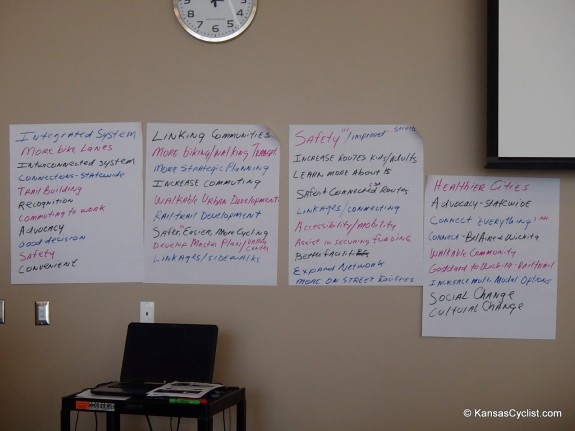 I didn't take a lot of photos at the workshop, but I thought this one was interesting. Participants were asked their vision for their community or their objective in attending the workshop, and it was an encouraging list: "more bike lanes", "trail building", "safety", "connecting communities", "better walkability", "increased bike commuting", and so on.
And remember, most of the people who said these things probably wouldn't describe themselves as "advocates" — they're city staff, planners, bureaucrats, politicians — yet they see the desire for biking and walking in their communities, and they recognize the need for building a transportation system that serves everyone.
Sometimes the people who advocate for biking and walking feel like their small voice can't possibly be heard or make a difference, that they're pushing against the immovable object of an auto-centric system that cares only about moving motorized traffic at the highest possible speed. And sometimes that's true.
But this list, produced primarily by non-advocates, indicates that the message is beginning to get through, that cities really are interested in active transportation (and recreation), and, just like us, are struggling to find a way to get it done.
I find that encouraging.
Exploring Downtown Wichita By Bike
It was late afternoon by the time the workshop wrapped up, and I had just a couple hours of light. I'd brought my bike, of course, so I took off for a little ramble through the downtown core (this was my route).
Big-city downtowns can sometimes be intimidating places to ride a bike, but I didn't find that to be the case in downtown Wichita. OK, it was after 5pm, so I missed the height of rush hour, but I had no trouble at all in getting around on any street. There was plenty of space, and traffic was not aggressive. It was quite easy.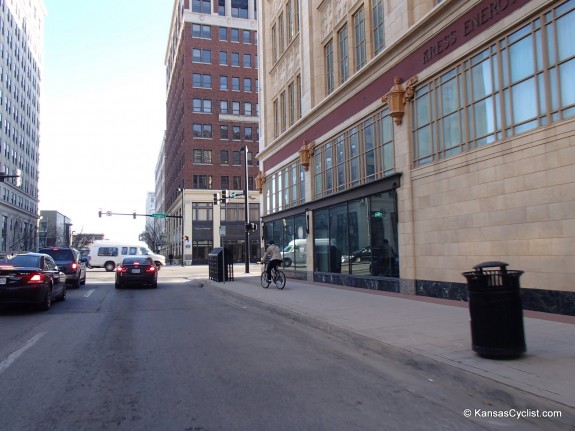 I rode down Broadway, which is one of the main corridors though the city. Traffic was slow, there was ample room, and it felt quite safe to ride on the street.
(Of course, not everyone agreed. I saw a number of sidewalk cyclists in downtown, even though riding bikes is prohibited sidewalks in the central business district.)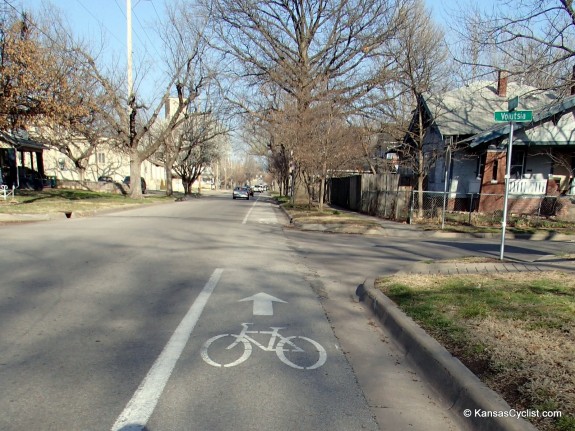 This is the 1st Street bike lane, headed east. There is one shared lane (or two, depending) and a bike lane that is wide and well-marked. It successfully avoids the gutter pan joint (unlike some, say, Olathe bike lanes).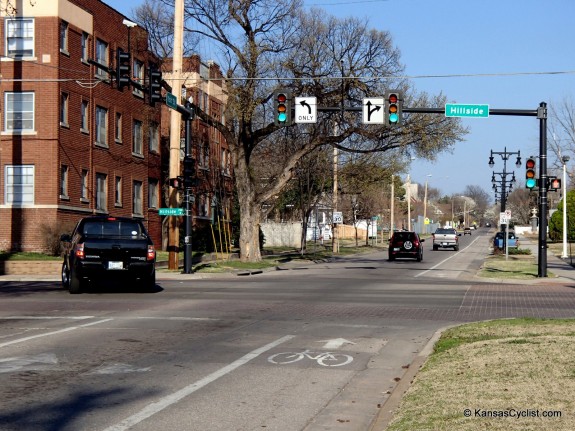 There are several intersections like this along the route, and their design is troubling.
In general, it's not a great idea to put a thru lane to the right of a right-turning shared lane. That's just asking for conflict. The trouble is easy enough to avoid (basically don't pull up alongside a vehicle, where you may be in the driver's blind spot, even if the bike lane leads you there), but it's a potential trap for inexperienced bicyclists.
It would be better if the facilities design didn't manufacture this potential conflict…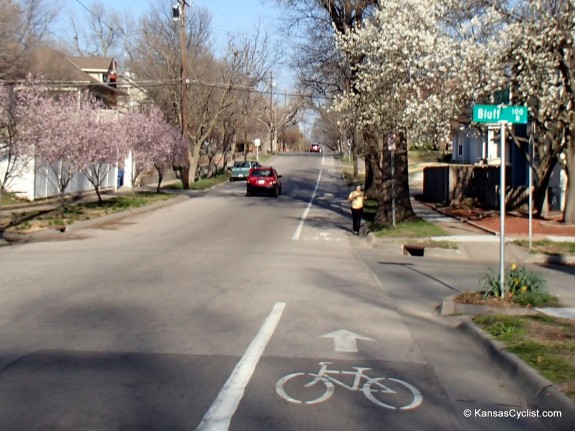 I saw a surprising number of joggers using the bike lanes, despite nearby traffic-free sidewalks. I even saw a cyclist riding the wrong way within the bike lane. Not sure what's up with that…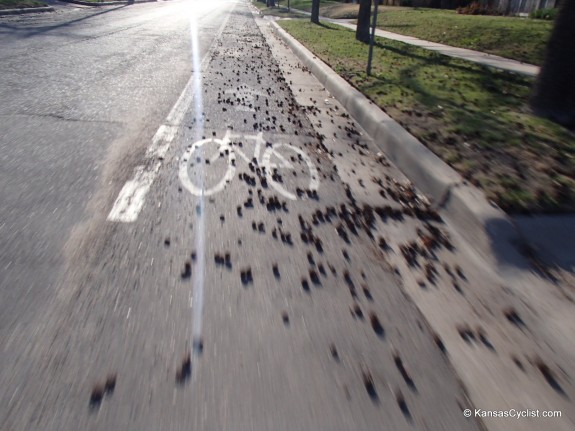 It's obvious that Wichita motorists are not driving in the bike lane, which is, of course, good, but it does leave some debris that can become a hazard to bicycle traffic. (sorry for the sun glare and blur)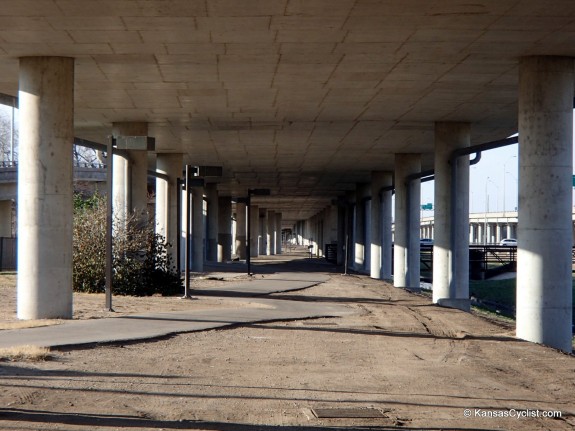 This is a multiuse path that winds beneath I-135. I didn't have a chance to follow it, but it's a good use of space (if not terribly attractive).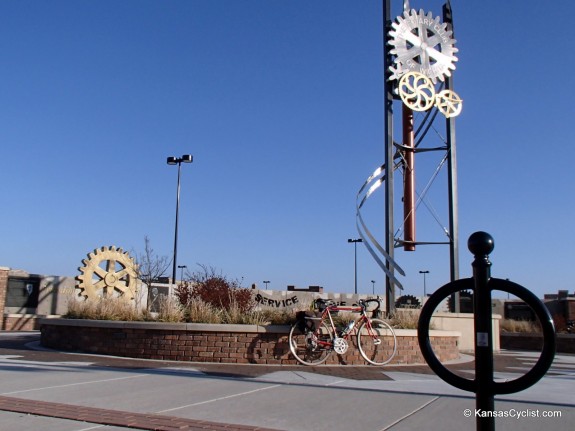 Downtown Wichita has a good number of high-quality on-street bike racks, on nearly every street. This one is on the Rotary Time Tower and Centennial Plaza.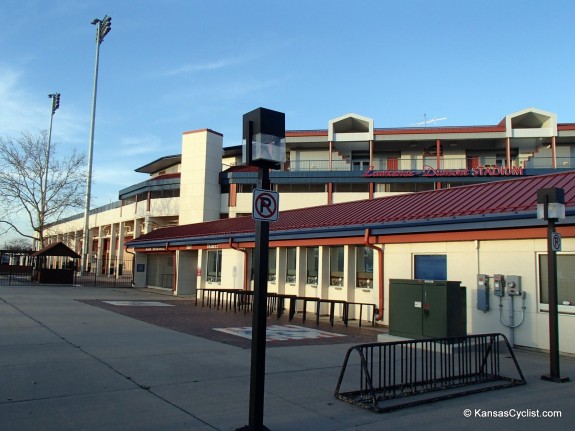 Lawrence-Dumont Stadium, home of the Wichita Wingnuts baseball team, has a bike rack right in front of the ticket windows. The wheel-bender is not the greatest design, but it's far better than the non-existent bicycle parking facilities at Kauffman Stadium in Kansas City, for instance.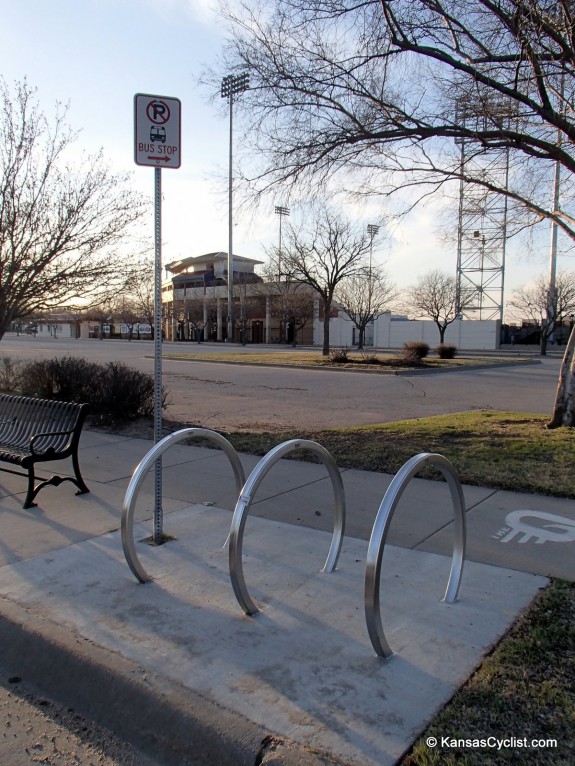 A much better (if less locationally secure) bike rack is available at the bus stop adjacent to the stadium. This rack features a sticker that says it was funded by a Tiger Grant via the American Recovery and Reinvestment Act (i.e. "stimulus funds"). Nice!
The historic Delano district of Wichita features bike racks that use the same basic design as the racks in downtown, yet are distinctive. An elegant touch!
These bikes were part of a group from the Coasters Bicycle Club, headed to their weekly Thursday Night Pub Pedal. Sorry I didn't get a chance to ride with you!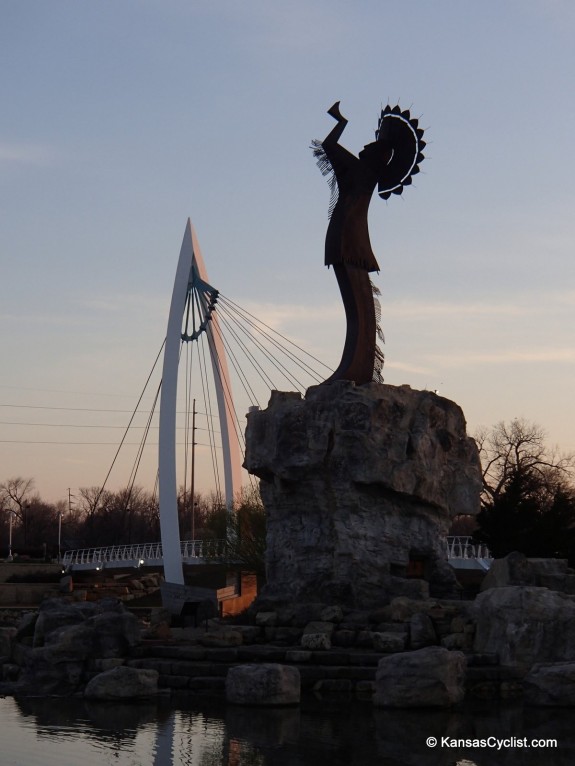 My bike tour of downtown Wichita ended near dusk on the multi-use path along the Arkansas River, and the iconic Keeper of the Plains statue at the confluence of the Arkansas and Little Arkansas Rivers. What a beautiful place to contemplate.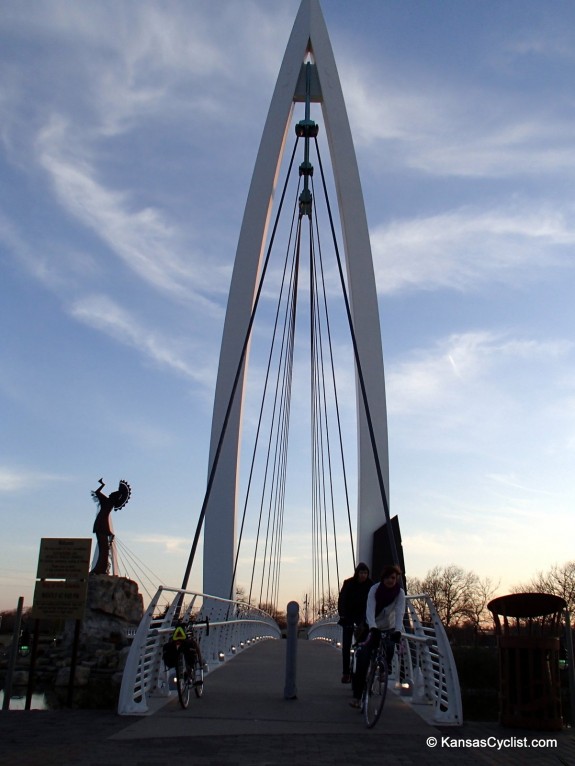 I wasn't the only cyclist enjoying the evening, with these two crossing the lovely bike/ped bridges as I set up my shots.
Camping at Santa Fe Lake
My plan was to camp overnight at Santa Fe Lake, just east of Wichita, near the town of Augusta.
It was well after dark when I arrived at the lake, and I was pleased to find the camp office still open, and I paid the modest cost for a permit ($5 vehicle fee + $4 primitive camping fee), found a likely spot along the western shore of the lake, and set up my tent in the dark.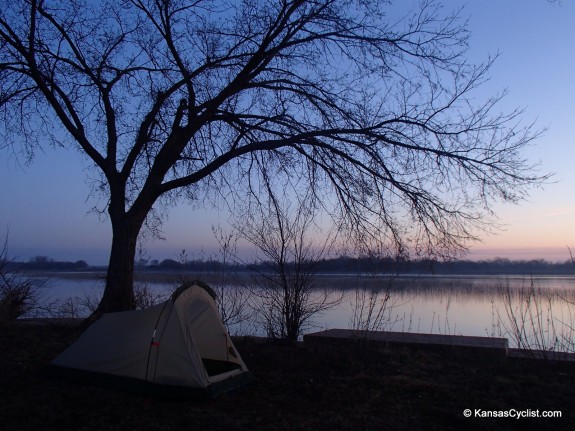 It was a cool night, but peaceful, and I was up just before dawn. This is my little tent, set up in the grass near an old dock landing.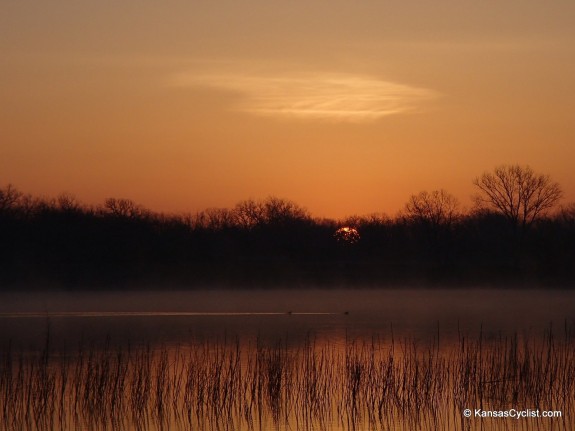 Sunrise over the lake was quite magnificent, with vapor rising off the water, and waterfowl swimming and hunting in the reeds. In this photo, the rising sun is just beginning to peek through the treeline.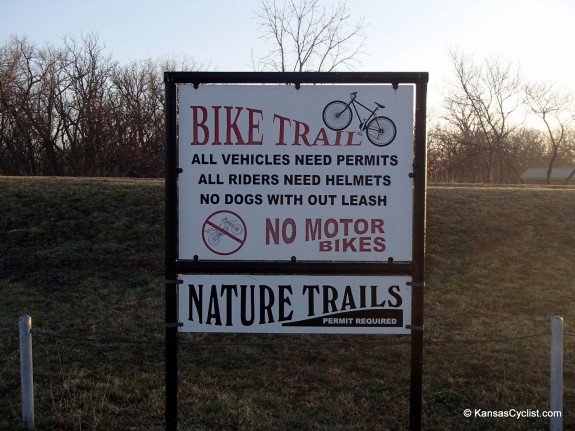 The Santa Fe Lake Trail is located on the eastern shore, adjacent to the lake dam. It was still a bit too wet to ride the trail, though I walked a few hundred yards of it, and found it promising.
More Exploring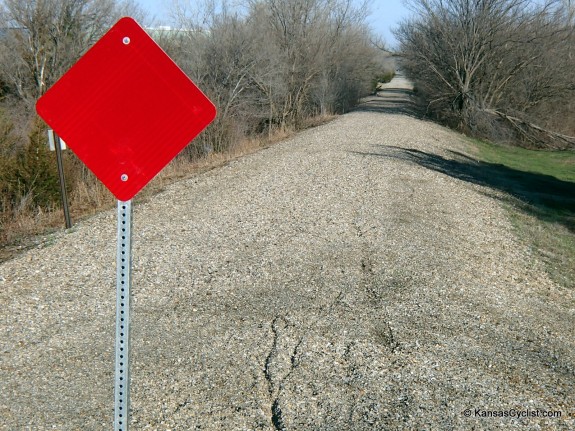 Once daylight broke, and I scrounged up some breakfast in Andover, I drove around until I found the local park, and a road that crossed the Redbud Trail, which is a rail-to-trail project that runs from Wichita east through Andover and on to Augusta. The trail is a work in progress, though this segment looks very close to finished. I tried riding the trail, but found the rock just too loose to support my road bike tires (you can see where I sunk in the foreground).
Back in Wichita, I paid a visit to some local shops, including Bicycle Pedaler, Heartland Bicycle, The Bicycle X-Change Shops, and Lee's Bike Shop.
It being Spring, the shops were quite busy with customers, and I appreciate the owners taking the time to talk with me and show me around their shops. It was interesting to see their setups and learn more about the scene. Next time I'm in town, I plan to hit up the other shops in Wichita!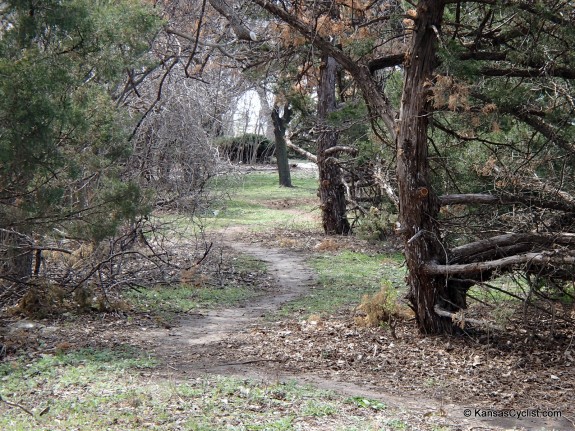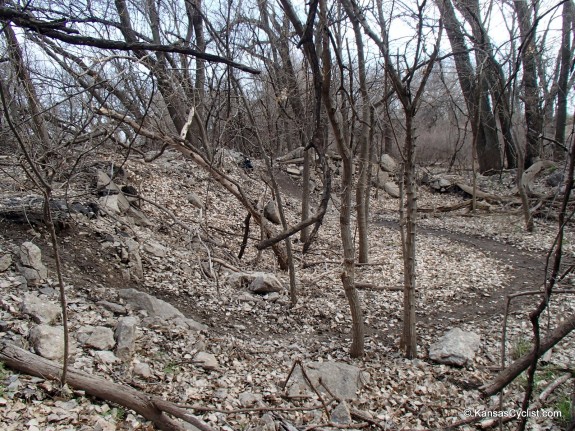 This is a short bit of the Air Capital Memorial Park Singletrack on the west side of Wichita. There are about 2 miles of trail here, looks like a lot of smooth and flowy trail, as well as a bunch of challenging trail with rocks, roots, and short but steep elevation changes. I didn't get a chance to ride the trails, but they look pretty sweet!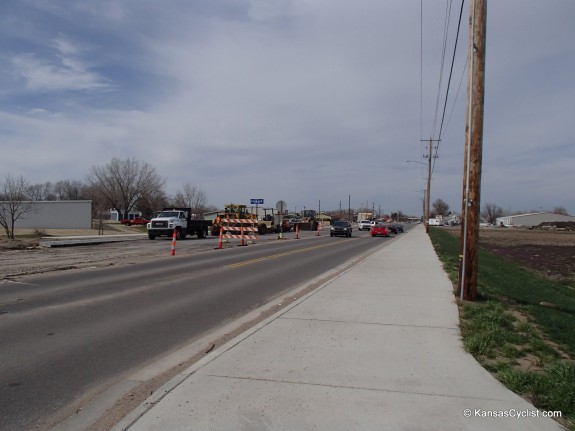 Driving north thru the town of Maize, I came across a road project, apparently turning a 2-lane road into a 5-lane Stroad, along with one of the least pleasant sidepaths I've ever encountered. There's room for 5 lanes of traffic, but not room for bike lanes, or at least a sidepath with some separation and landscaping, a place where someone would actually want to walk or ride? Yuck!
(The word Stroad "describes a street, er, road, built for high speed, but with multiple access points. Excessive width is a common feature. A common feature in suburbia, especially along commercial strips. Unsafe at any speed, their extreme width and straightness paradoxically induces speeding. Somewhat more neutral than synonymous traffic sewer.")
Wrapup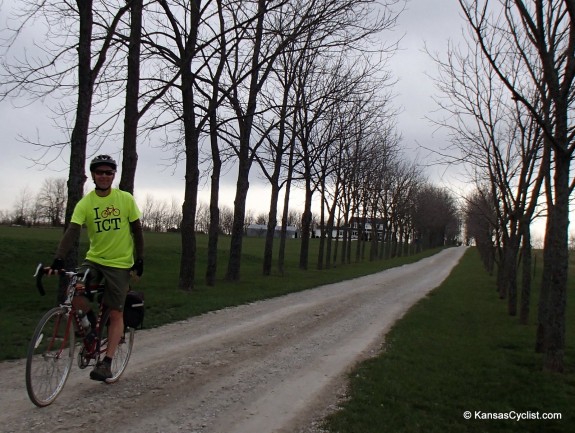 Back home (following a detour to Newton, that I hope to cover separately), I rocked the "I Bike ICT" shirt, courtesy of Patrick at The Bicycle X-Change Shops, on my local roads.
This is really the first time I've had a chance to bike much in Wichita (other than a short ride on the river trails a few years back), and I thoroughly enjoyed the trip, and appreciated the hospitality I found.
Wichita doesn't have the greatest reputation when it comes to bicycle friendliness, but that's not what I experienced. Downtown and the older parts of the city are pretty easy to traverse by bike, and I received no honks or shouts, even when controlling the lane.
The suburbs are, well, suburbs, and are likely not as bicycle-friendly, though I didn't get a chance ride there to see for myself (though I drove through several areas on both the east and west sides of the city.
I think Wichita is moving in the right direction. The Bicycle Master Plan is a huge positive development, assuming it leads to actual implementation — and there is every indication that it will.
I was asked, by several local cyclists, what I'd heard at the workshop, whether the mood among local leaders was positive or defeatist, if there were attitudes that "Wichita will never by bicycle friendly" that "All this bike plan business is a waste of time and money". I didn't hear, or sense, any of that. I heard only positive attitudes from leaders.
I did notice a lack of on-road cyclists, both in downtown and in the suburbs. I saw far more cyclists riding on paths and sidewalks. I think that will change as new on-road facilities come online, as people realize that it's possible (and safe! and easy! and fun! and healthy! and frugal!) to get around by bike. That sort of attitudinal change is a process, and takes time. But it's coming…
Hope to make it back soon, and ride more of the city!
Post tags: Bike Camping, Bike Lanes, Bike Racks, NewsBlog, Wichita