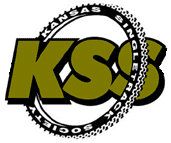 Trail news from Wichita and south-central Kansas, courtesy of the Kansas Singletrack Society's Aaron Santry:
I wanted to take a few minutes to let you know about several projects KSS has been involved over the past few months. This is how we spend your membership dues.

— Miller's Meadow: The trail was expanded to just over 5 miles last November. It is still rough and needs ridden in.

— Fall River: Terry and some volunteers have also expanded this trail as recently as last month.

— Air Cap Park: This new west side trail is a joint venture between Lee's Bike Shop, KSS, and the Wichita Park Dept. The trail has been cut and is currently being ridden, but has not been marked yet. The official opening ceremony is just a few weeks away. The trail is located at Seville and West Kellogg Drive, near Kellogg and Maize. Do not ride south of the trail into Pawnee Prairie Park

As a reminder, if you are interested in renewing your dues, April-May is when all memberships expire. Renewal information can be found here. For online, only the renewal option works.
The KSS has Facebook pages for the Air Capital Memorial Park Singletrack, Badger Creek Mountain Bike Trail, Camp Horizon Mountain Bike Trail, and Miller's Meadow, as well as the main Facebook page for the Kansas Singletrack Society.
It's great to see such an active trail-building club. If you live in the area, be sure to support them with your membership and your volunteer time!
Post tags: Bike Clubs, NewsBlog, Wichita