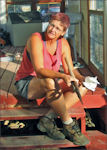 In 2006, the Adventure Cycling Association awarded Gillian Hoggard of Ordway, Colorado their June Curry Trail Angel Award. "Gillian provided food, drinks, a warm shower, and free lodging to bicyclists along Adventure Cycling's TransAmerica Bicycle Route, making her home a welcome oasis on the hot, dry, and windy high plains of eastern Colorado."
In 2008, much of the town of Ordway, including Gillian's home and property, was destroyed by fire. Gillian vowed to rebuild, and now she's done it:
I recently received notice that Gillian is back in the saddle again as a cyclists' only lodging host. In her note she tells me that she has "invested in a 30 foot trailer/caravan in English speak… for cyclists to use while enroute." No need to have her address to find the place when you arrive, "when they ask [for Gillian] in town it will work…small place…and many more now know of this stopover for cyclists…even with this 'prehistoric' method I still get tons of people."
Read more from the Adventure Cycling blog: Cyclists' Only Lodging: Ordway Trail Angel ready to serve again
Welcome back, Gillian!
Photo courtesy Craig Sternagel, via Biking Bis.