On May 22nd, Sara Kay Carrell started off from the Colorado/Kansas line on Kansas Highway 96 and began riding east on a Bacchetta Carbon Aero 2.0 recumbent. 28 hours and 27 minutes later, she reached the Missouri state line near Louisburg.
Once her ride is certified by the Ultra Marathon Cycling Association (UMCA), Sara Kay will hold another state record!
She already holds the south-to-north recumbent record, which she set in 2006, riding 229.5 miles in 12 hours and 18 minutes (an 18.66 MPH average speed). Sara Kay is also co-holder (with Gay Flax) of the south-to-north two-women recumbent team record of 229.5 miles in 10:34 (21.71 MPH average), achieved in 2007. This one will be the west-to-east women's record.
For this record attempt, she covered 417.5 miles at an average speed of 14.67 MPH. She left the Colorado border at 4:25pm on May 22nd, and arrived in Missouri at 8:52pm on May 23rd. Sh faced severe headwinds and crosswinds (20 to 45mph) for much of the route.
Sara Kay is the first woman to make an official attempt at the west-to-east cross-state record. The fastest time is Byron Rieper of Overland Park, who rode 428.4 miles in 25:50 (16.58 MPH average) in 2000.
Here's a picture from early in the ride: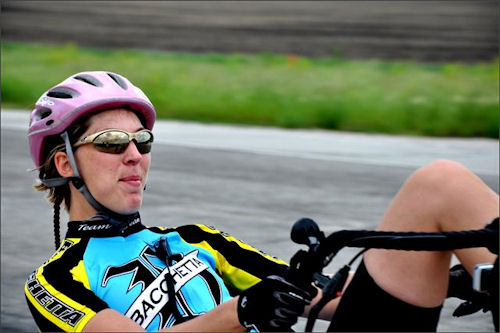 And here's one from the end: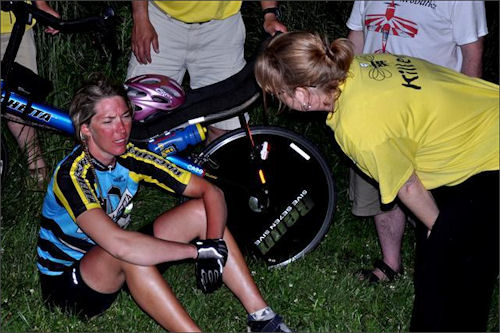 Oh my, the sun and the wind really did a number on you, Sara Kay!
Sara Kay's crew provided regular updates via @thehubbikeshop on Twitter. Her final update: "Extremely happy with my time & effort. Absolutely could not have been accomplished without my remarkable crew!"
Sara Kay lives in Hays, Kansas, where she manages and wrenches at The Hub Bicycle Shop. She's also served as a member of Team Bacchetta for many of John Schlitter's RAAM (Race Across America) attempts.
You can learn more about the record attempt, and view more photos, at sarakay.net. Additional coverage from Bacchetta Forums and 'BentRider Online. You can read an account of her 2006 record here.
Congratulations, Sara Kay!
Photos courtesy sarakay.net.