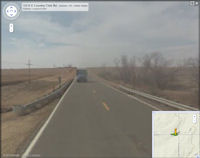 In Salina, Kansas, the Kansas Department of Transportation is running a pilot program, the first of its kind in the state, to solicit input from local residents about road conditions in their area.
Steven Buckley, a state highway engineer, said the state is studying the safety of a 10-mile stretch of Country Club Road between Salina and Dickinson County. KDOT wants to look at making the road safer and has asked for public comment from residents along the road. For the first time in Kansas, Buckley said, the state wants to combine "crash data, local input and field data." They'll use that information to make a recommendation.
Buckley said the road was "representative of Kansas highways as a whole." (And looking at the road via Google Streetview, the road does appear to be a pretty normal road for that part of central Kansas.)
And what topic came up as a "major concern"? Bicycles.
From the Salina Journal:
While the drop-offs were a concern, Koehn and other residents said bicyclists were a major concern.

"The bicyclists have nowhere to go," Koehn said after the meeting. "Most drivers are not friendly to the bicyclers and they have to head for the ditch in a hurry. They at least need a shoulder."

Buckley said he did not know bicyclists were a concern until he heard from the public.

"We knew about the edge drop-offs, but not about the bikes," Buckley said after the meeting. "It is good to get the local perspective.

Trula Harris told commissioners that bicyclists deserve to be able to ride on the road. She also was concerned about the cost to fix the road, despite the conditions.
OK, a KDOT highway engineer appears to be unaware that bicyclists might use a Kansas road. Guess that's not too big of a surprise.
But look who's standing up and speaking out on behalf of bicycle safety: local residents, the people who live along Country Club Road.
They've seen, with their own eyes, that cyclists have been harassed by motorists and forced off the road. And they're not happy about it: "bicyclists deserve to be able to ride on the road".
Isn't that refreshing?
Thank you, Salina residents, for speaking up on our behalf!
And KDOT, please listen to what they have to say. Bicycles are ridden on every road in the state (other than interstate highways). Cyclists should be able to expect the state to ensure safe travel. Make it happen.
Post tags: Salina