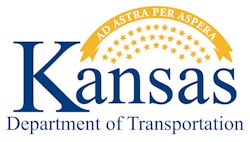 In late 2012, the Kansas Department of Transportation (KDOT) held "local consult" meetings around the state, in which attendees discussed areas of concern, and made suggestions for improvements.
KDOT has now posted the results of those meetings, including a summary, and supplemental information.
Here's the bike/ped summary:
Citizens cited the need for better connectivity for bike trips with transit routes
and vehicles.  There is also a need for better signage for some trails.  In addition, citizens
expressed the negative impact of shoulder rumble strips on bicyclists.  Citizens also stated the
need for better connectivity between the Flint Hills trail and the Katy trail.  And citizens from
Parsons expressed their desire for recreational trail that would serve the Great Plains Industrial
Park.
The end result of the meetings was a list of the top projects in each area of the state. As you might expect, these are all highways projects, aimed primarily at improving the safety and convenience of motorists. However, each of these projects will have bike/ped considerations, whether explicitly stated or not…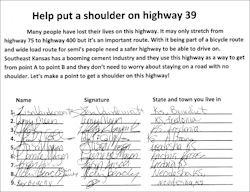 One of the interesting documents that came out of the Southeast Region was a petition to add shoulders to Highway K-39. According to the letter accompanying the petition:
We are seeking to have 6 foot wide (but not less than 4 foot wide) aprons on both sides of K-39 hwy between US-75 and US-400 hwy to put an end to a treacherous section of this hwy. No shoulder and very soft soil has now led to 18 tractor-trailer rigs going over the side this year. Six miles of K-39 is host to national cycling from K-105 (Harper Road ) to 2000 Road at Roper. 6000 trucks per day, not counting our farmers/families/business people/travelers use this approximately 15 miles of hwy. The undersigned all agree and ask your and Kansas government to make K-39 safe.
The petition itself says:
Many people have lost their lives on this highway, from highway 75 to highway 400, but it's an important route. With it being part of a bicycle route and wide load route for semi's, people need a safer highway.
There are nearly 200 signatures for the petition.
It's pretty obvious that the truck traffic was the primary motivator for the petition, but I found it interesting and encouraging that the petition noted that K-39 is a bicycle route (part of the TransAmerica Bicycle Trail), but the attitude was not "get them bicycles off our road!" but was instead "let's make it safer".
Thank you, southeast Kansas residents, for thinking of bicycle transportation! This is an attitude that KDOT needs to hear more of.
(I'm not aware of an online version of the petition, but if you support this project, you can write to KDOT District Four Engineer Mike Stringer at Michael@ksdot.org, or call the Chanute office at 620-431-1000. Just ask him to add your name to the "Help Put a Shoulder on Highway 39" petition.)
Post tags: NewsBlog