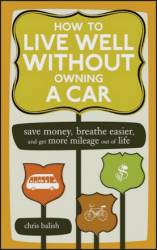 Here's a neat book: How to Live Well Without Owning a Car: Save Money, Breathe Easier, and Get More Mileage Out of Life.
The book was written by Chris Balish, a seven-time Emmy Award winning broadcast journalist, TV news anchor and reporter, primetime network TV host, bestselling author, and an on-air contributor for NBC's Today Show, MSNBC, and CNN.
Chris wrote How to Live Well Without Owning a Car based on his experiences living car-free in St. Louis and Los Angeles:
I was a very car-addicted person. I drove everywhere. I had a big Toyota Sequoia SUV that I loved. But I was really feeling the pinch at the pump. So I decided to sell the car. I got online, went to the route map of my local transit system, found out I could easily get to work. Once I got that problem solved, all of the other pieces easily fell into place. If you can get to work without a car, you can live without a car, in most cases.

Look for things like bike paths, bus stops, sidewalks, transit stops, light rail lines, park-and-ride lots, car sharing hubs. Then, you want to talk to your neighbors. Find out anybody in your neighborhood that actually commutes car-free. You also want to ask your co-workers. Chances are somebody you work with commutes car-free.

When you live car-free, you spend less time sitting in traffic, you deal with less stress and aggravation, you get to know your neighbors because you're not zipping through the neighborhood at 45 miles an hour surrounded by glass and steel, and you have fewer things to remember and less to worry about. [read more]
Here are some quotes about the book:
"Chris Balish offers a mix of the practical-a worksheet to figure out a car's total cost and impact-as well as the horrifying: The average American walks just 300 yards a day." — Sierra Magazine
"If ever there was a practical inducement to get out of the car trap, this is it. For the multitude of Americans stuck in traffic and spending thousands of dollars a year on their cars, Chris lively and pragmatic step-by-step solutions provide a way out." — Jane Holtz Kay, author of Asphalt Nation
"Chris Balish's book can help environmentally conscious Americans live their values. If you're concerned about pollution and global warming, follow the program in these pages. There can be life without a car. And a good life at that!" — Ed Begley, Jr., actor and environmental activist
"[Chris Balish's] prescriptions are feasible and most important, reasonable." — San Antonio Express News
"Even if living car-free or car-lite isn't for you, you'll still learn a lot from this book. I did." — Michelle Singletary, Washington Post
Here's some additional information from Chris's interview with the Today Show's Matt Lauer:
Living car-free in America is not difficult, but it does require some mild lifestyle changes. This book will walk you through the process step-by-step. The strategies in this book will put you on the car-free path to financial freedom; or, if you do not wish to get rid of your car entirely, this book will help you save money by using your car less. So even if living "car-free" isn't your style, this book can show you how to live happily "car-lite."

If you currently own or lease a car, truck, or SUV, this book has the power to give you the equivalent of a $5,000 to $10,000 raise. Following the program in these pages can help you slash your monthly expenses, pay off your credit cards, build an investment portfolio, save for a house, and possibly pay off your mortgage early. You could even become a millionaire, or retire at age forty. Regardless of your income level, this book can help you keep more of your money and lead a richer life.

And financial benefits are just the beginning. You'll also learn how not owning a car is liberating, rewarding, and fun. Without a car to constantly take care of, you'll have fewer hassles, lower stress, less aggravation, and less to worry about. You may even find you have more free time. With no car in your life you may also improve your health, get more exercise, lose weight, and sleep better. In other words, you'll be happier, healthier, and much wealthier.
Sounds like a great book!
Post tags: Frugal Cyclist