The Spring 2011 issue of Kansas Magazine features "A Tale of Two Wheels", which focuses on two iconic Kansas events, Biking Across Kansas (link) and the Cassoday Bike Run (link):
Travel the Kansas interstates or two-lane highways by car, and you're bound to miss a few things. Travel by two wheels, though, and those long stretches of road become more interesting.

Two-wheel Tourism in Kansas has caught the attention of bikers and cyclists as they see the state from a different kind of saddle.

Large events such as the Cassoday Bike Run and Biking Across Kansas attract hundreds, if not thousands, of two-wheel tourists each year — whether they're revving engines or pumping legs.
Biking Across Kansas, of course, is the annual bicycle ride across the state of Kansas, taking place each June. This year's event departs from Tribune, near the Colorado border, on Saturday, June 4th, and arrives in La Cygne, near the Missouri border, on June 11th, overnighting in Scott City, Ness City, Hoisington, McPherson, Cottonwood Falls, Burlington, and Garnett along the way (see Biking Across Kansas 2011 Route Announced).
The Cassoday Bike Run, by contrast, is a motorcycle rally that occurs the first Sunday of every month from March through November, taking place along I-35 and K-177 in the Kansas Flint Hills. The Cassoday Bike Run attracts over 5,000 participants each year.
Both events attract riders from across the state and around the country, exposing visitors to the beauty of rural Kansas and the hospitality of small towns (though some residents of Cassoday don't seem to appreciate the attention: Petition Calls For End To Cassoday Motorcycle Rally).
Here's a sneak peak at the spread: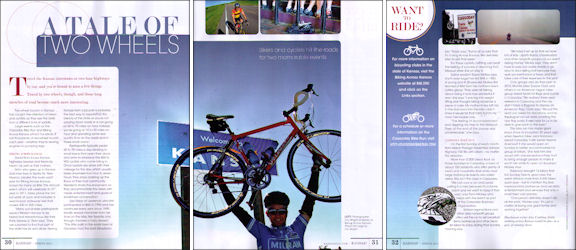 If you'd like to read the entire article, please consider subscribing to Kansas Magazine. "Every full-color, 40-page issue tells a story through inspiring words and exceptional photography that captures the beauty and essence of the state. Features and photo galleries showcase a variety of topics—from the people and communities to the food, the striking scenery and unique landscapes that make Kansas a special place to live and visit."
And remember, registration for Biking Across Kansas is capped at about 800 riders, and it can fill up well before June. So if you're considering bicycling across the state with BAK, sign up before it's too late!