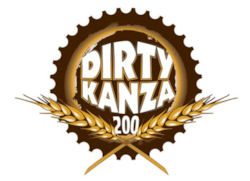 The 2011 edition of the Dirty Kanza 200 happened on June 4th out of Emporia, KS. As always, it turned epic, with heat, wind, thunderstorms, hail, and a muddy course that did in many a rider (and bike).
The DK had a huge field this year, with over 300 racers, only 65 of whom finished.
The event was won by Lance Andre and Barbie Miller on a tandem, with a time of 12 hours and 53 minutes.
The top three in the men's open division were Dan Hughes (of Sunflower Outdoor and Bike at 13:09, Kevin Thomas at 13:39, and Jason Gaikowski at 14:09.
In the single speed category, the winners were Peter Chrapkowksi at 14:49, Steve Goetzelman at 15:07, and Andy Lapkass at 15:14.
Betsy Shogren took first in the Women's division, at 14:49, followed by Annie Fox at 16:12 and Stephanie McCreary at 19:12.
In men's masters, the champion was John Schlitter at 14:49, with Randy Smith in 2nd at 15:34 and Andy Fox in 3rd at 16:12.
In the "team relay" category (a first for DK), the only finishers were Paul Larson / Tim Songster at 19:11.
The last finisher ended up with a time of 21:30 (crossing the finish line at 3:30 Sunday morning).
See Official Results
Here is video from the finish line, showing some of the racers coming in and the podium presentations:
I always get a big kick out of reading about the experiences of the riders in an event like this. Each one, whether they finished or not, has an interesting story to tell (often with some great pictures).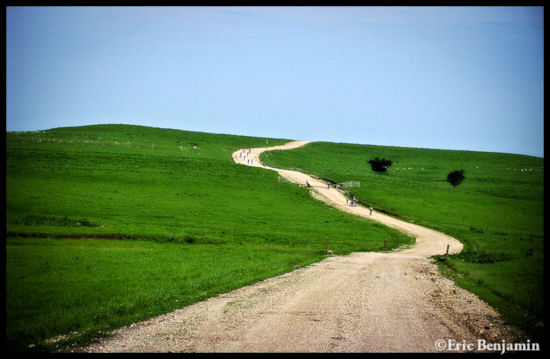 Here's a photo from Eric Benjamin showing a bit of the course. Eric said it was one of his "favorite looking hills of the route. I loved the way it curved through the countryside. I hated the way it made me feel as I climbed it."
Here are some ride reports from the cyclists themselves:
And finally, coverage from observers: LeLan Dains, Emporia Gazette, UltraRaceNews (with videos).
Congrats to all who attempted this brutal ride!