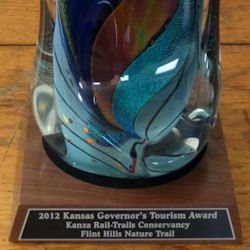 The Kanza Rail-Trails Conservancy was awarded the Kansas Governor's Tourism Award at the Kansas Tourism Conference, which took place on October 15-17 in Dodge City, Kansas.
Each year, the Travel Industry Association of Kansas presents the award to a person or organization who has made a significant impact on the tourism industry in Kansas. This year the award was given to the Kanza Rail-Trails Conservancy for their efforts on the Flint Hills Nature Trail.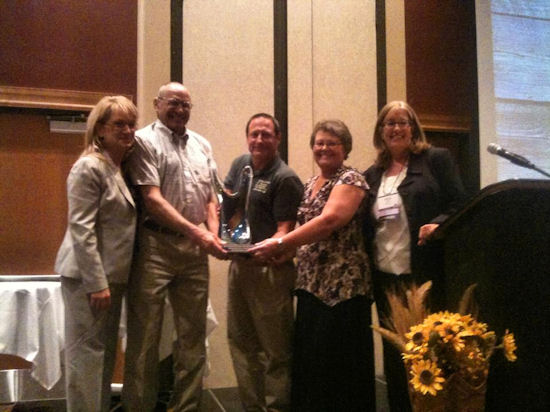 Photo courtesy the Kansas Tourism Facebook page.
KRTC Director Frank Meyer, Vice President Scott Allen, and Treasurer Shirley Meyer accepted the award on behalf of the organization.
This award is important, not only because it honors all the years of hard work that advocates, leaders, and volunteers have invested in the Flint Hills Nature Trail, but because it recognizes the importance of trails to Kansas tourism.
Many people make their travel plans based on destinations such as the Flint Hills Nature Trail, and spend several days exploring the beautiful scenic countryside and the friendly small towns along the route.
Congrats, KRTC, and well done!
Read more from KRTC: 2012 Kansas Governor's Award for Tourism
Post tags: NewsBlog