Just as trail-building in Kansas is gaining momentum — with dozens of miles of new trail added every year, and ongoing projects in development throughout the state — a proposed bill threatens to derail the burgeoning trail system.
House Bill 2735 seeks to force counties to tax the land of a trail right-of-way, handing huge bills to trail-building organizations.
According to KanBikeWalk:
It could cost recreational trails over $100,000 per year statewide. It is an attempt to value the land under a recreational trail right of way as high as possible and charges the taxes to the trail operator. Currently, counties are exempting rail trails or are valuing the land at $0.00, much like t he public greenways and trails in many KS cities. No one is paying taxes on the land and the counties and municipalities want to keep it that way. This bill was created by special interest groups whose goal is to stop recreational trail development.
The bill appears to be odd — the counties are not currently taxing the trails, had no plans to tax the trails, and do not want to tax the trails.
In fact, most counties want to do everything they can to encourage trail-building. They recognize that turning old rail lines into trails not only maintains the right-of-ways for possible future needs, but gives their citizens a place to safely walk, run, bike, or ride horses.
The counties seem to understand that the vast potential economic impact of trails far exceeds the limited amount of money that taxing the trails would bring in.
They look at nearby states such as Missouri and Iowa and Wisconsin, which have invested in thousands of miles of trails, and are now reaping the economic benefits. Bicycle tourism alone is a multi-million-dollar industry in those states (not even counting tourism related to pedestrians and equestians using the trails).
How Would This Bill Hurt Trails?
If the funds generated are so small — $100,000 is, after all, not a lot when spread across numerous counties in the state — why is it a big deal?
Because the money would come from trail-building organizations such as the Central Kansas Conservancy, the Kansas Trails Council, the Kanza Rail-Trails Conservancy, Prairie Travelers, and the Sunflower Rail-Trails Conservancy.
These are all non-profit volunteer-run organizations that operate on tiny budgets.
Every dollar they spend on taxes or on defending themselves against government threats is a dollar they don't spend on building trails.
$100,000 is not a lot for the state (or counties), but is a tremendous amount for small non-profit volunteer organizations. These groups operate incredibly frugally, and $100,000 can build a heckuva lot of trails!
Gov. Brownback Wants More Trails
Kansas Governor Sam Brownback has many times called for more trails to help communities attract tourism dollars. In 2009, he said: "I think we've got a real chance to expand the growth of tourism and recreational access in the Flint Hills," mentioning biking trails, horseback riding and opportunities for people to get out and enjoy nature.
In 2010, he talked about this again:
State economic growth could be helped by "cultivating the potential for tourism in the Flint Hills." Brownback said that developing hiking, biking and horseback riding trails throughout the region and reaching out to private groups to assist the state in developing new ways for visitors to "truly experience the Flint Hills" were tops on the priority list.
With sure a high-profile proponent of trails, where is the oppositions coming from?
Who's Behind The Bill?
The Kansas Legislature web site says that the bill was sponsored by, and introduced by, the Committee on Transportation, though it does not list any specific members responsible.
The Kanza Rail-Trails Conservancy has this to say about the motivations behind the bill:
The opposition's goal is to put such a large tax burden on trail operators that we will not be able to pay the taxes. They will then petition the federal Surface Transportation Board to have the trail abandoned. Its a well-coordinated and funded effort to prevent trail development.
What Can You Do To Help Stop This Bill?
A hearing on the bill will be held Monday, March 5th at 1:30 in the Committee on Transportation, Room 783 in the Docking Building. Representatives from KanBikeWalk and the various trail organizations will testify to the Committee on Transportation.
Their voices are important, but together, ours can be even moreso.
If you can attend the hearing, that's great, but even if you can't you can still speak up.
BikeWalkKC has put together a quick-and-easy contact form to allow you to write to the legislators: Support Kansas Rail Trails, speak up about House Bill 2735
In addition, you can directly contact the members of the Committee on Transportation:
Please speak up. This is a serious threat to the future of trail development in Kansas. Together, our voices can make a huge impact.
Finally, I leave you with this: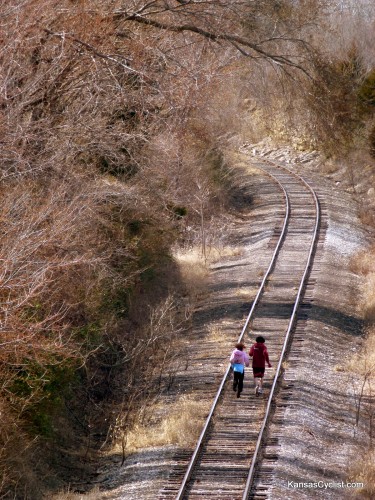 This photo was taken in De Soto, Kansas, and shows two kids running on an active (albeit lightly-used) rail line. This is what happens when communities offer few recreational opportunities. Think about how much nicer (and safer) this would be if it looked more like this: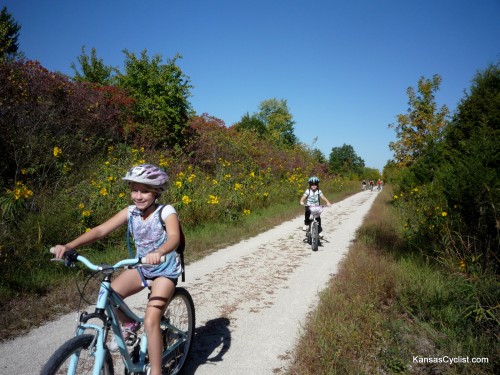 This is from the Flint Hills Nature Trail, near Rantoul, Kansas.