Thought I'd share an inexpensive bicycle lighting solution you might want to consider.
If you ride you bike at night, or even if you ride at dawn or dusk, a good headlight can literally be a lifesaver, and is required by Kansas law.
Bicycle-specific lights (such as the products from NiteRider
and Planet Bike
) are great, but can be pricey, unless you ride a lot at night (in which case are often worth the expense for an optimized solution).
Another option is to use one of the many available LED flashlights
. These are relatively inexpensive, and usually offer reasonable brightness and battery life, but can be a challenge to securely mount to your bike.
The Rayovac DIY2AA-B Indestructible is one such light, which I recently picked up at The Home Depot for $14.99 (Amazon carries the similar Rayovac DIY3AAA-B
).
The DIY2AA-B uses two AA batteries and is rated for 100 lumens at 15 hours run time (or 35 hours in 18-lumen "energy saver" mode). These are really solid specs. 100 lumens is pretty darn bright (though it doesn't compare to higher-end bike-specific models, which often go to 1000 lumens or higher) and is adequate for city night riding and even riding on a dark moonless light in the country. It is probably not adequate for night-time mountain biking.
The 15-hour run time is excellent for two AA cells. I don't know how accurate that rating is, or what types of cells and ambient temperature is assumed, but as a quick test, I ran the light overnight (about 8 hours) using a pair of Duracell 2650mAh rechargeable batteries
, and the light was still running bright when I checked it in the morning. So it should be adequate for nearly any night-time riding you might be doing.
And the great thing about using AA cells is that it's easy to carry spares, and even if you run out, you can pick up fresh cells at any convenience store. Any using rechargeable batteries makes even more sense.
The light has a solid heft to it. It actually feels rather heavy, but weighs in at only 6.7 ounces (~190 grams), including batteries. Rayovac says its (virtually) indestructable, able to withstand drops of up to 30 feet, and is water resistant as well (an important characteristic on a bike light).
I've used other, non-ruggedized, LED flashlights in the past, and they worked well, for awhile, but eventually they all stopped working due to the constant vibration and jolting of being mounted on a bike. I am cautiously optimistic about this Rayovac product.
Here are some photos: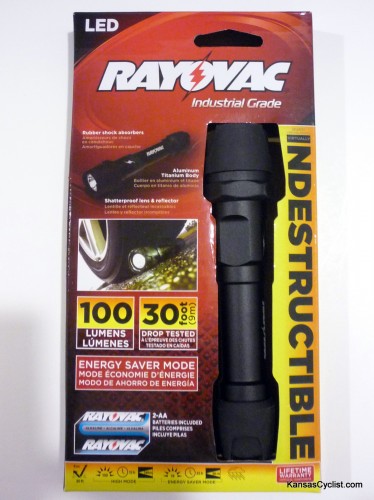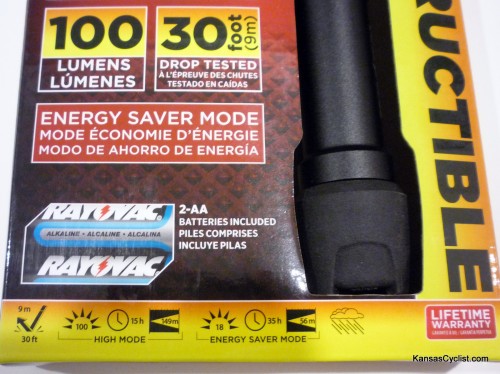 You'll note that the light comes with a "Lifetime Warranty". According to Rayovac, the Flashlight Lifetime Warranty "Excludes accidents and misuse. Return defective product postage prepaid to Spectrum Brands, Inc., ATTN: Rayovac Consumer Services, 601 Rayovac Drive, Madison, WI 53711".
So is using the light on a bicycle considered "misuse"? 😉
I'm hoping that if the light craps out due to vibration, it will be covered …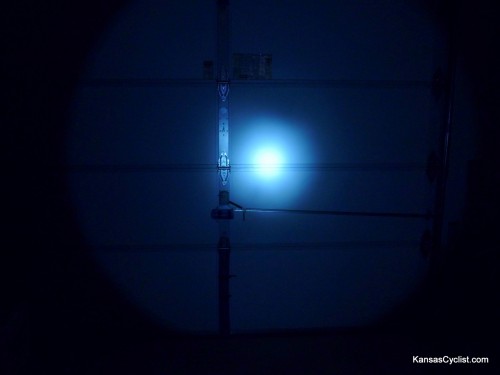 Here's the beam pattern. It's a very concentrated beam, with a tight focus and minimal bleed. Frankly, I'd prefer a more diffused beam for a bike light, but this is sufficient.
This is "high mode". "Energy saver mode" is quite a bit dimmer. It might be adequate where there are good street lights, but probably won't be sufficient in less well-lighted areas. It should meet the letter of the law, but with such a good run-time on high mode, I likely won't use the low mode very often.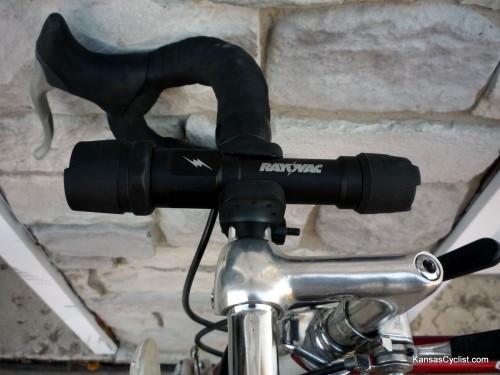 Here's how I mounted the light on my handlebars. That is a Rubber Bicycle Torch Mount
, available from Amazon and many other places online, for just a few dollars. It holds the flashlight quite securely, and yet it's easy to remove. (Note: If your flashlight fits too loosely within the mount, simply wrap the barrel of the light with a few turns of duct tape.)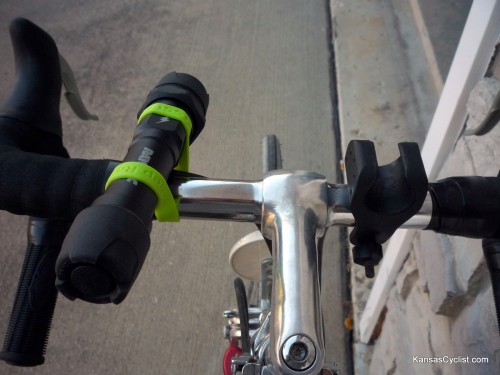 Here is another mounting option, that is even simpler and cheaper — just use a silicon Livestrong Bracelet
(or the like), and use it to strap the flashlight to your handlebar. It's a secure and very flexible mounting method!
And finally, here's a video from Rayovac showing the light being torture-tested in the real world:
This is one of a series of whimsical torture tests, including being driven over with a fire truck, being dropped from several stories, being dragged from a vehicle, being blown up by fireworks, and being dunked in a river.
Pretty impressive!
Bottom line: If you can afford a really good bicycle headlight
, it's worth the investment. But if you can't afford one of those, or you just don't ride at night often enough to justify it, consider this $15 option. It'll keep you legal, maximize your visibility to motorists, and it's easy to keep in a seat bag, handlebar bag, or a jersey pocket, "just in case".
Have you discovered a better bicycle lighting solution than this? A better mounting method? Please share your thoughts and experiences in the comments!