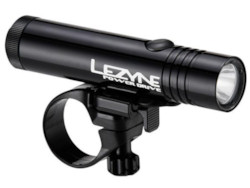 I recently purchased a new bicycle headlight, a Lezyne Power Drive. This is a quick look at the device, and some initial impressions on its performance.
The Power Drive is an LED headlight, and is the middle offering in a three-tier line from Lezyne:
The Power Drive, like the Super Drive and the Mini Drive, is available in black, silver, or gray. I opted for black.
My thinking, in choosing the Power Drive, was that 300 lumens was plenty for riding paved and gravel roads at night, and that 100 would probably be fine as well. I was also wanting to optimize run time, and the 5.5 hours at 100 lumens seemed to be the best in that regard.
I was a little reluctant to switch to 18650 batteries
, since I've used mostly AA and AAA batteries in the past. The great thing about the AA/AAA's is that they're available at any convenience store. The 18650 is a much more specialized battery size (it is not yet available at Wal-Mart, for instance), though it seems to be gaining ground.
However, most of the competing bicycle headlights were using proprietary batteries or battery packs, and I did not want to get locked into a single-source (translation: expensive) solution. Also, some of the competing lights had external battery packs; I appreciate that Lezyne offers a small, self-contained unit.
The 18650 size is very popular in the flashlights
field. The 18650 appears to offer a higher voltage and a larger capacity, in a smaller space and lighter weight, compared with two AA's (and only slightly larger/heavier than 3 AAA's).
The big selling points for me with Lezyne lights is that they use standard batteries that are easy to swap out (so it's relatively easy to carry spares), and that they are optimized for bicycle use (rugged, easy mounting, water resistant, sensible modes). Flashlights might offer more bang-for-the-buck, at least initially, but since they are optimized for handheld use, they often feature strange modes ("SOS"?) and kludgy handlebar mounting. Worse, they don't (in my experience) withstand the vibration of bicycle use for long. Most cheap flashlights are not rugged, but many better-quality flashlights cost nearly as much as the bicycle-specific lights.
Here's how Lyzyne describes the light:
300 Lumen cycling light purpose built for night riding. Uniform Power Beam reflector and lens assembly produces a dual purpose beam pattern that illuminates both near and far terrain without sacrificing isibility in either field of vision. 100% CNC-machined aluminum body and battery cap. High-capacity Li-ion battery is USB rechargeable and replaceable. Programmed with three steady modes and one high-visibility blinking mode. Comes with two durable Composite Matrix handlebar mounts (31.8mm, 25.4mm) with thumb screw for easy installation and secure attachment. USB charging cable included.
Here's what you get with the product: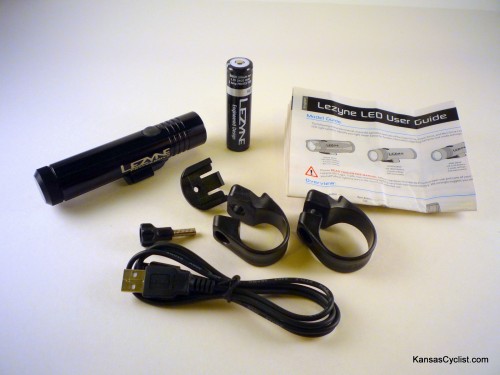 Light, battery, instructions, two sizes of handlebar mounts, and a USB cable.
The battery is Lezyne-branded, and is rated at "3.7V 2400 mAH 2 Amp Protected". According to the instructions, "only Lezyne branded LIR 18650 2 Amp Protected batteries may be used". However, when I contacted Lezyne, they told me that other brands may be used, but that Lezyne developed their batteries to have "super long life". The Lezyne battery carries a 6-month warranty (the light itself is warranted for 2 years). Using another brand of battery does not explicitly void the warranty. The list price for the Lezyne battery (LIR 18650) is $19.99.
Here's a look at the bottom of the light and the battery compartment: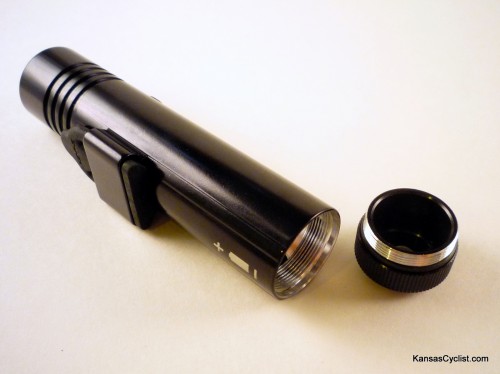 The tail of the light twists off, and you insert the battery into the tube, then thread the tail cap back on. It's good that the battery polarity is marked on the case, and the threads appear to be of good quality.
Here you can also see the rubber gasket over the USB port, and the mounting tab that slides into the handlebar mount.
Here's a look at the USB cable attachment: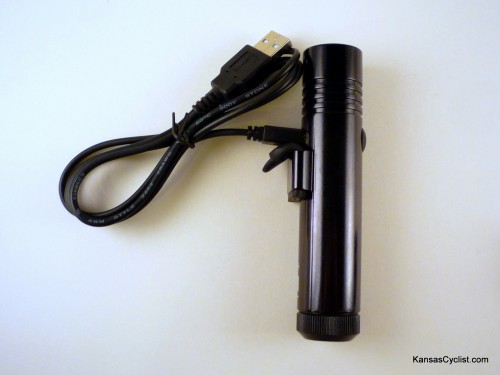 The USB connection is a mini-USB size. To access it, you lift up the little rubber flap (which acts as a gasket when attached to the bike). Inserting the cable took a bit of fumbling, since the rubber kind of gets in the way, but it does go in.
Once attached to a power source, whether a computer or a USB AC adapter, the light begins to flash softly during the charging period. Once it stops flashing, the charge is complete. The battery has internal protection to avoid over-charging, so you can leave it connected overnight without risking damaging the cell.
Lezyne claims a 4-hour charge time. My initial charge time was about 1.5 hours. After using the light on a 2.5-hour ride (mostly on "low"), the recarge time was again about 1.5 hours. I have not yet run the battery to exhaustion and measured the full charge time.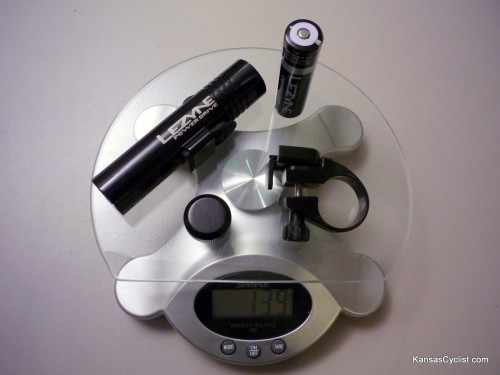 Weight of the light, battery, and mount is 139 grams (4.9 ounces). Pretty impressive.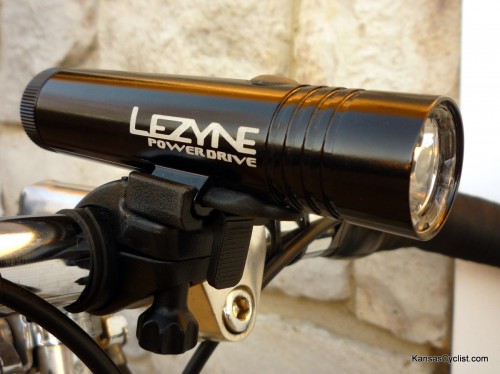 Mounting the light to the handlebar is easy enough, though I had to add a rubber shim to get it to fit on the handlebar of my Puch (though not needed on my Long Haul Trucker. Once mounted, the slight bit of side-to-side adjustment proved useful in fine-tuning beam placement, and of course for up-and-down adjustment, you just rotate the mount on the bar.
Frankly, I'd have preferred the simplicity of a rubber band mount, so that it could fit practically any bar size, but this system does work, and feels secure enough. Though putting the light onto the mount, and taking it back off, requires two hands, and is a bit of a futzy maneuver.
I've done one ride with the Lezyne Power Drive so far, and was suitably impressed. I found that low mode (100 lumens) was adequate for most conditions. The 200 and 300 lumen levels were brighter, but not enough to justify the shorter runtimes, at least in this limited test.
Throw was moderate, though not nearly as long as my Rayovac Indestructible, but compared to that cheap $15 light, the beam on the Power Drive was much more pleasing to the eye (white instead of yellowish), and with a nice even spread throughout the main beam focus. Beyond the main beam, the Power Drive's spread was adequate to see the road and objects to the sides.
The "flash mode" on the Power Drive seems like it might be useful, operating at perhaps 5 flashes per second — fast enough to call attention during low-light conditions, but not seizure-inducingly-fast like some lights I've seen.
The user interface on the Power Drive is pretty simple: Hold the button down for 2 seconds, and it'll turn on at maximum brightness. Press again for medium, again for low, and again for flash. Subsequent button presses will simple cycle through the modes again. Press and hold for 2 seconds to shut it off.
There is no "low battery" warning, which might be a little unnerving if you think you might be cutting it close, but I guess peace of mind is what spare batteries are for.
So for now, I'm feeling positive about the light. The only two problems I have with it are the fiddly rubber gasket and the awkward mount-unmount procedure. Both are minor points compared to the excellence of the light itself.
The question comes to mind: At $90 list, is the Power Drive six times as good as the $15 headlight I shared a few months back? There's no doubt that it's a better bike light. It definitely puts out much more light than the $15 torch, the beam pattern is much better, it has more secure mounting, and the flash mode has potential safety benefits. And since the cheaper light is almost twice as heavy and twice the size, the Power Driver will be much easier to carry in a pocket. So yes, I think it's worth it.
Anyway, I plan to keep riding with this light, and hopefully provide a longer-term follow-up review in the future.
At this point, highly recommended! Buy Here
---
Note: Product links lead to Amazon, where Kansas Cyclist is an affiliate, and where we'll earn a small commission if you purchase something (anything!) through that link. If you have a local bike shop, please support them, but if you don't have a LBS, or they don't carry the equipment you need, please consider purchasing via these links, and help support this site.