I've long been intrigued by the idea of hammock camping.
In many ways, a hammock is a perfect place to spend the night, compared to a tent — no hard ground, no sticks or rocks poking you in the back, no need to find a reasonably clear or level piece of ground, no worries about critters trying to get into your tent at night. And hammocks can be ridiculously light and compact compared to a tent — a big advantage for bicycle touring.
But there are issues. You need two trees of sufficient size (but not too big!), spaced far enough apart (but not too far!). You need insect protection. You need rain protection.
The insect protection is usually handled by netting, and the rain protection by a tarp of some sort, but finding a place to hang the hammock can be a challenge, particularly in a place like Kansas, where trees can be sparse in many parts of the state.
So while I've been attracted to the idea of hammock camping, I've been largely happy with various tents, so I've held off on actually trying a hammock.
That's why I was excited to get a chance to test out the Blue Ridge Camping Hammock.
It's actually a hybrid product, that can be configured as both a hammock and a bivy tent. Hang it between two trees, or if no suitable trees are available, pitch it on the ground like a tent.
It has integrated insect netting, with two aluminum tent poles that are used to provide support for the mesh, keeping it off your face and body.
Sounds like it might offer the best of both worlds. But how well does it actually work? And, especially, how well does it work for bicycle camping while touring?
Unboxing The Blue Ridge Camping Hammock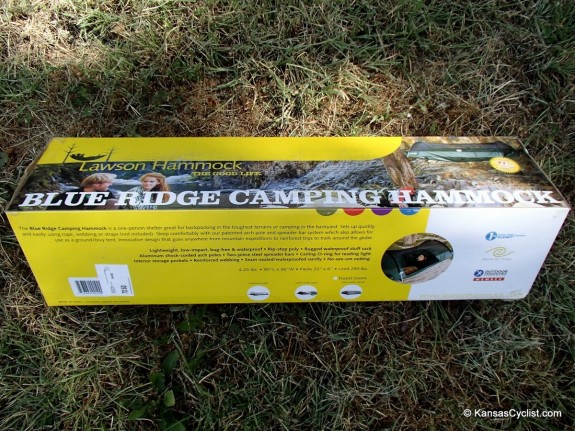 The Blue Ridge Camping Hammock comes in a nice box measuring about 24.5 inches by 6 inches by 6 inches.
The box reads:
The Blue Ridge Camping Hammock is a one-person shelter great for backpacking in the toughest terrains or camping in the backyard. Sets up quickly and easily using rope, webbing or straps (not included). Sleep comfortably with our patented arch pole and spreader bar system which also allows for use as a ground/bivy tent. Innovative design that goes anywhere from mountain expeditions to rainforest trips to trails around the globe.

Lightweight, low-impact, bug-free & waterproof
Rip-stop poly
Rugged waterproof stuff sack
Aluminum shock-corded arch poles
Two-piece steel spreader bars
Ceiling O-ring for reading light
Interior storage pockets
Reinforced webbing
Seam-sealed/waterproofed rainfly
No-see-um netting
4.25 lbs.
90″L x 36″W
Packs 22″ x 6″
Limit 250 lbs
Here are the individual components, and their weights: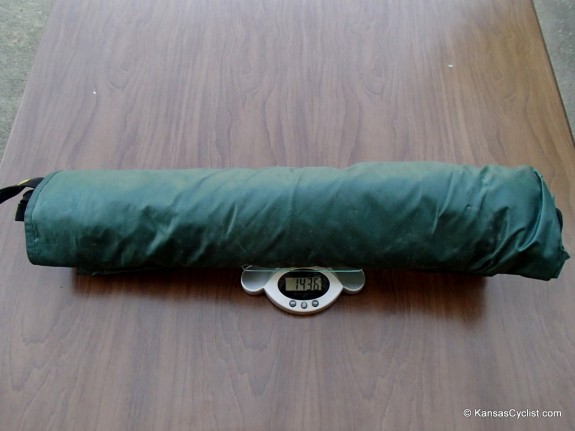 The weight of the hammock/bivy (including spreader bars and integrated cordage) is 1436 grams (about 3 pounds, 3 ounces).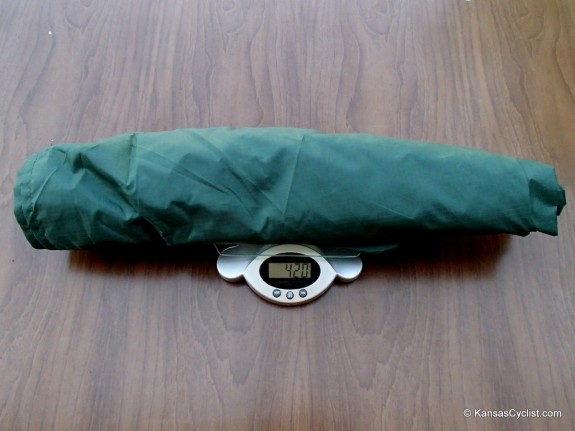 The weight of the rain fly is 420 grams (about 15 ounces).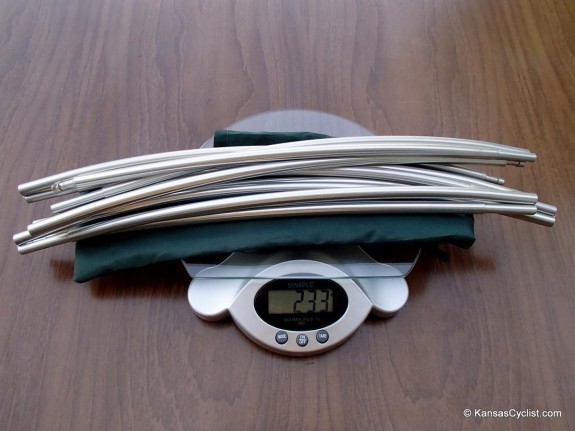 The weight of the aluminum poles and stuff sack is 233 grams (about 8 ounces).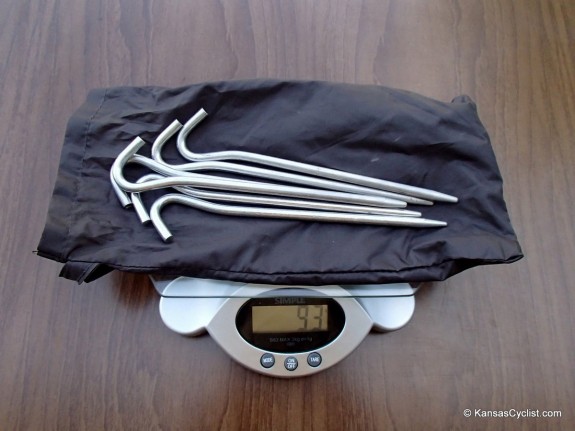 The weight of the stakes and stuff sack is 93 grams (about 3 ounces).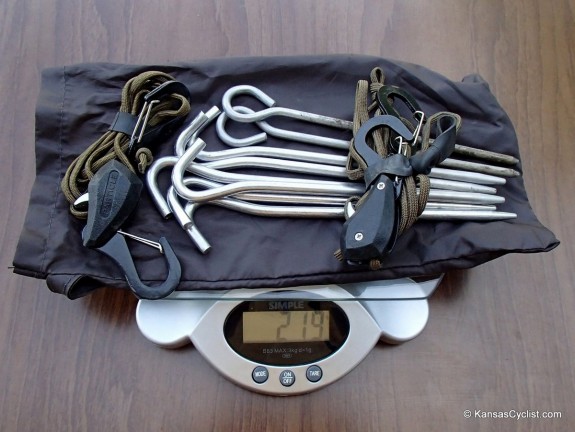 However, I carried a couple of extra stakes, plus two tie-down cords, all of which weighed 219 grams (about 8 ounces).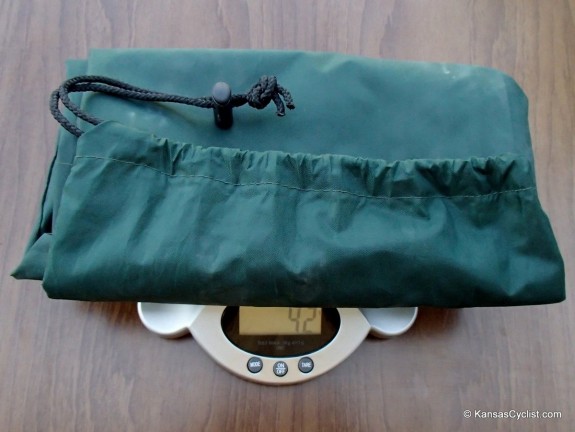 The weight of the main stuff sack is 42 grams (about 1.5 ounces).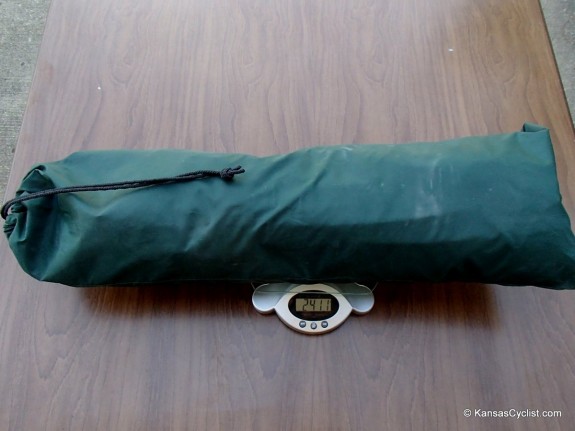 The weight of the entire package — hammock, fly, poles, stakes and cords, stuff sacks — measures out at 2411 grams (5 pounds, 5 ounces). About 126 grams of that is the extra stakes and cords I added.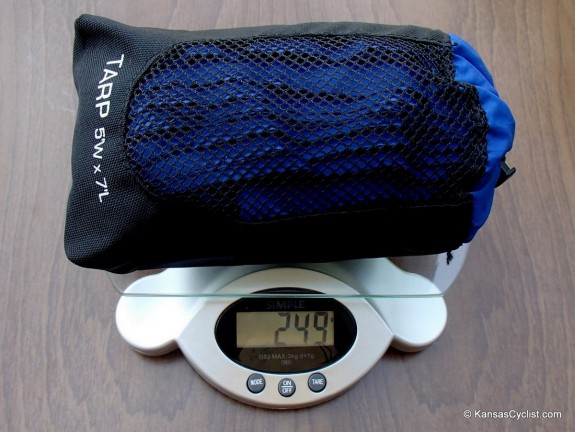 I also carried along an extra 5'x7′ tarp (the Outdoor Products "Backpacker's Tarp" from Walmart). This is not strictly necessary, but it's potentially handy to have around, to act as a ground sheet in bivy mode, or to provide extra protection in rainy conditions. 249 grams (about 9 ounces).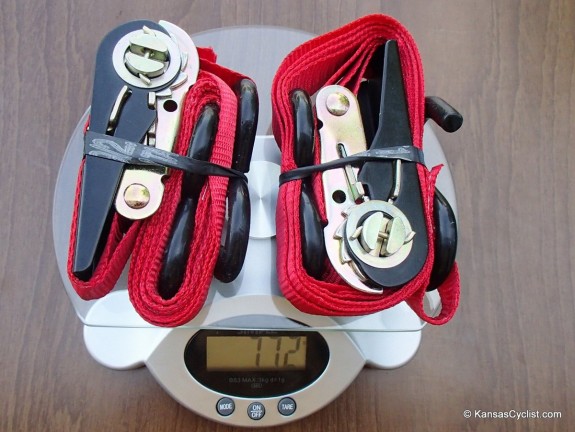 The Blue Ridge Camping Hammock does not come with any means to attach the hammock to trees. Lawson sells tree huggers, and some folks use "whoopie slings", but I made do with some 10-foot ratchet tie-downs I had. Compared to the other solutions, these are relatively heavy, at 772 grams (about 27 ounces).
All told, with the hammock kit, extra tarp, and tie-down straps, it came out to 3432 grams, or about 7.5 pounds. Ouch!
Setting Up The Blue Ridge Camping Hammock
To set it up as a hammock, you'll need two trees (or other sturdy objects of a suitable height), located about 15-25 feet apart, and anywhere from about 3 inches to 12 inches in diameter — the trees need to be able to hold your weight without risk of damage to the trees, and not too big to get straps around.
For my first attempt at hanging the hammock, I went to a local park and found a nice spot without too much trouble.
This was my initial hang. The assembly of the hammock is pretty much intuitive. The hammock comes with the spreader bars already installed, with the cords already woven together. Each spreader bar splits in half for storage, so to assemble, just unroll the hammock and put the spreader bars together, then assemble each of the shock-corded aluminum poles, thread them through the mesh sleeves, and poke each end through the grommet in the straps provided at each corner of the structure.
There are also shock cords that run from the nest of cords and snap onto the poles, to keep the hammock from collapsing inwards. This doesn't appear to be strictly necessary, since the hammock will pretty much assume this shape of its own accord, once hung, but it doesn't hurt.
To hang the hammock, just attach each end of the hammock to the straps that go around the trees, using the cords provided, and adjust as needed to get the hammock at an appropriate height.
Finding the proper height to wrap the straps around the trees takes a bit of experimentation the first few times you do it, so expect to spend some time setting up, testing, and trying again and again. It took me several tries to get to this point, and you can probably see that the hammock is too low. Naturally, there will be some sag as the cords and straps get fully stretched out. The first time I tried this setup, I found myself sinking to the ground.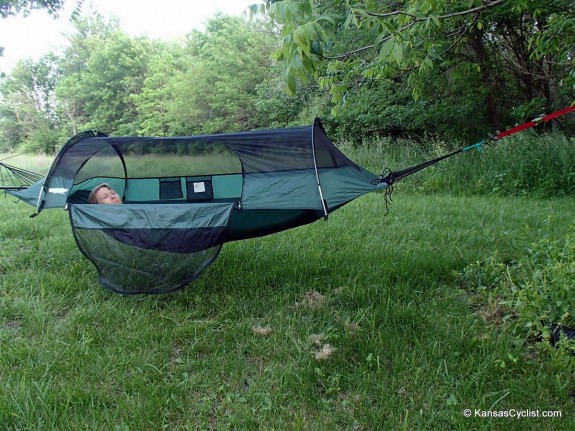 Eventually, I managed to get sufficient height and tension, and crawled inside for the very first time.
For someone, such as myself, who'd never used a hammock of any kind before, it takes a bit of nerve to trust yourself to the hammock, afraid of ending up falling to the ground, either through the hammock collapsing, the straps becoming undone from the trees, or simply tipping over and getting dumped.
But I needn't have worried. I had no mishaps, and was soon floating in midair, swaying gently. Success!
Getting into the hammock takes a bit of dexterity (as well as the leap of faith). Just unzip the door, make sure it's "out" and not "in", and sit down into the opening. Take a moment to assure yourself that the hammock will bear your weight, then lean over and tuck your head under the netting and lay back. Again, take a moment to accustom yourself to the feeling, then lift your legs and pull them inside. You've done it!
Now, zipping the door closed while inside can be a bit of a challenge, since one end of the zipper is nearly at your feet, and off to one side. But it can be done, though it takes a bit of practice to do smoothly.
I don't know how to rate the "tippiness" of the hammock, since I have no others to compare against. I never fell out or flipped over, though it was headed in that direction a few times while fumbling to close the door. The corners of the hammock (the same places where the poles are fitted) can be "guyed out" using a cord to stakes in the ground, to improve the stability of the hammock. I tried it both ways, and found that guy lines on the head end pretty much eliminated any feelings of tippiness, so I used them every time I used the hammock (which is why I included them in the "total weight" measurements above).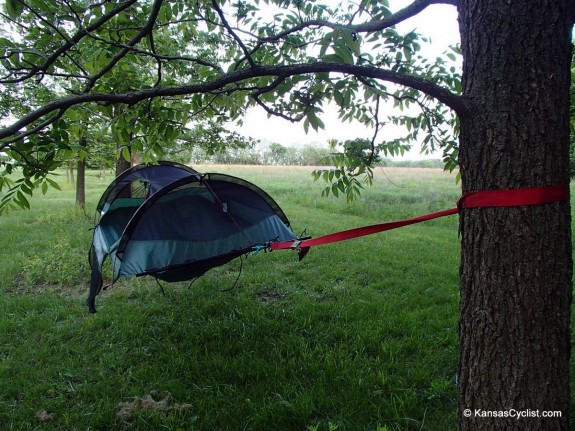 Here's a view of the hammock from the foot end, showing the tie-down straps I used around the tree. The ratchet makes it fairly easy to adjust the tension.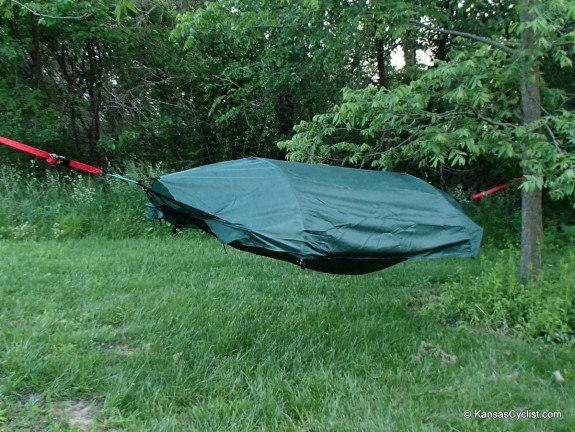 Here's the hammock with the rain fly installed.
The fly attaches with a combination of velcro and elastic straps. There are two velcro patches on each long side of the fly, which match up with corresponding patches beneath the body of the hammock. In addition, there's a small loop of shockcord that matches up with the four ends of the two aluminum poles. As well, there are shockcords that help wrap each end of the fly around the webbing at both ends of the hammock.
To get in the hammock with the fly attached, detach one of the four "corners", slip under the exposed edge, wriggle into the hammock, then reach out to re-attached the exposed corner and zip closed the door.
Yes, it's a rather fidgety process, and requires a good deal of physical dexterity. It does get easier as you practice, though.
Once inside with the fly attached, you're well-protected from rain, both vertical and windblown. There is adequate airflow through the ends of the hammock.
To get out, you'll need to unzip the door, reach out and unclip a corner, and wriggle out beneath the exposed edge of the fly. Again, practice this several times to get the hang of it.
Setting Up The Blue Ridge Camping Hammock In Bivy Mode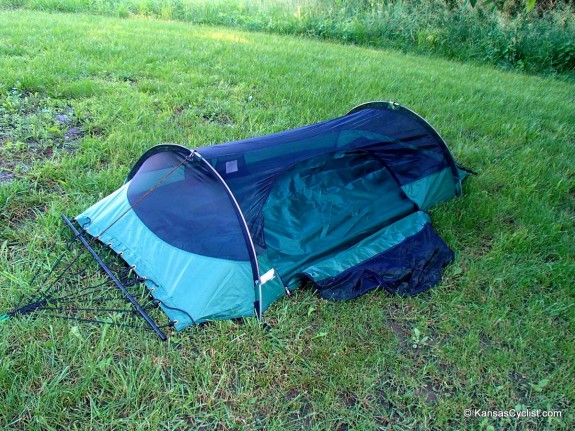 If there are no suitable trees available for hanging, the killer feature of the Blue Ridge Camping Hammock is it's ability to be set up directly on the ground, as a bivy tent.
The process is super simple. Just assemble it as normal — spreader bars, aluminum poles — but don't hang it. Instead, just stake out the webbing on each end, stretching it out to make it nice and taut.
Getting inside is a little tricky, since the door is basically on the ground, and you have to enter from the side. Just like in hammock mode, you sit down, get your head inside, pull your lower body in, and zip up. Again, it can be hard to reach the zipper near your feet.
Once inside, it's pretty roomy. There's lots of space to either side, and I had no trouble fitting lengthwise (I'm 5′ 9″ tall). There's some space above, but not a lot. Enough to turn over on your side, but not enough to do much else. For example, I didn't have enough room to hold a book above my head and read.
Note that in bivy mode, you're basically lying on the ground, so be sure to clear the area beneath you of rocks and sticks before you set up, and you may want to add a ground sheet, such as a tarp, to protect the floor. You'll also probably want a sleeping pad of some sort. The necessity to carry a pad adds additional weight and bulk to your gear, of course…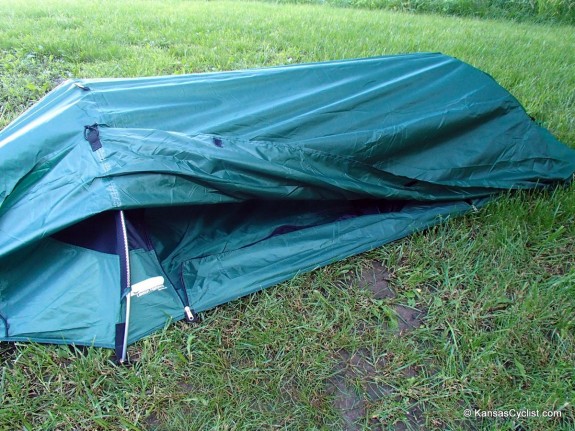 To set up the fly in bivy mode, it works exactly as it does for hammock mode. Just wrap it up!
Again, it's pretty hard to get into with the fly attached, and the airflow is not quite as good as it is in hammock mode, since the ends are on the ground. But you're well-protected from rain.
The manufacturer offers full instructions on their web site (also included with the product).
Camping With The Blue Ridge Camping Hammock
I've used the Blue Ridge Camping Hammock on two trips so far, once in hammock mode, and once in bivy mode.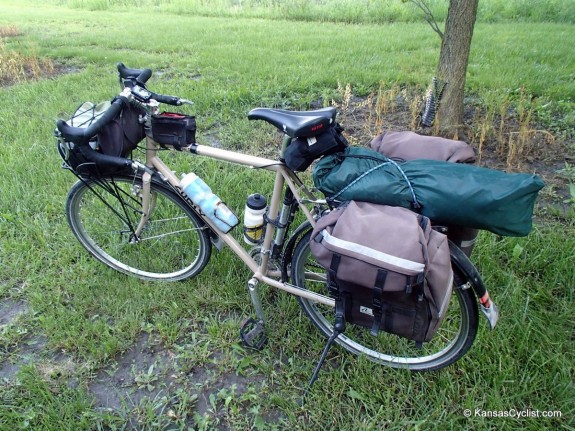 Here's the product on my bike. The package is too long to fit inside my panniers, so its strapped to the rear rack. This works fine, though it extends quite a ways past the end of the rack.
I stored the supplemental tarp and tie-down straps in a pannier pocket, rather than inside the hammock stuff sack.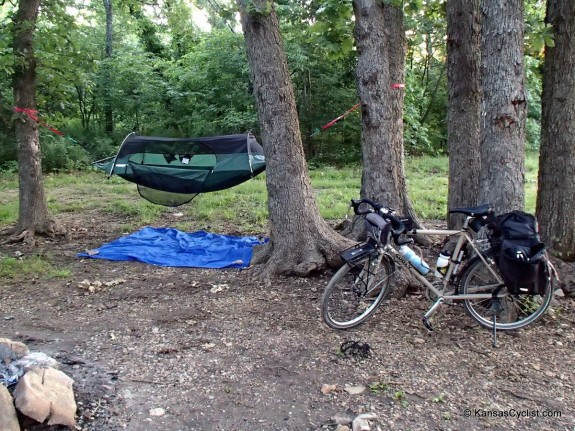 This was my first "hang" with the hammock, at a local state fishing lake. I had arrived just at sunset, and had to find an appropriate spot and get set up in deepening dusk, but even so, I had no problems. I'm glad I practiced beforehand, though!
I used the tarp beneath the hammock, since the ground was rocky and dusty.
I slept fairly well in the hammock, using a sleeping pad beneath me, and a sleeping bag. I didn't have much problems with the pad or bag moving around during the night. I did have to let most of the air out of the pad to make it less stiff and conform to the hammock better. Perhaps I should have tried it without the pad, but I did not.
I did note that it's hard to have anything inside the hammock, other than sleeping gear and small items that can be tucked into the internal mesh pockets. Anything else would tend to end up beneath me, and so I left things like shoes and extra clothes out of the hammock.
The weather was mild, and so I didn't install the rain fly. Temperatures were about 90°F at dark, and dropped to perhaps 65°F overnight. Wind was light.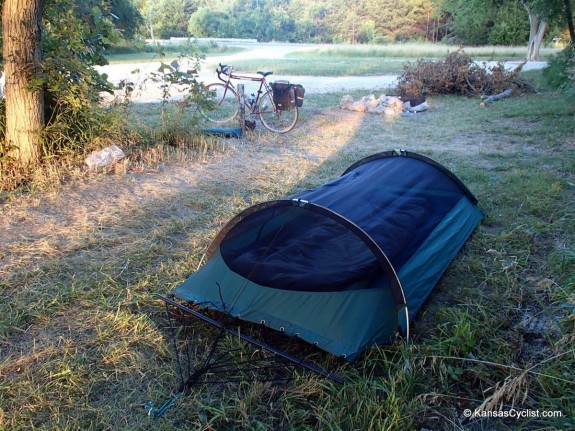 Here was my setup in bivy mode. Easy to set up, and I had a good night's sleep (other than being awakened by inconsiderate noisy neighbors after midnight).
This was my view at dawn, looking out at a peaceful lake. Nice!
Again, no rain threatened, and so I left the rain fly off. I used a sleeping pad and lightweight sleeping bag. Temperatures were about 90°F at dusk, and dropped to perhaps 70°F overnight. Wind was light, and I was comfortable.
In bivy mode, it's much easier to keep extra gear safe inside, which I preferred. The tight quarters were not a problem, except for the previously-noted inability to hold a book over my head while I lay on my back. That would be a more significant annoyance if I were stuck inside the bivy during a rainy day or a long winter night.
Blue Ridge Camping Hammock Pluses and Minuses
I'm impressed with the quality of the product — everything seems well-built and solid, with good stitching and quality components. The design is well-thought-out, though of course it's intended as a hybrid product, and so some compromises are inevitable.
I liked the ability to suspend above wet ground, rough ground, uneven ground, or unmowed ground, but I found the siting limitations to be rather severe. Riding around, keeping my eyes open for suitable "stealth" sites, I don't often come up with many possibilities.
It may be different in more forested areas, but in eastern Kansas, wooded areas are usually either heavily infested with undergrowth — tall grasses, prickly bushes, small trees, etc. — or far too open and exposed. There seem to be far more options for open ground where a tent could be hidden. The low profile of the Blue Ridge Camping Hammock in bivy mode would be useful here, but not enough to justify it's liabilities (difficult entry, limited headroom).
There are many more suitable sites in official camping areas, but even there, finding trees of just the right size and spacing and exposure can be very difficult. In my first night out, I spent a considerable amount of time at one lake, searching for a good hammock site, before eventually giving up and moving on to the next lake. It was frustrating.
That, of course, is no fault of the Blue Ridge Camping Hammock, it's just the nature of the Kansas landscape.
I was disappointed in the size and weight of the Blue Ridge Camping Hammock. It ended up weighing even more than my two-person tent, and taking up about the same amount of space. It gives me more flexibility, but at the price of comfort and convenience.
I was unable to test the product in storms, so I do not know how well it performs in rain or high wind. Those are challenging conditions for tents as well, of course, but I worry about setting up this product while it's raining especially in hammock mode. I'm afraid I'd end up getting the innards thoroughly soaked, and most of my gear would be left exposed in the rain.
I think rain would be somewhat less of a problem in bivy mode, since it goes up so quickly. But I'd be concerned about adequate airflow while wrapped up in the rain fly.
Blue Ridge Camping Hammock Conclusions
I enjoyed my nights with the Blue Ridge Camping Hammock, and it was an interesting experiment, though I don't think I'll be using it on a regular basis.
As an introduction to hammocking, with the fallback to bivy mode in case of no trees, it's a rather brilliant product. You can "try out" hammocking with little risk, and it's really an excellent little bivy tent.
If you're in an area with abundant locales for hammocking, I'd say the Blue Ridge Camping Hammock is a fine choice. It's relatively easy to use (even for a newbie), comfortable, and high quality.
But for my intended use — bicycle touring — the product doesn't offer enough positives to outweigh the negatives. Compared to my solo tent (4.4 pounds), it's both heavier and bulkier.
If you want to use it for car camping, I think it'd be a fine choice, as the weight and bulk are not a problem for that use case, and it's not a big deal if you have to drive around a bit to locate the perfect campsite.
Where To Buy The Blue Ridge Camping Hammock
The Blue Ridge Camping Hammock can be purchased directly from the manufacturer, Lawson Hammock, at LawsonHammock.com. It's also available from many outdoor retailers. The list price is $139.99.
The Blue Ridge Camping Hammock comes with a one-year material and workmanship warranty, and a 100% money-back guarantee.
---
Disclosure of Material Connection: I received a Blue Ridge Camping Hammock for free from
Lawson Hammock
as coordinated by Deep Creek PR an
Outdoor Industry Public Relations Company
in consideration for review publication.