Here is some quick information about some new bits of gear I'm testing this year. I'm not going to go into a lot of depth here, just a short overview and perhaps some preliminary thoughts. I intend to do full-length reviews of most of these items after I've had a chance to use them for awhile.
Alps Mystique 1.5 Tent
I've been using a Eureka Pinnacle Pass 2XTA tent for the last half-dozen years, and though it's served me well, I've been on the lookout for something lighter than the Eureka's 6+ pounds, and smaller to carry. I've also recently tried a Magellen Scout Tent, but while it's 2.5-pound weight is excellent, it's a single-wall tent, so condensation is quite bad.
After a great deal of shopping and deliberation, I finally purchased a Mystique 1.5 from Alps Mountaineering: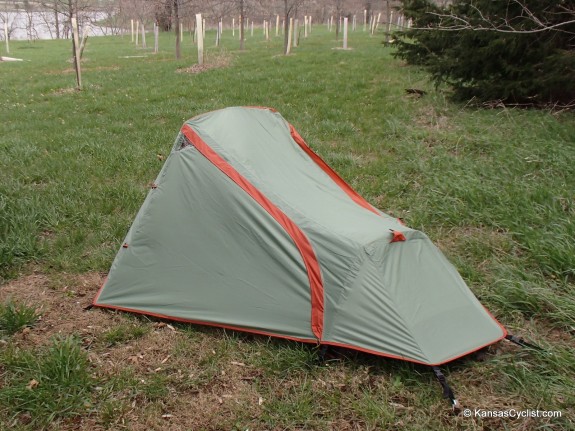 The Mystique 1.5 is a single-person tent with a carry weight of just over 4 pounds, which is not super lightweight, but the price was right (especially with my REI dividend), and Alps seemed to be a well-respected tent manufacturer. The Mystique 1.5 has a bit more internal space than many solo tents (hence the "1.5" name), and has two doors and two small vestibules, both of which are pluses compared to some competitors. It has lots of mesh, so there should be good ventilation, even on sweltering summer nights.
The only downside with the Mystique is that it's not free-standing; it must be staked down, and cannot be set up on a concrete pad, for instance. I decided I could live with that. And buying from REI, I knew that I could take it back at any time if it didn't work out, or failed.
I've slept in the tent one night, and so far so good. It went up very quickly and easily, and the inner space was adequate for one person, with room to change clothes and store gear. The vestibules, though not large, are handy for tucking away dirty shoes and gear not needed inside the tent.
As a pleasant surprise, I found that the tent poles are short enough to fit inside my panniers, which is a nice bonus, compared to my old Eureka. Rolled up, the tent plus fly is a little bulkier that I'd hoped, but I think I can address that with a compression sack, albeit at extra cost and weight.
I hope to use this tent many times this year, and come back with a fuller review at a later time.
Hoboroll
The Hoboroll is a unique product that caught my eye as soon as it came out. It's billed as "the first luggage organizer that provides compression of items as well as multiple storage compartments". It's essentially a tube with five equal-sized pockets (like slices of a grapefruit), with a drawstring at each end, and two compression straps around the circumference.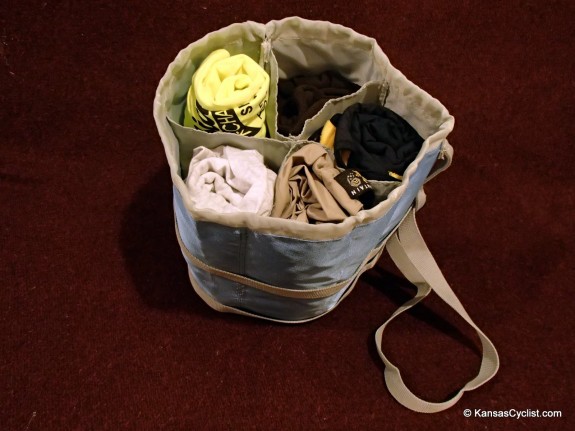 Here, I have it pretty well stuffed with a fleece jacket, fleece vest, a pair of pants, and four t-shirts. Once cinched down, it takes up approximately one-half to two-thirds the volume. (This, obviously, depends on the compressability of the contents.)
While I first noticed the Hoboroll being used by backpackers, I'm interested in trying it for bicycle touring (bikepacking). The combination of organization and compression, as well as a relatively light weight, should work out well for touring. It's obviously not waterproof, so that may prove to be a negative, since I don't have waterproof panniers.
So far, I've used it on one business trip, one car-camping trip, and one bike-camping trip, and have been duly impressed with both it's utility and flexibility. Again, I'm planning a more in-depth review after I've used it for a few more outings.
Disclosure of Material Connection: I received the Hoboroll for free from Gobi Gear as coordinated by Deep Creek Public Relations in consideration for review publication.
Panaracer Pasela Tires
My vintage 10-speed Puch bicycle has 27″ wheels, which limits the choice of tires. Previously, I'd used CST C637 "Super HP" tires, which at the time I purchased them in 2011, were less than $10 each. They were very good tires — I rode about 3400 miles on them — but I wanted to give the Panaracer Pasela, of which I'd read very positive reviews, a try.
I purchased the Panaracer Pasela 27″ x 1-1/4″ Gumwall Tire, at around $15 each. Weight, at about 390 grams, is competitive. I opted for the non-TourGuard version (i.e. without puncture protection), since this is primarily a fair-weather road machine, and I wanted the liveliest possible feel.
The tires went on easily, and I think the gumwall looks good on the old Puch: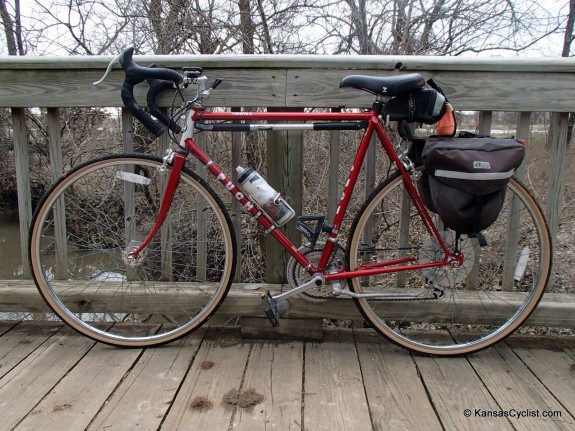 I didn't expect much of a difference in ride quality compared to the CSTs, but I have been pleasantly surprised to discern at least a bit of an improvement. I've noticed that the Paselas roll well, and offer a comfortable ride. I'm running them far below their 95 PSI rating, at about 50 on the front, and 55 on the rear, since I often ride on gravel roads.
With only about 300 miles on them, it's too early to say much, but they look like a good tire choice.