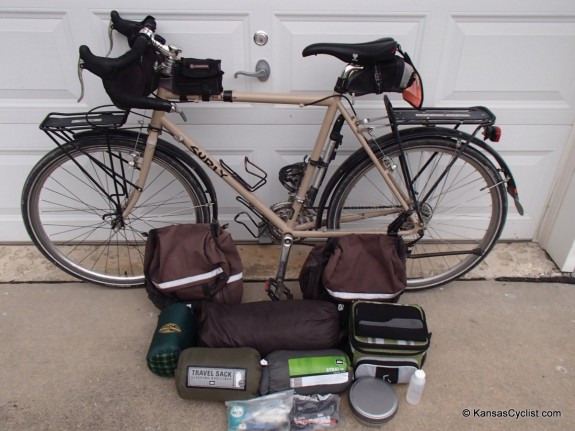 I think I have my summer touring gear pretty well optimized: Nashbar ATB Panniers
, Alps Mystique 1.5 tent, REI Travel Sack
sleeping bag, REI Stratus
sleeping pad, pillow, insulated tote (that rides on the front rack and will store food), Mini Trangia Stove
and fuel, tablet computer, miscellaneous electronics and toiletries.
The tent straps onto the rear racks, and the bag, pad, pillow, and stove fit in one pannier, leaving the other for clothing, food, electronics, and miscellanea. If I have something too big to fit in a bag, I can strap it on the rear or front rack with bungee cords, of which I always carry a couple extra.
Loaded up, the bike (a Surly Long Haul Trucker) is right at 50 pounds (excluding clothing, food, and water). So that's probably about 60 pounds or so rolling weight, depending on how much water I'm carrying. Which is plenty to lug up hills, but the bike has really low gearing, so it's good.
Hoping to get out for a little bike camping trip soon!
Post tags: Bike Camping