I recently set off on a little bike tour with my friend Bill Poindexter (Carfree American). The concept was pretty simple: ride to the south, camp, ride somewhere the next day, camp, and ride home.
I was starting from Olathe, and Bill from Kansas City, Missouri. We agreed on a southern route, with a vague destination of La Cygne for the first night. The second day and night we'd play by ear, making it up as we went along. Sticking with areas I knew well, we could afford to take a pretty casual approach to tour-planning.
Bill and I met up in mid-afternoon at 199th and Metcalf in Stilwell. This was about 20 miles from home for Bill, and 10 for me. We headed south on Metcalf, through rural Johnson County and into Miami County. Our first destination was Louisburg, after about 10 miles due south on Metcalf, into a brisk ~15-MPH headwind.
At Louisburg, we had our first decision point. There was another 25 miles to go, most of it into the wind, to get to La Cygne. But we had other options. Middle Creek State Fishing Lake was our first camping opportunity, at about 8 miles. The next was La Cygne Wildlife Area, at about 17 miles.
So the decision was whether to buy food in Louisburg, or wait until La Cygne. Suspecting that we may decide to cut the trip short, we stocked up on food and water in Louisburg, since there were no services at either bail-out option, or along the planned route.
After loading up at the local grocery, we headed south on Rogers Road, which parallels Metcalf for several miles. Though graveled, and not paved, this was a scenic and nearly traffic-free route, which crossed one of my favorite bridges in the area, the Branch Rabbit Creek Bridge, a one-lane pony truss span built in 1915.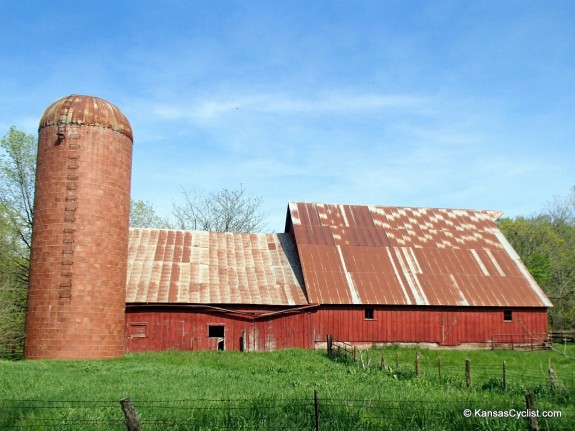 Just past the bridge, on Rogers Road, is this great red barn and silo.
After the gravel, and another few miles of headwind, we decided to spend the night at Middle Creek State Fishing Lake. We set up the tents, had a bite, then found ourselves with some time before dark. We soon realized that we'd neglected to bring any beverages of a refreshing sort. So, leaving the tents set up, we made a quick run to Drexel, Missouri, about 7 miles distant, to the southeast.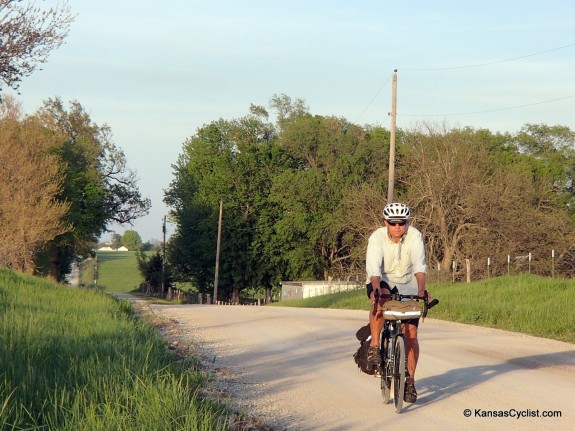 Having offloaded our supplies back at camp, we had fresh legs, and made good time. The ride to and from Drexel was gravel roads both ways for most of the distance, and we managed to find a few hills as well.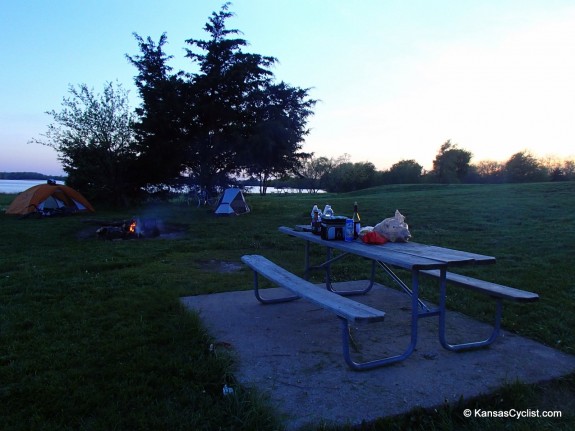 Back at camp, we settled down and prepared for dark, with more food and drink.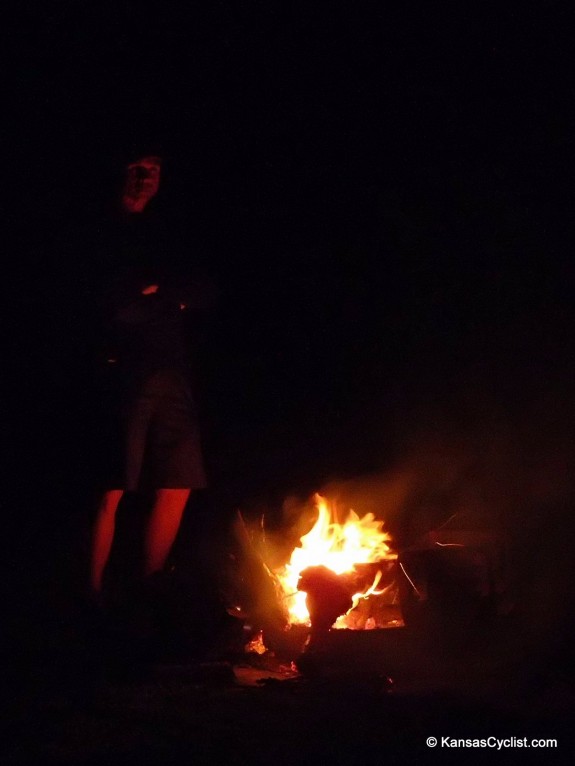 It was warm enough that a campfire wasn't strictly necessary, but somehow a fire is always comforting, and seems appropriate when night falls outdoors. A fire ring, along with a picnic table, is one of the appreciated amenities when camping at places such as the Kansas state fishing lakes.
We stayed up for an hour or two after dark, and were treated to a clear sky with a sliver of a moon and a brilliant display of stars. Hitting the sack in our respective tents, we fell asleep quickly (or at least I did).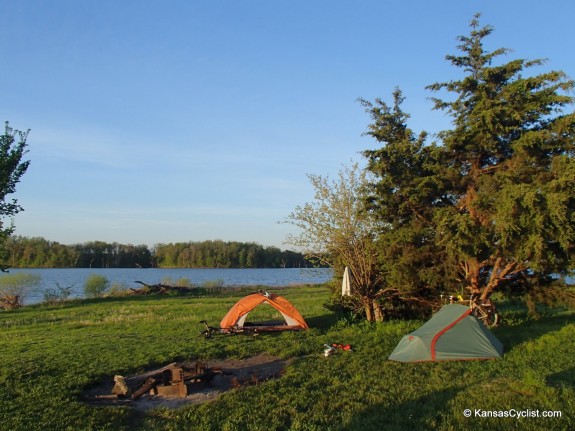 Next morning, it was beautiful lakeside. I made a bit of coffee while we each had a little breakfast.
My Alps Mystique 1.5 tent once again performed flawlessly. Went up quick, tore down quick, packed tight. I opted to strap it to my rear rack on this trip, to free up pannier space.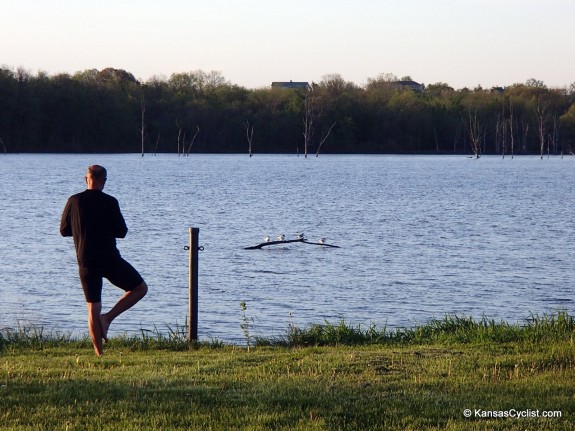 Bill took the opportunity for a little morning yoga, observed by a group of birds posing out on the water.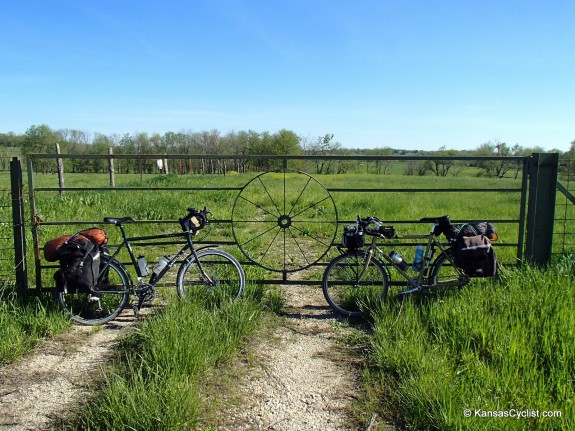 We decided on a first destination of Osawatomie, where we intended to secure a second breakfast, then get onto the Flint Hills Nature Trail to Ottawa. From there, were intended to loop back north to Baldwin City, then on to Douglas State Fishing Lake for the night.
During the overnight hours, the wind had shifted to the southwest, and it picked up in intensity as the day lengthened. Of course, we were headed southwest, so faced at least a half day or so of headwind.
These are our bikes at one of our rest breaks on the way to Osawatomie, leaned up against an interesting farm gate. We both rode Surly Long Haul Trucker touring bikes. Bill's is the green one on the left; mine is on the right.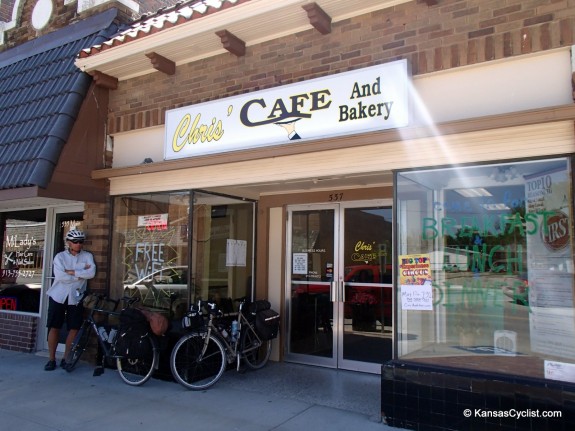 In Osawatomie, we stopped in at Chris' Cafe (it was the "Free WiFi" that drew us in), and had a little late-breakfast / early lunch before heading off again. Good eats, reasonably priced!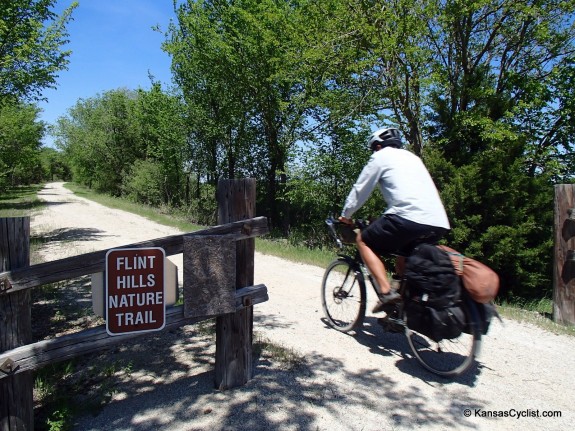 We entered the Flint Hills Nature Trail just west of Osawatomie, and enjoyed the car-free quiet, and numerous wildflowers along the trail.
We'd only gotten a few miles before my cell phone rang. It was my wife, letting me know that she had called her doctor about severe stomach pains that had been bothering her for awhile, and they'd suggested that she go to the emergency room at the hospital.
That meant I was headed home, and Bill decided to return home as well, rather than proceeding on his own.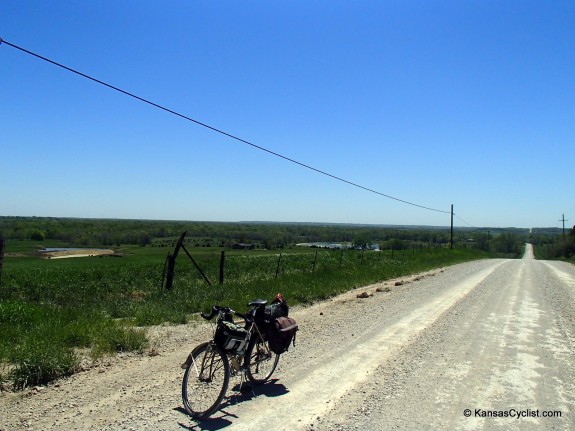 Heading back north, we finally had a nice tailwind, and made good time, but there were some hills to contend with, and the day was heating up quickly. Here, I had stopped after a bit of a climb to apply more sunscreen. A nice little view!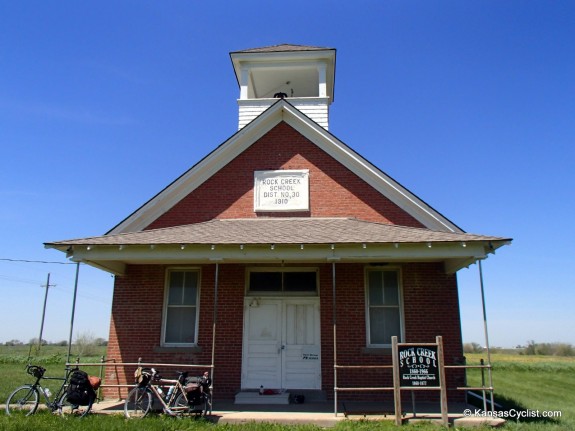 After a long stretch of gravel, we took a break at the old Rock Creek School House, built in 1910 at 231st and Pressonville Road in the country between Edgerton and Wellsville.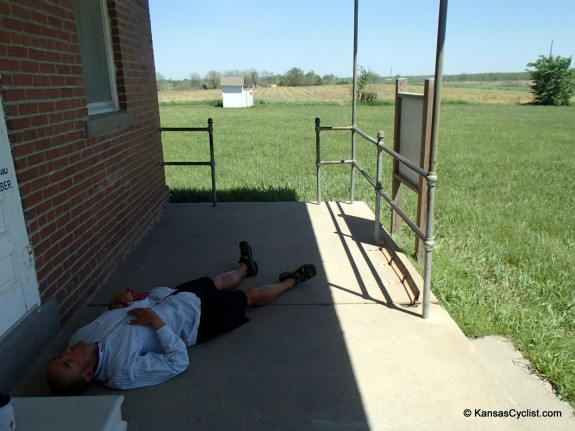 The heat, wind, and rough gravel got to 'ol Bill and he lay down for a quick stretch at the school. Hottest day of the year so far, and the first heat rides are always the toughest…
From there, we headed east, crossing the Antioch arm of Hillsdale Lake, and taking 223rd into Spring Hill. There, we split up, with each of us heading for home.
I ended up with about 100 miles total. Not a bad little trip, even if it was cut a bit short. My wife's stomach ailment turned out to not be too serious, so all ended well.
Hoping for more bike camping trips soon!
Post tags: DirtBum, Louisburg, Osawatomie