As anyone who follows Kansas Cyclist on Facebook knows, I love to take pictures as I bike around.
I even did a "30 Days of Biking Photo Challenge" in April — riding the bike every day of the month, and posting a photo each day. Finding new and unique images was much harder than riding the bike, I assure you! You can view all my images from the month on my personal blog, DirtBum: 30 Days of Biking, April 2011.
Here is a small collection of my favorite images of the year, in roughly chronological order: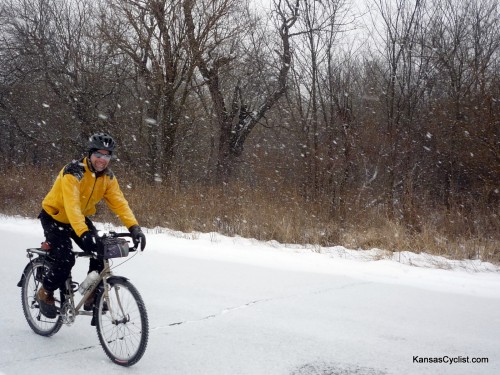 You might not consider a snow storm an ideal time to be on the bike, but with the right clothing, the right tires, and lack of traffic, it can be quite beautiful, peaceful, and safe!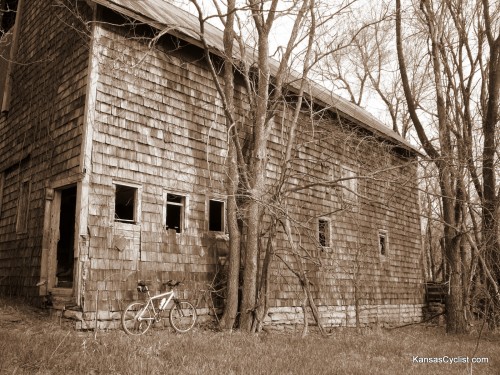 This derelict old barn made a nice backdrop on this early-spring ride.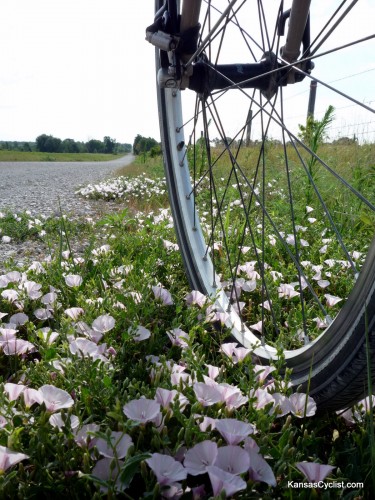 As the weather warms, I love how the flowers appear along the roadsides.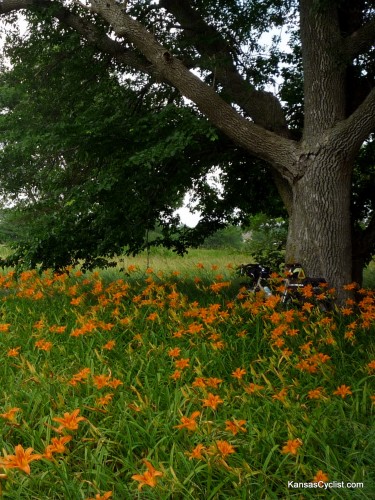 These early-summer Tiger Lilies were quite beautiful.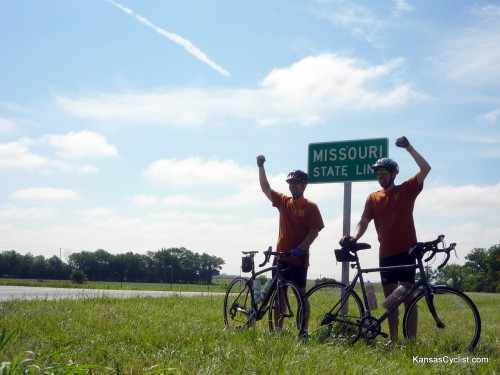 These cyclists were happy and proud to have reached the finish line of the 2011 Biking Across Kansas tour, which started at the Colorado state line and ended at the Missouri state line near La Cygne Lake in Linn County.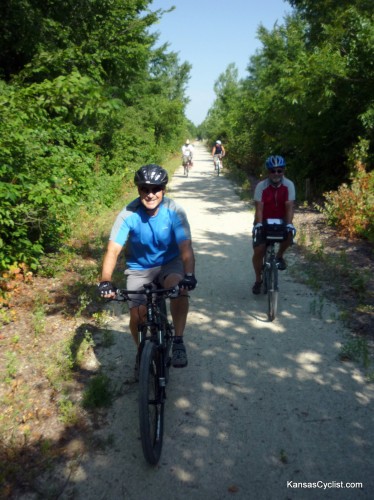 In early July I led a small group onto the Flint Hills Nature Trail between Ottawa and Rantoul. It was a blistering hot day, but folks were all smiles … at least until the heat overcame us and we limped back home.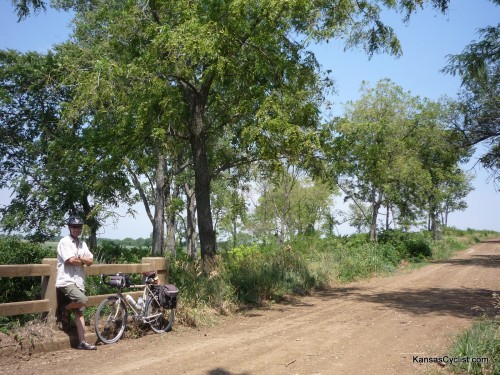 This shot is from a solo ride I took in mid-summer, near Hillsdale Lake in Miami County. It was over 100°F that day, but with ample water and loose-fitting clothing (and a moderate pace), it was a great day to ride a bike!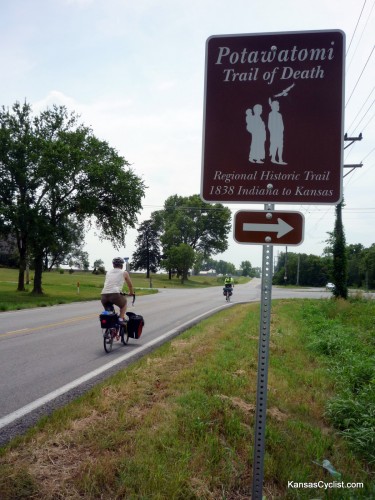 Bicycle touring with a group from Johnson County, headed to Middle Creek Lake in Miami County. Touring can be a great way to experience the countryside and learn about the culture and history of a place, as in this marker for the Potawatomie Trail of Death.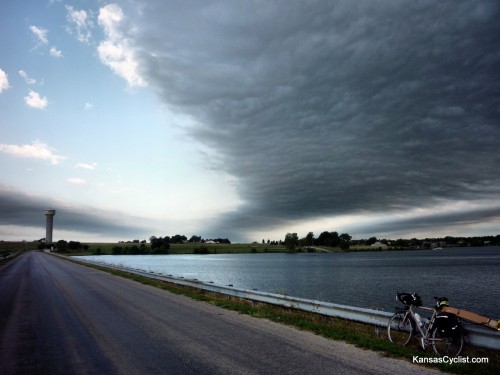 Kansas weather can be unpredictable, but the skies can be beautiful and awe-inspiring, as the cloud formation in this shot taken in early August at Lake Miola in Paola.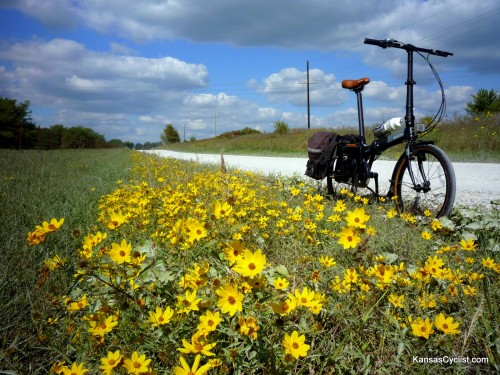 This early-autumn photo shows some stunning flowers along a gravel road in Johnson County.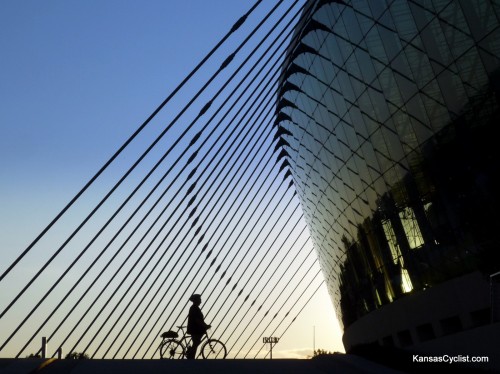 This might be my favorite shot of the year, taken at the Kauffman Center for Performing Arts in Kansas City. It is an amazing structure, and I happened to be there at the perfect time to catch an awe-struck cyclist admiring the last light of day (Bill Poindexter of Carfree American).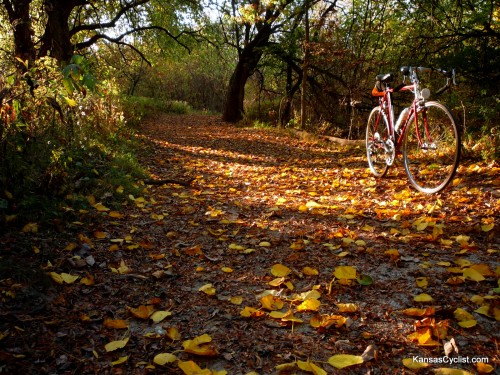 The crunch of fallen leaves beneath bicycle tires is one of the tactile pleasures of autumn…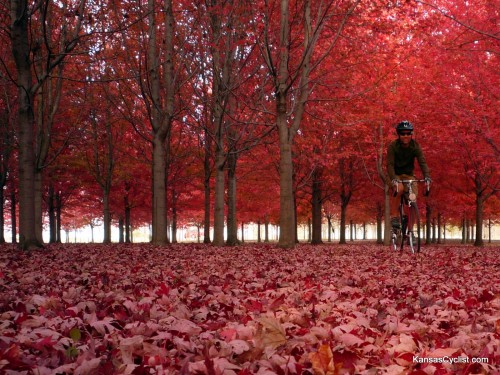 Fiery fall colors!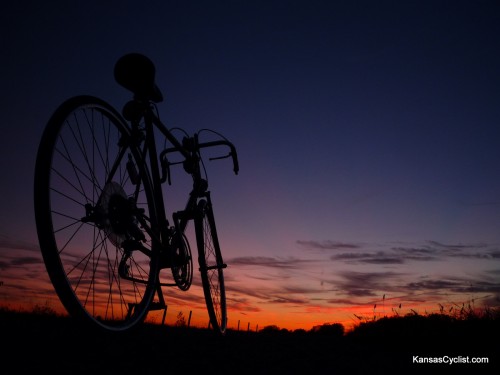 Hope you got a chance to catch one of those gorgeous sunsets that Kansas is known for…
For 2012, as you ride your bicycle, be sure to take along your camera, pause to admire the scenery, and share the experience with your family and friends!