Myself and some friends rode a short bike tour this week: Iola-Osawatomie-Lawrence-Topeka-Melvern-Iola. About 290 miles, a mixture of paved roads, gravel roads, and trails (bits of the Prairie Spirit Trail, the Flint Hills Nature Trail, the Shunga Trail, and the Landon Nature Trail).
There were a few hills, some wind, heat, and rain, but we kept the pace casual. The great thing is, this type of tour is very accessible to nearly all cyclists, and you see so much from the saddle of a bike, just cruising along at 11 MPH. See a pretty flower, an interesting barn, a cool old sign? Stop and check it out!
Bike touring is a wonderful way to experience the world. Life gets simple: ride, eat, sleep, repeat. Just get out and go!
Here was our route: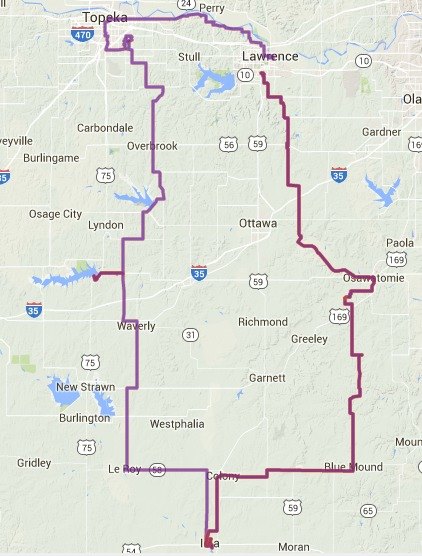 (The "gap" in Lawrence was me forgetting to start my Garmin Cyclometer.)
There were five of us on this little tour: two from Iola, two from Parsons, and a part-time rider from Garnett. We were mostly self-supported. The overnights in Osawatomie and Lawrence were in private homes, but there are public options as well. In Topeka, we were at Lake Shawnee, and at Melvern Lake we were in Coeur D'Alene Park.
Some photos from the trip:
Post tags: Bike Camping, Flint Hills Nature Trail, Lawrence, Topeka