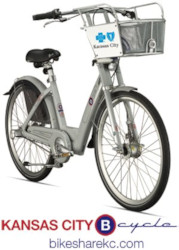 A new bicycle-sharing service debuted this week in Kansas City, Missouri, with the launch party for Kansas City B-cycle on July 2nd.
The service provides a fleet of 90 bicycles, available at 12 docking stations in the downtown area. Each bike features a heavy-duty step-through frame, 3-speed internal gearing, front basket, fenders, skirt guard, chain guard, kickstand, bell, reflectors, tail light, and headlight. No helmet is provided.
Bikes must be rented using a credit card, and the first half-hour is free, and every half-hour thereafter costs $2. In addition to the usage fee, you're also charged a membership fee, on a daily ($7), weekly ($15), monthly ($25) or yearly ($65) basis. So it'll cost you a minimum of $7 to try a B-cycle, plus $2 for each half-hour beyond the first 30 minutes. The maximum daily charge is $40 per 24 hours. The B-cycle pricing encourages short urban trips; if you need a bicycle for longer periods of time, consider renting a bicycle from a bike shop.
The bikes promise to be available every day from 5am to midnight, for "at least" nine months of the year. (If it works out like bike shares in other cities, the bikes will be unavailable through winter, presumably due to concerns about damage due to extreme weather, and anticipated lower usage rates).
Here's a video that explains it:
According to the Kansas City Star, Bike-sharing program a big victory for KC:
Tuesday's launch of Kansas City B-cycle, a bike-sharing program, is a big step toward making Kansas City more accessible, welcoming and, yes, cool.

A lot of credit for Kansas City's newest amenity goes to BikeWalkKC, the indefatigable group that works to promote a safer climate for cyclists and pedestrians. The sponsorship of local businesses, especially Blue Cross and Blue Shield of Kansas City, was crucial. The system will cost about $2 million to get started.

What's needed now is for Kansas Citians and downtown workers and visitors to take advantage of the bikes. Adequate ridership will enable the system to be extended into midtown and south from there.
Huzzah!
Post tags: Bike Share, NewsBlog