From Pedal Omaha:
Within the past couple of weeks, news of two new programs offering bike rental and bike sharing in Omaha has caused a buzz.

Starting with a soft launch a few weeks ago, the Omaha Convention and Visitors Bureau began renting six Trek Lime bikes and four kid's Trek M200 mountain bikes to visitors of downtown Omaha. Read more about the bike rental program here.

Today marks the start of a free bike share program at the University of Nebraska at Omaha, using eight donated bicycles, including a tandem bicycle. Read more about the bike sharing program here.
Currently, the prices for the bike rentals are $7 per hour, $15 for 3 hours, or $28 for all day. The rental price includes a helmet and a lock. The Omaha Convention and Visitors Bureau is located at 1001 Farnam in Omaha. Their phone number is 402-444-4660 (or toll-free 866-937-6624).

Many Omaha bike shops will also rent bicycles. Here are a few that showed up in a quick search: Bike Masters, Bike Rack Cycling & Fitness, Olympia Cycle, The Bike Way, Trek Bicycle Store of Omaha. Obviously, you'll need to contact individual shops for pricing and availability.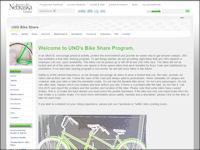 The University of Nebraska at Omaha Bike Share Program is a free service for UNO students and employees, staffed by volunteers. Bikes are available on a first come, first served basis. The bikes may be picked up and dropped off at any UNO bike rack, and the bikes may not be taken off the UNO campus. If the pilot bike sharing program is successful, UNO plans to add more bikes in the future.
Looks like there are some nice things happening in Omaha!
Post tags: Bike Share