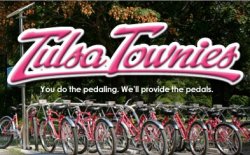 On his CycleDog blog, Ed Wagner writes about Tulsa, Oklahoma's Tulsa Townies bike-sharing program, and the lack of credit Tulsa has received for the initiative.
Bike-sharing programs were apparently one of the hot topics at the recent National Bike Summit, with both Portland and Washington, DC close to launching new bicycle-sharing programs. Some reports even indicated that the two cities were fighting to be the first such program in the US.
Meanwhile, the Tulsa Townies program, which allows the public to "check out" a bike from four self-service kiosks along the Tulsa trail system, was launched in 2007, and plans to expand its services this year.
Regarding the program being largely overlooked by national bicycling groups and media, Ed says that "Yes, it bothers me greatly. We have a good system here. It works. And since Tulsa isn't known as a trendy cycling town, that popular bike share program is relegated to obscurity."
In addition to the self-service-style bike sharing programs such as Tulsa Townies, there are also "bike library" programs, which allow bicycles to be checked out from a central location, sometimes for longer periods. Programs of this type include the Fort Collins Bike Library in Colorado, the Iowa City Bike Library in Iowa, and the Healthy Pedals program in North Platte, Nebraska.
Post tags: Bike Share