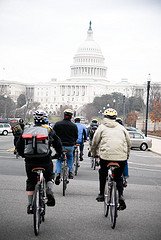 Washington, DC was the site of the 2008 National Bike Summit, which took place March 4-6, sponsored by the League of American Bicyclists.
Bicycle advocates, industry leaders, and retailers from around the nation gathered for two-and-a-half days of workshops, training, and meetings with members of Congress and their staff in an effort to forge a new national consensus on the value of getting more people riding bikes more often.
Many of the states in the nation were represented at the summit. There was no official delegation from Kansas (the nascent KanBikeWalk organization being still in the "launch" phase). Regionally, delegations from Iowa and Missouri attended.
For more information, refer to coverage of the summit from the Missouri Bicycle Federation and the Iowa Bicycle Coalition. Further afield, BikePortland provided comprehensive coverage of the event. You can also view summit photos at Flickr (photo above courtesy of BikePortland).