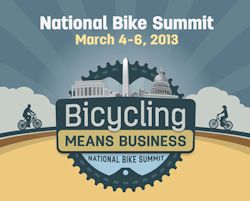 The 2013 National Bike Summit begins tomorrow in Washington, D.C., and there is a delegation of Kansans attending this year's summit.
The theme for the 2013 National Bike Summit is "Bicycling Means Business", and participants will deliver the message that "In pure economic terms, bicycling pours billions of dollars into the U.S. economy, creating jobs and boosting community development from coast to coast. In political terms, bicyclists mean business, too. The united voice of the bike industry, event directors, local riding clubs and advocacy groups is a powerful constituency."
The delegates from Kansas include:
Dale Crawford, who has attended a number of bike summits, first as advocacy chair of the Johnson County Bicycle Club, and now as president of KanBikeWalk. Dale has a background in landscape architecture, was the Park Project Coordinator for the city of Olathe, and is an LCI (League Certified Instructor) with the League of American Bicyclists.
Jeff Koenig, co-owner of Big Poppi Bicycle Company in Manhattan, has attended the summit before as well, and serves on the board of directors for both the National Bicycle Dealers Association and KanBikeWalk.
Gina Poertner is a past president, and current board member, of KanBikeWalk, owner of Life Balance Sports and Wellness, a Certified Health Education Specialist, and she officiates numerous races in the region, and runs the popular "Tuesday Night Worlds" and "PowerFiTTE Time Trial" series of training races. 2013 will be Gina's first summit.
It's a good group, representing the fields of planning, retail, sports, and advocacy, among others.
The Kansas delegates will meet with representatives from other bicycling organizations and businesses from across the country for two days of training and networking, followed by a day of advocacy on Capitol Hill.
The Kansas delegation plans to meet with Kansas Senators Jerry Moran and Pat Roberts, and Kansas Representatives Tim Huelskamp, Lynn Jenkins, Mike Pompeo, and Kevin Yoder, to discuss federal issues related to bicycle and pedestrian transportation.
Thanks to the Kansas delegation for investing their time, effort, and expense to make the trip to D.C. to represent our interests and concerns! Look for a follow-up report from KanBikeWalk after the summit.
Post tags: NewsBlog