Denver, Colorado is poised to become the first U.S. city to introduce a large-scale permanent bike share program. The program, with will be called "Denver B-Cycle", will begin this summer, offering some 500 bikes at 30 to 40 stations around the city.
"The positive feedback we received from the bike sharing program during the 2008 Democratic National Convention was remarkable," Denver Mayor John Hickenlooper said in a statement. "We are confident Denver B-Cycle will prove equally popular while improving our fitness levels and our environment. Our 358 miles of bike routes and trails combined with our 300 days of sunshine make Denver the perfect city in which to launch this citywide bike sharing system."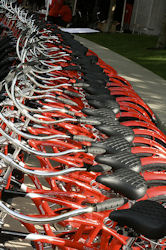 At the program's announcement on January 14th, the Denver 2008 Convention Host Committee presented a $1 million check to Denver Bike Sharing, the nonprofit that will manage the citywide bike-sharing program. "On behalf of the Executive Committee, we are pleased to be able to support the launch of a citywide bike sharing program," said Elbra Wedgeworth, president of the Denver 2008 Convention Host Committee. "It's an honor to help create such a meaningful legacy that will benefit the residents of Denver for many years to come."
Denver B-Cycle "will focus initially on the downtown Denver business district, University of Denver campus and adjacent neighborhoods," the release said. Stations will be in a 3- to 4-mile radius of downtown and integrated with current bus and light-rail routes.
Mayor Hickenlooper also launched the Denver B-Cycle City Employee Bike Loaner Program, which will serve as a pilot program to the citywide bike sharing system. The project allows city employees to check out bicycles for business or recreational use. Any City and County of Denver employee can view an online safety training presentation, sign a user agreement, and then check out a bike. Bikes must be returned to the same location by 10 a.m. the following business day.
Read more from BikeDenver.
Image courtesy of sillygwailo, and is a photo of Vancouver's Vancity Bikes.
Post tags: Bike Share