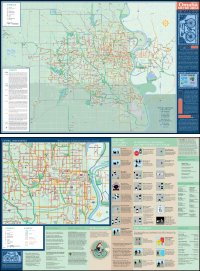 Cyclists in Omaha, Nebraska are celebrating the release of Omaha's first bike route map.
The map is designed as a tool to help cyclists find routes through the city by bicycle. Although Omaha has a growing metropolitan trail system, trails don't go everywhere, and people often must use the street system for commuting, access to trails, recreational trips, and other purposes. The bike route map is intended to compliment the Metro Area Trails map produced by the City of Omaha.
The map identifies multi-use trails and bike lanes, paved shoulders, continuous streets, survivable arterials and cautionary streets. The map is destination-based, showing points of interest in the Metro area as well as where the local bike shops are located. The new map color-codes streets based on their traffic levels, space for cyclists and other factors. The map also notes the city's steepest hills.
The map, produced by community health group Activate Omaha, is available for free from local bike shops and Community Centers, or you can request a copy by email (send your name and mailing address to info@activateomaha.org). You can also view the map online (PDF).
Read more: New bike map may push people to ride more from the Omaha World-Herald, Omaha: New map inspires cyclists from Bike Commute Tips Blog.