A new Kansas law will allow drivers with a suspended license (due to DUI, multiple unpaid tickets, or other issues) to obtain a special license that would allow them to operate a motorized bicycle.
Kansas Governor Sam Brownback recently signed into law Kansas Senate Bill 60, which would, among other provisions, allows "the issuance of class C licenses for the operation of a motorized bicycle to certain persons with suspended or revoked drivers' licenses".
Here's how Kansas.com explains it:
Senate Bill 60 also includes a Wichita judge's idea for giving motorists with suspended licenses a way to get around without driving.

The provision allows drivers with a single DUI or multiple suspensions for unpaid tickets or other issues to obtain a special license that would allow them to operate what the law calls "motorized bicycles."

The main problem is that many people whose licenses are suspended still need to get to work, and in parts of the state without public transit, have no choice but to risk driving without a license, said Sedgwick County District Court Judge Phil Journey.

Journey proposed the provision when he was a state senator and who testified in support of it this year.

The problem is especially acute for low-income workers who lose their license because they can't afford to pay a fine. They get caught multiple times and the penalties keep escalating, Journey said.

It's costly for them and for taxpayers, who have to pay for multiple prosecutions and in some cases, jail time, Journey said.

The definition of a motorized bicycle includes mopeds and scooters of less than 50 cubic centimeters of engine displacement, less than 3.5 horsepower and automatic shifting. Such bikes usually weigh 180-200 pounds and can only go about 30-35 mph.

"The odds of getting hurt by someone on a moped are pretty slim," Journey said.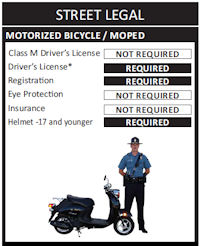 Certainly, a motorized bicycle is capable of causing less harm than an automobile.
But is it really a good idea to give someone a license to drive any motorized vehicle after they've been convicted of a DUI and their regular driver's license has been suspended?
Why not just skip the "motorized" headaches (and licensing, and registration), and ride a regular pedal bicycle, which requires no license or registration, costs far less to purchase, operate, and maintain, and is much better for the health of the rider and the community at large?
Very strange…
Post tags: NewsBlog