James Peppers found out the hard way that Topeka has an ordinance requiring bicycle registration, after being ticketed by Topeka Police:
Peppers says he rides his bike wherever he goes, and wonders if every person riding a bike gets stopped and ticketed for no registration. "I mean that means that every little kid has to register their bike. I mean half of them just get bikes to be riding, that means a little kid no matter who it is cannot enjoy riding the bike because if it's not tagged they are going to stop you," Peppers said.

Now that Peppers knows the code he says he will take care of the ticket, it's 10 dollars, but court costs are another 66 dollars. "And I got to go to court for it so, I will," Peppers said. So 76 dollars out of his pocket, he says he will go and register his bike with the Fire Department. [read more]
According to the Topeka City Code: "It shall be unlawful for any person residing in the city to ride or use a bicycle without first obtaining a license".
Topekans can register their bicycle at any city fire station. It's free and the registration never expires.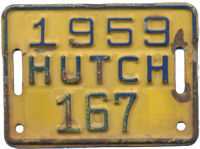 It's not clear what physical form the license takes, but the code says "The license shall be suitable for attachment to the bicycle as near to the top of the seat tube as possible, facing the front wheel." The license also includes a registration certificate.
(The image on the right is an antique bicycle license plate from Hutchinson, Kansas. Hopefully the technology's progressed just a bit from 1959…)
Bicycle registration is not unique to Topeka. Many communities require that you register or license your bike, though these requirements are seldom enforced. (See our Kansas Bicycle Registration and Licensing Requirements page.)
By the way, there's at least one more "gotcha" from the Topeka city code: "No person riding a bicycle on a sidewalk shall exceed a speed of five miles per hour." Yet one more reason to steer clear of sidewalks and take your rightful place on the roads!
Post tags: Topeka