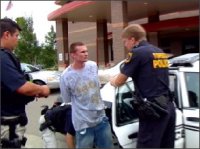 Midmorning on August 6th, a 13-year-old boy was riding his bicycle when he was struck from behind by a pick-up truck in Topeka, KS (see map). The boy was taken to a local hospital with non life-threatening injuries, while police searched for the truck, which had fled the scene.
Some time later, after a short pursuit and a foot chase, officers apprehended two young men, and determined that the vehicle they were driving had been reported stolen from a local car dealership.
Police identified the two arrested as Steven Rule Jr. (pictured above) and Tyson J. Holloway, both 22, of Topeka. They were booked into the Shawnee County Department of Corrections on charges including felony theft, felony obstruction, failure to render aid, leaving the scene of an accident, criminal damage, four counts of stop sign violation, red light violation and suspended driver's license.
(One point of confusion: Written news reports said the boy was riding his bike, while the officer in the WIBW video referred to him as a "pedestrian", so it's not clear whether he was riding or walking his bike…)
Read more: Topeka Capital-Journal, KTKA, WIBW
Photo courtesy WIBW, which also has video and additional photos.
Post tags: Topeka