The Kansas Historical Society, through their Kansas Memory project, recently posted a collection of old photographs, Views of North Topeka, Kansas:
These fifty-two glass plate negatives were found in a house at 1510 NW Tyler, Topeka, Kansas, and were subsequently donated to the Kansas Historical Society. The early snap shots show young people in North Topeka "horsing around" with a camera and capturing photos of themselves, family members, houses, flooding, boats and guns, bicycles, farm animals, horses and wagons, and a trolley. The photographs and the photographer are unidentified. These photos are a good example of early vernacular photography made possible by George Eastman's invention of the Kodak camera in the late 1880s.

Date: Between 1890 and 1910
Here are the two bicycle-related images from the collection: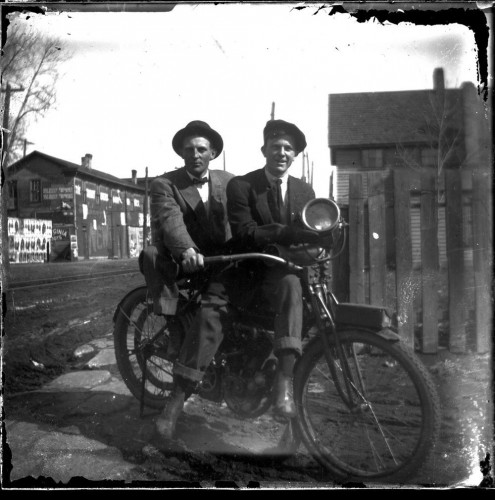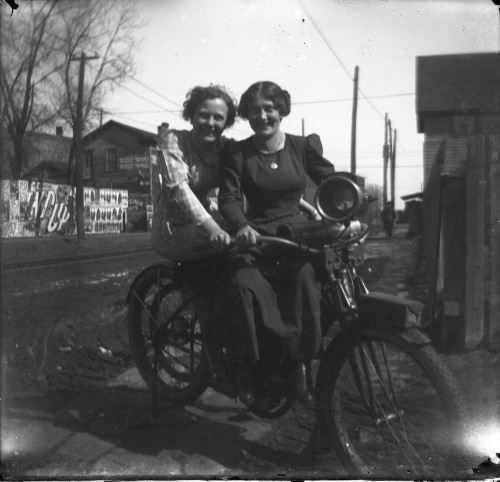 A few observations and questions about these photos:
The street is pure mud
There's a trolley track running right down the middle of the mud street (another image shows the trolley itself)
That is a very hefty bike!
Huge light (what's the lighting technology?)
It is a true bicycle (the pedal is visible in the women's photo)
What is that box on the front fender?
What is the round tube in the center of the handlebars?
Really interesting photos. Though the scene is rather depressing, the people are nattily dressed, and appear really happy.
Post tags: Topeka