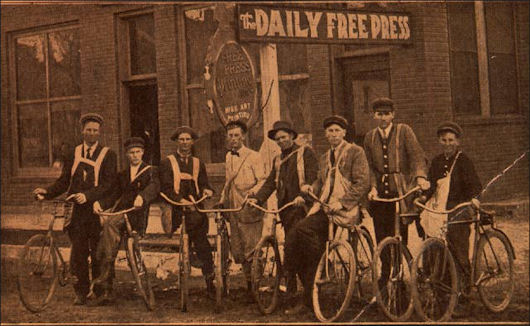 This photo shows delivery agents for The Daily Free Press in Winfield, Kansas, taken about 1914.
It's hard to see much detail, but it's interesting to note that, with the exception of the way the riders are dressed — jackets, ties, and hats — the bicycles themselves wouldn't look all that out of place nearly a hundred years later.
Incidentally, here's some interesting commentary on the effect of automobiles on Winfield:
By 1910 Winfield paved the downtown streets with brick, horses were no longer welcome. The mule drawn trolleys were upgraded to electric streetcars. Eventually the automobile changed the face of small town America. Main Street went from a gathering place for people and horses and wagons to a parking place for the ubiquitous automobile. The Trolley Cars were displaced to make room for more cars. The brick streets were covered with asphalt to provide a smoother ride for the automobile.
Courtesy of the Cowley County Historical Society Photo Archives.
Here's a similar photo, this one from Topeka, showing delivery boys for the Topeka Daily Capital, circa 1900: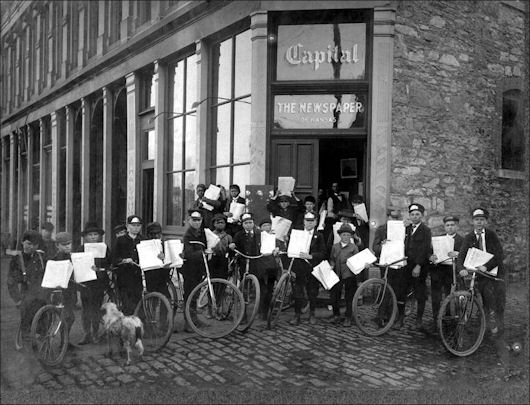 Courtesy of Kansas Memory, from the archives of the Kansas State Historical Society.
Post tags: Topeka