The bike share program in Topeka, Kansas, Topeka Metro Bikes, has had a most impressive launch. In its first three months, Topeka Metro Bikes reports more trips than Kansas City's bike program had in first year:
From April 10 to July 10, TMB bicycles made 5,383 individual trips. In its first year, Kansas City, Mo.'s B-cycle made just 5,300 total trips. The success of Topeka's bike share program can be attributed to a growing interest in biking during the last few years, Karl Fundenberger, TMB director of operations, said during a short presentation at Monday's Topeka Metropolitan Transit Authority board of directors meeting.

"Kansas City helped pave the way for some of that awareness," he said.

Bike sharing in Topeka, the first city in Kansas to have such a program, has been popular for both recreational and transportation use, Fundenberger said. In that three-month window, more than 1,500 trips were taken around the Washburn University campus. Those are mostly students taking one-way trips, he said. But at Lake Shawnee, just under 1,000 were taken, many of which were loops around the lake. Other popular destinations include Gage Park and Crestview.

The bike share program has about 1,400 members. Members can pay $2.50 per hour or a $25 annual fee that includes two free hours a day. About 50 percent of riders are women, which Fundenberger said beats the national average for all biking — 25 percent.

Bikers have pedaled 12,241 miles from April 10 to July 10 and burned an estimated 493,006 calories. All of those miles equate to about $7,148 saved over cost of fuel and an estimated reduction of 10,868 pounds of carbon dioxide.

"These numbers are really encouraging," he said.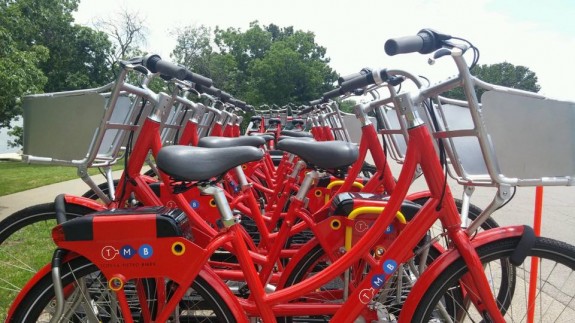 Post tags: Bike Share, Topeka