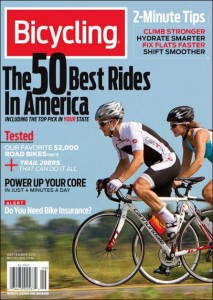 The September 2012 issue of Bicycling Magazine features an article entitled "The 50 Best Rides in America", which, as you might expect, lists one ride for each state.
For Kansas, the editors chose the Gypsum Hills:
It's 42 miles one way, but it's never boring: On Highway 160, you get both high plains and there's-no-place-like-home rolling prairie—not to mention mesas, yawning canyons, and deep red soil that looks like it was shipped in from the Southwest. If you can, ride in spring, when the wildflowers explode.
The Gypsum Hills is an excellent choice. The route runs from Medicine Lodge to Coldwater along the Gypsum Hills Scenic Byway: "Buttes of red clay loaded with gypsum, rocky spires, grassy meadows and canyons make up the landscape; an ancient sea carved these mesas and ravines 65 million years ago in what is now cattle-ranching country."
The bicycle friendliness of the route is quite good. Although US-160 has no paved shoulders, traffic is very light at less than 1000 vehicles per day. There are some hills to contend with, and if you're riding in the heat of summer, bring plenty of water, because there is very little shade, and no services along the route.
I rode this stretch of highway during Biking Across Kansas 2006, and it's an experience that has struck with me. Here's a photo I took that day:
This is one of my favorite shots of the trip. You can't really see the stunning details of the landscape, but I think it captures the remoteness, the ruggedness, and the grand scope of the country.
Thanks, Bicycling Magazine, for showcasing a great ride in Kansas!
The "best" rides for our neighboring states:
Do you have a nomination for the best ride in Kansas?
Post tags: NewsBlog