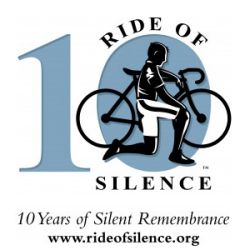 The Ride of Silence is an annual event that takes place in communities all over the world to honor those who have been injured or killed while cycling on public roadways, as well as to inform motorists, police and city officials that cyclists have a legal right to the public roadways, and to promote bicycling safety.
The Ride of Silence takes place on the third Wednesday of May, at 7pm local time, and consists of a silent slow-paced ride — a funeral procession, in effect.
Be sure to make plans to arrive early. There's usually a brief ceremony to remember friends and loved ones who've been injured or lost their lives, followed by an announcement explaining ride protocol and safety precautions for the ride, which begins promptly at 7:00pm.
2013 is the 10th anniversary of the first Ride of Silence, which took place in 2003 in Dallas, Texas.
Kansas Rides of Silence
— Hutchinson Ride of Silence: Begins at 3rd and Main.
— Lawrence Ride of Silence: Begins and ends at the gazebo in South Park. Ride will loop through downtown twice before returning to South Park.
— Wichita Ride of Silence: Begins and ends at Heartland Bicycle in downtown Wichita. About 10 miles.
Regional Rides of Silence
— Arkansas: Little Rock
— Colorado: Fort Collins, Woodland Park
— Iowa: Cedar Rapids, Marshalltown, Mason City
— Missouri: Kansas City, Springfield, St. Joseph, St. Louis
— Nebraska: Bellevue, Lincoln
— Oklahoma: Stillwater
Post tags: NewsBlog