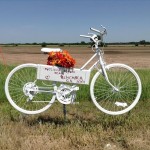 In a stunning example of ignorance and insensitivity, the Salina Journal posted an editorial telling bicyclists "You're not training for the Olympics" and "stay off county roads". They're basically saying "it's your own damn fault if you're killed":
You're not training for the Olympics

The death Friday west of Salina of bicyclist Gail Kline, who was struck by a hit-and-run driver, is an appropriate time for us to make our annual appeal for bicyclists to stay off county roads during harvest.

Harvest will be later this year, with some predicting that farmers could be cutting into July.

Whenever it occurs, the danger for bicyclists increases dramatically. Sharing narrow county roads with no shoulders with normal vehicle traffic is dangerous enough. Throw in semis and other wheat trucks and farm equipment in a hurry to get through harvest, and the danger rises to the it's-just-not-worth-it level.

So, for the couple of weeks during harvest, we again ask that bicyclists stay off county roads. Stay in town to ride, find some enclosed area, find some other safe form of exercise, such as jogging Or, just give yourself a rest.

Harvest is only once a year, and it doesn't last that long. Whatever event you're training for, it's not worth the risk.

We want to keep you around.

— Ben Wearing
Executive Editor
822-1421
bwearing@salina.com
So what's the proper response to such idiocy?
Outrage at such a despicable editorial is understandable, and perfectly appropriate. The commenters on the Salina Journal web site have done a fine job expressing that outrage. I suggest you read them.
Personally, I'm torn between tearing him a new one and taking the high road.
I'm going to try to avoid expressing the anger I feel at this assault on decency, and instead attempt some reasoned responses:
— Everyone, no matter how many wheels their mode of transport uses, and no matter what it's powered by, has the same right of free travel on public roads.
— It doesn't matter for what purpose someone is using the roads, whether for transportation, recreation, or commerce, they're public roads, and the law doesn't prioritize or discriminate — everyone has equal rights to free travel on public roads.
— People ride bicycles on public roads for a variety or purposes — transportation, recreation, exercise, tourism, training — and all are equally valid.
— It's not unreasonable for every user of a public road to have the expectation of arriving at their destination safely, without fear for their life, without being abused by other roadway users, without being bullied for their choice or travel.
— Any "risk" a bicyclist assumes by riding on a public road is due primarily to the threat from drivers of motor vehicles, which are larger, heavier, more powerful, and are too often piloted by people who are distracted, oblivious, or irrationally angry. Bicyclists pose no threat at all to drivers of motor vehicles. A lecture on road safety would be far more appropriately directed at those who can cause the greatest harm, and who therefore have the greatest responsibility to avoid harm.
— It is extremely easy to pass a bicyclist — simply wait until it's safe to pass, then move into another lane and pass. It's so simple that thousands and thousands of motorists manage to do this every day, with no "accidents". Sorry if that delays you for a few precious seconds, and requires you to move your foot a few inches from the accelerator to the brake.
— The vast majority of people using the roadways are doing so safely. Professional drivers — and this includes operators of agricultural vehicles and equipment — have a well-deserved reputation for safety and respect for other roadway users. The exceptions are a menace to everyone else, and the person who killed Gail Kline made themselves a criminal (leaving the scene of a collision resulting in serious injury or death is a felony) through their callous and cowardly actions.
— There is no "appropriate time" to suggest that bicyclists stay off public roads.
— Implying that Gail Kline, and any other bicyclist injured or killed by motor vehicles, caused their own death — particularly after a criminal ended Gail's life by striking her with his vehicle, then leaving her to die along the road, while running away to hide — is a disgusting thought. Blaming the victim is never appropriate.
— Bicyclists are not some alien species. Bicyclists are mothers, fathers, sons, daughters, neighbors, and friends — just everyday folk who happen to travel by bicycle. They are loved, and they're worthy of respect, and care.
Another entirely reasonable response is suggested by the inestimable Steve Tilford: Email this Guy and Tell him He's an Ass: "Better than emailing Ben and telling him he's a complete ass, it would probably do better to email his boss, Olaf Frandsen, the editor and publisher of the Salina Journal. Here's a link to Olaf's email. It will only take a second to tell him that this is completely inappropriate and that his executive editor, Ben, is an idiot."
Another appropriate response is the Saline County Gravel Century, scheduled for this Saturday, June 8th at 8am: "As a remembrance/memorial for Gail Kline, a cyclist killed in Salina by a hit-and-run driver on May 31, AND as a response to the asinine editorial put out by Ben Wearing of the Salina Journal, pleading with cyclists to stay off the roads, especially around harvest time. No thanks, Ben."
What are your feelings about the Salina Journal editorial?
Post tags: Gail Kline, Salina