A tradition I've been trying to follow, for the last couple of years at least, is to do a ride on or about my birthday, with the number of miles matching or exceeding my age — a "ride your age" ride. With a birthday in late December, this can be a challenge.
This year, with a high of the mid-20s predicts for my b-day tomorrow, and a high in the mid-50's today, it was an easy decision to roll a day early. With me being just past the half-century mark, and having not done a ride of that length since mid-August, I knew this one was going to be a challenge.
I left Iola just after 10am, with the temperatures in the low 40s. My route took me west across the Neosho River, then south through Petrolia, to Chanute, then back through Humboldt.
No really great photos resulted from the ride, but the following should give you a feel for what it was like: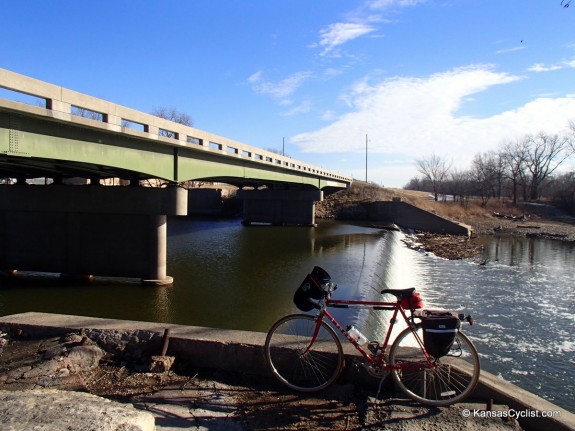 Whenever I cross the Neosho River, I nearly always have to stop. Love the waterfall.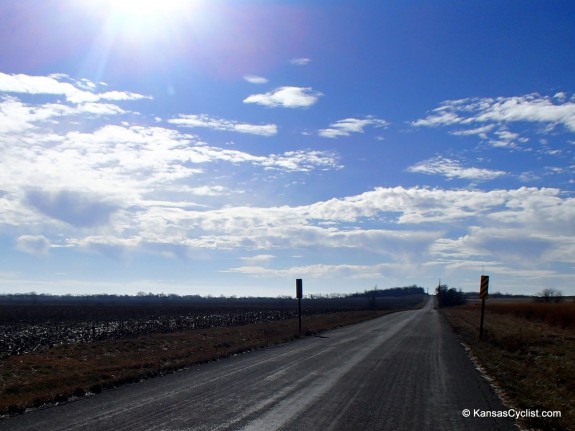 Heading south, the sunshine was warming the day up nicely, but I was going headlong into a 17 MPH south wind.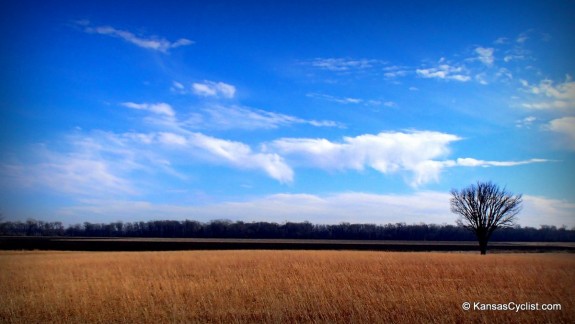 Grassland, tilled land, and a treeline made for a nice tableau, with a tree in the foreground standing alone.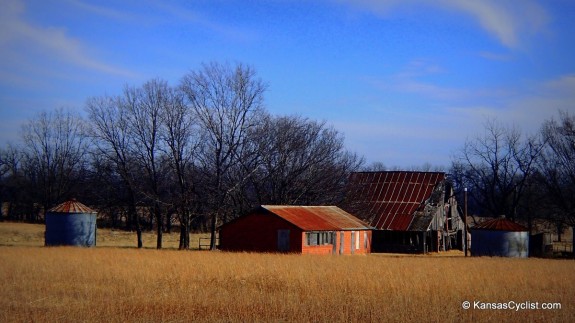 These farm buildings — a barn, a couple small silos, and what might have been a chicken house — have seen better days.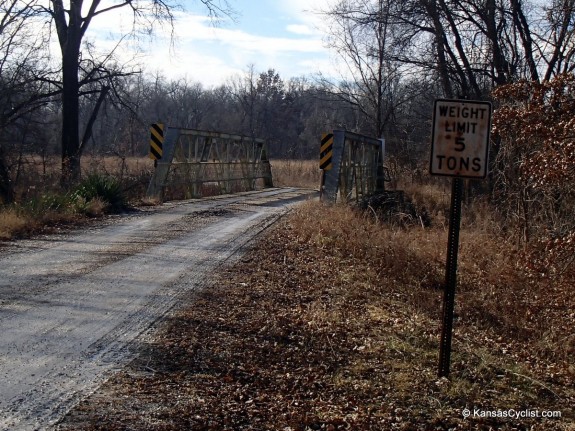 I stopped and visited the Hegwald Bridge. I like old bridges, but this one is scheduled for replacement soon. Sad.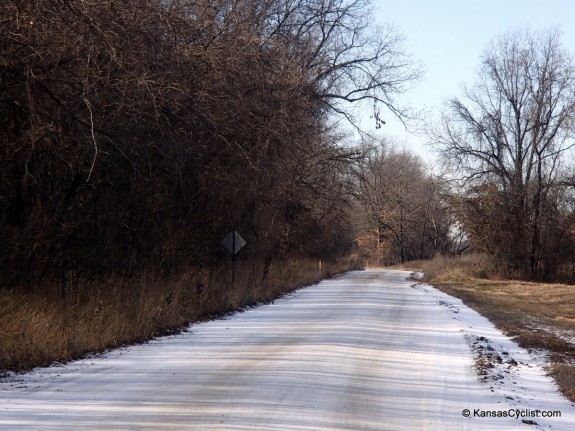 Some gravel roads were still snow-covered.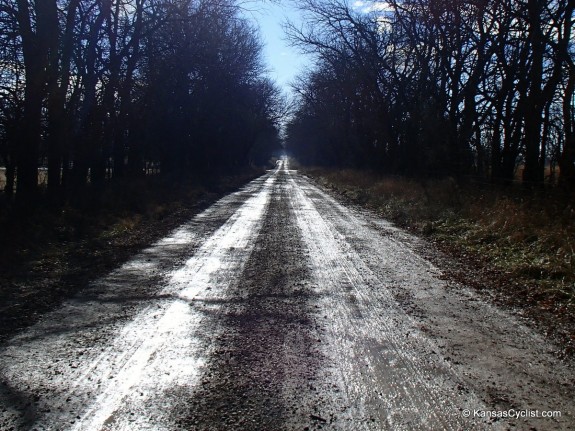 Some gravel roads had recently been snow-covered, but were now a muddy mess.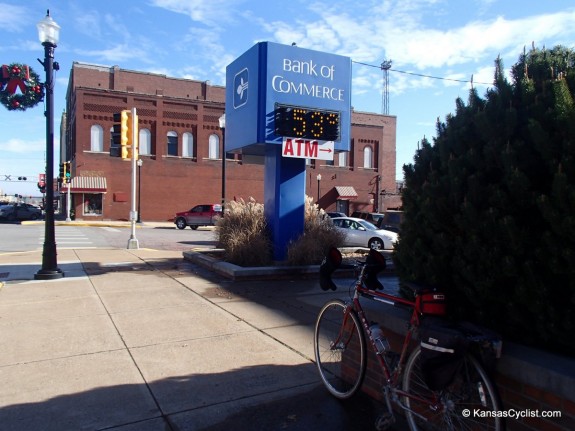 Reaching Chanute, the temperature was 53 degrees. Balmy!
I stopped at a grocery to grab some food and drink, dropped in at the Nu Grille for a burger, and headed on over to Katy Park for an outdoor lunch in the sun.
After pushing against the stiff headwind for 25 miles or so, I was very glad to turn north. Suddenly, what had been a struggle turned into a very sweet ride. Northbound, the miles just flew by!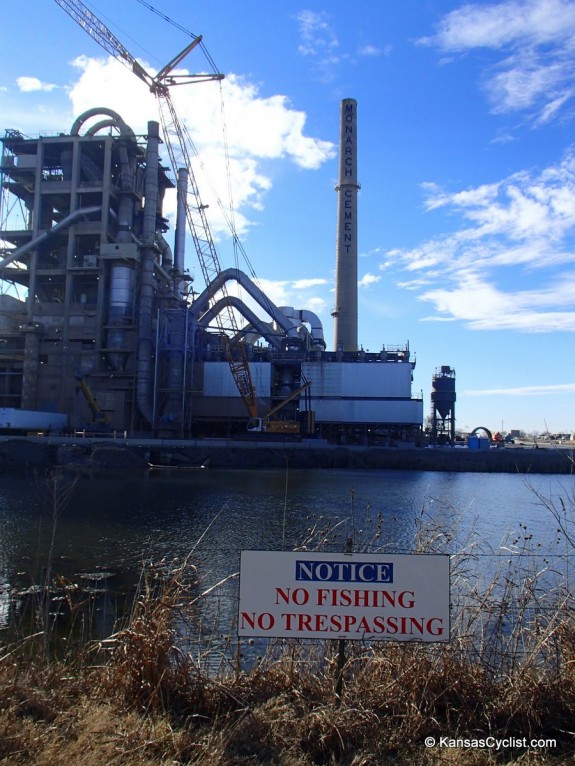 Near Humboldt, I stopped for a shot of the Monarch Cement factory. What an amazingly complex network of equipment. And this is just a very small part of it.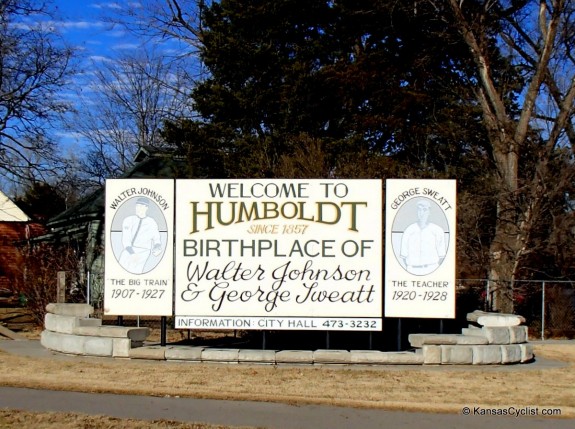 The "Welcome to Humboldt" sign pays homage to two famous sons — baseball hall of famer Walter "Big Train" Johnson, and Negro Leagues star George "Teacher" Sweatt.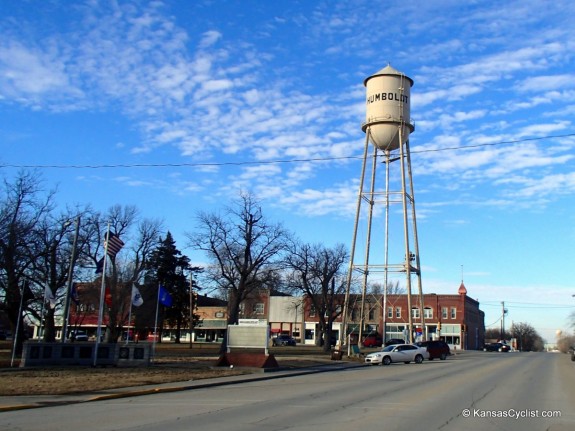 Downtown Humboldt features a great old water tower in the city park. Also visible is the Veterans Memorial, with flags snapping in the wind.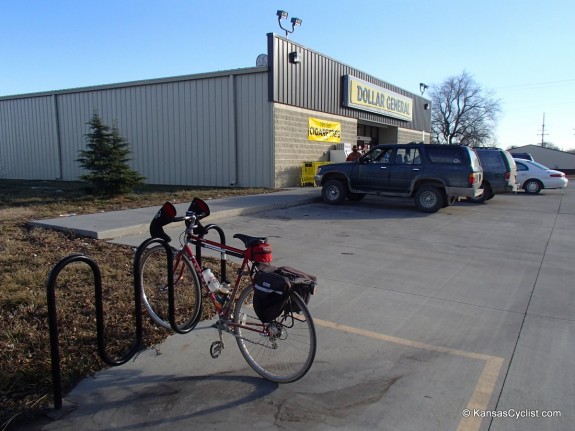 Whenever I stop in Humboldt I try to patronize the Dollar General store there. Frankly, it's not my favorite store, but they've installed a nice Saris bike rack, so I try to reward them with my business.
Heading back towards Iola, I decided not to risk rutting up the soggy surface of the Southwind Rail Trail, and instead rode old US-169, now a local two-lane blacktop.
I ended up with almost 53 miles, at an anemic 12.4 MPH average speed. By the end, I was tuckered out. Not sure how many years I can keep this up. Another decade, at least, I'm hoping. I expect I'll need to be flexible with my timeline though. Some years, I may have to wait weeks, or even months for a day as nice as this one.
Here's my route, at Strava, for those interested.