Over the last few years, I've been using some technology borrowed from our armed forces to make bicycling in cold weather easier, more comfortable, and less expensive.
In particular, I've been impressed with "BDU" pants. This is something I've never seen mentioned on a bicycling blog, so I figured I'd share how it works for me.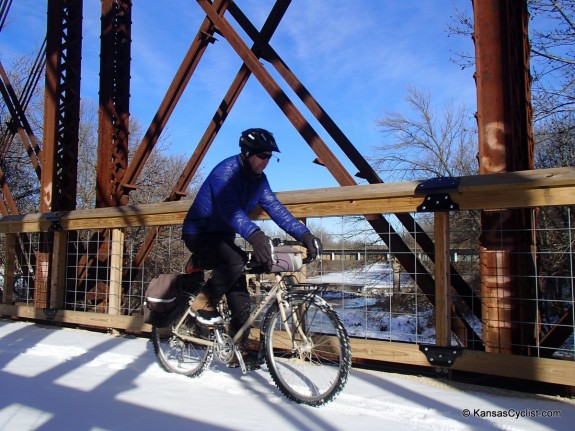 For a number of years, I had struggled to find bicycling pants that I liked. There are cycling specific-bicycling pants, of course, many using high-tech fibers or treatments, but they're rather expensive — typically $100 and up — and so I hadn't taken the chance. No doubt they're worth it for some people, but that's a heck of an investment to make.
I could always wear cycling tights of course. I do own a pair of quite excellent Pearl Izumi Amfib Tights
, and they're warm and comfortable.
But the longer I've ridden, the less I've appreciated the "look" of tights. For the places that I typically like to ride — small towns and rural areas — a bicyclist in cold weather is odd enough, but a cyclist in tights really attracts the stares. I prefer a less outlandish appearance.
I tried tights under jeans, but that really wasn't satisfactory. I also tried hiking pants, and while these were often better, they weren't quite right, and can get quite expensive as well.
The biggest problem with both of those options was the ankles. Jeans and hiking pants usually have loose-fitting ankle cuffs, which can flop around and get caught on a chainring, and/or get begrimed by the chain (I've damaged more than one pair of pants through both of those hazards). I could wear an elastic ankle strap of course, but that is annoying to take on/off, and looks kind of goofy to boot.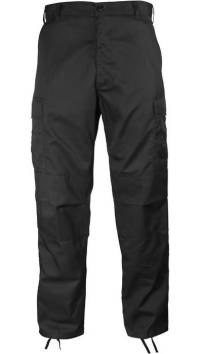 At some point I stumbled onto BDU Pants
. The BDU (Battle Dress Uniform) are fatigues used by the US military as part of their standard uniform for combat conditions.
BDUs for bicycling offer some really excellent characteristics:
Ruggedness: They're typically made of a rip-stop nylon/cotton blend, with reinforced seams and heavy-duty thread, so they'll take a lot of abuse without tearing or unraveling.
Wind Resistance: The fabric is reasonably wind-resistant, and also offers a bit of water resistance.
Adjustable Waist: They usually offer adjustable waist tabs, which makes it easy to tighten the fit at the waist, without requiring a belt.
Blousing Strings: This is my favorite feature. It's simply a ribbon threaded through the ankle cuff, and it allows the ankle to be cinched up, to prevent it from flopping around and running against the chain. Just tie the ribbon using a standard shoelace-style knot, and then tuck it up under the tightened cuff, where it will stay out of the way.
Lots of Pockets: The BDUs I use have two rear pockets (secured by buttons), two front/side "slash" pockets, and two large cargo pockets (secured by buttons) on the lower thigh. They can hold a truly impressive volume of stuff.
All this, and they are still really inexpensive. I purchased two pairs for less than $30, if I remember correctly. I've worn one for three years now, and it's still going strong, so I'm holding the other in reserve.
The ones I purchased were military surplus, made under government contract for the US armed forces by Unicor. I bought mine off eBay, but you can also get them from military surplus stores, either brick-and-mortar or online. I've also heard good things about, but have no personal experience, with Propper
and Tru-Spec
brand BDU pants. (But beware, there are also, apparently, less reputable, off-brand knockoff BDUs. They may or may not be the same quality, but I'd suggest procuring the genuine article, if you can.)
BDUs are available in various colors and camo patterns, but I prefer basic black
.
Here's a look at the tags for the BDU pants that I wear: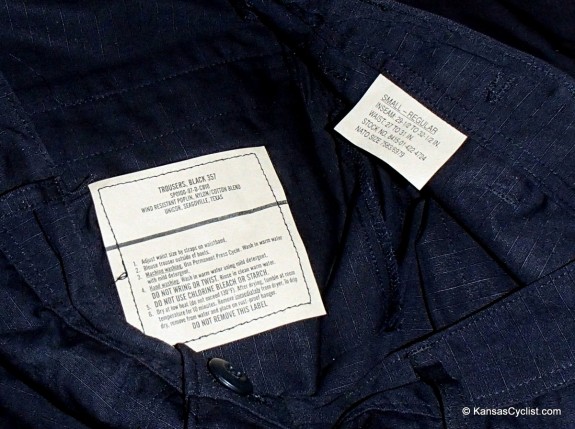 This photo also provides a detailed look at the fabric and the stitching (but note that the camera flash makes the fabric appear much shinier than it actually is).
There are two negatives about BDUs for bicycling. One, they're heavy. My "small regular" pants weigh 23 ounces (almost a pound and a half). Once I'm wearing them, I can't really feel the weight, but it's there.
Two, because the material is so robust, it's only appropriate for cool-to-cold temperatures. For me, above about 50 degrees Fahrenheit, it's pretty stifling. But below that, it's golden. It's quite comfortable down to perhaps 10 degrees on its own; any lower, and I can wear a pair of very thin running tights underneath. (And note that these are "while riding" temps — if I were just standing around, and not moving much, the ranges would probably scale up by at least 10 degrees.) The other potential negative is that the BDU pants are very loose-fitting. That doesn't bother me, but some may objects, especially if you're accustomed to form-fitting cycling apparel.
So there you have it: BDU pants for winter bicycling. Cheap, effective, practical.
(And by the way, I typically wear liner shorts
beneath the pants, at least for longer rides.)
And if you're interested in more military-issue clothing that works well for bicycling, check into the "polypro" (polypropylene) base layers
and polypro glove liners
. Again, they're available in commercial versions or as authentic military surplus.
Note: Product links via the Amazon Associates Program.