This is an account of my participation in the 2007 Katy Trail Ride across Missouri. It was originally published on my personal blog, and is republished here because that old blog has been retired, and I'm hopeful that the ride report may be useful or interesting for people contemplating this tour. These were originally published as separate posts, but have been consolidated into a single post for this site.
A Newbie's First Bike Tour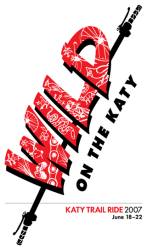 This summer, my nephew Robbie and I are signed up for the Katy Trail Ride, a supported tour of Missouri's Katy Trail State Park. The ride starts in Clinton and ends in St. Charles, and covers about 225 miles over five days.
As this is my nephew's first bike trip of any kind, and really his first extended time on the bike, the Katy Trail ride should make an ideal first tour. Being that the Katy is a rail-trail conversion, the grade is mild (no hills), there is no traffic to contend with, it's nearly impossible to get lost, and with a surface of crushed limestone, speeds are very modest. Add to that the great Missouri scenery, charming river towns, and the historic aspect (much of the trail follows the path used by Lewis and Clark in 1804-1806), and I think this has the makings of an excellent and memorable bicycle tour.
The only thing that can derail the fun is lack of preparation. No matter how easy the ride, it's still a long trip, with several 50-plus mile days, and if someone is not physically prepared to ride, they are not going to have a good time, and will likely be in considerable pain.
And that's the aspect where I'm actually rather concerned. My nephew has known about the trip since January, and has been committed since March, but he hasn't been training very much. His longest ride of the year so far has been ten miles, and he probably has put in fewer than fifty miles all told. With only three weeks until the start of the trip, he has some serious training to do.
This weekend I made a trip to his home at Holts Summit and took him on a couple of bike rides. He hasn't much experience with riding in traffic, so I wanted to get him started, teach him the rules of the road, and help him feel comfortable riding on the streets and highways. He lives near the Katy Trail, so could do all his training on the trail itself, but I don't want him to get bored with the trail, plus I think he should be riding some hills. He has to build up his legs fast, so hard miles are as important as raw mileage.
Saturday we did 17 miles, a round-tripper from Holts Summit to New Bloomfield and back. This is a largely flat route, with only a couple moderate hills. Sunday we rode the same route, only not quite as far – a little over 10 miles total. Robbie was sore from Saturday, which was both a good and bad sign. Good because it showed that he was being stretched out, bad because it showed how far he has to go.
To complicate matters, he's riding a department store mountain bike. It's not a great bike, but it should be adequate for the task. I'd have felt better if he was riding a good-quality used bike, but it'll do. I rode it and everything appeared functional. He added a padded seat cover to the bike, and I installed a cyclocomputer and gave him some padded shorts and riding gloves.
I set him up with a training schedule, telling him that he needs to rest at least one day a week, and increase his longest ride of the week by about 15 miles per week. Starting at about 15 miles, weekly distances of 30, 45, and 60 miles should get him where he needs to be.
Robbie's 16, so he has youth in his favor, and he's also in reasonably good physical condition. And now that he's out of school for the summer, he should have more time to train. And he seems committed. Still, getting enough miles in his legs, and enough saddle time, will be a challenge. I think he's going to be able to pull it off, but it's going to be close.
Packing List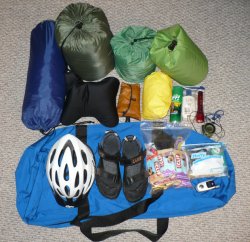 Here's the list of stuff I'm taking on the Katy Trail Ride:
Bike & Gear:
1 Burley Django recumbent bicycle (w/accessories attached)
1 helmet
1 eyeglass mirror
1 spare 20″ tube
1 spare 26″ tube
1 tube patch kit
1 bicycle toolkit (multitool, etc.)
Camping Gear:
Tent (Eureka Pinnacle Pass 2XTA)
Sleeping pad (Cabella's XPG Ultralight Sleeping Pad, Regular).
Sleeping bag (Northeast Outfitters Trailhead Mummy)
Microbead travel pillow.
Flashlight
Alarm clock (Timex travel)
Clothing & Personal:
2 cycling shorts
2 cycling jerseys
1 short-sleeve wicking t-shirts
2 pairs socks
1 pair riding gloves
1 pair riding sandals (Lake SPD)
1 pair off-bike sandals
1 pair off-bike shorts (doubles as swimming trunks)
1 pair underwear
1 rain jacket (O2 Rainwear hooded jacket)
1 MSR Packtowl UltraLite, large
1 set earplugs
1 pair sunglasses
1 bottle ibuprofen
1 lip balm
1 MP3 player w/earbuds
1 small notebook w/pen
1 travel wallet w/credit card, ID, insurance card, cash
Toiletries (toothbrush, toothpaste, razor, shampoo, etc.)
Misc energy bars
1 fanny pack
1 cell phone
1 camera
1 duffle bag
Total: About 23 pounds, including the duffle bag.
Compared to the gear I took on last year's BAK, this is about 15 pounds lighter. I'm not exactly sure where the weight savings came from, but I'm happy with the result, and happy with carrying one bag instead of two.
Katy Trail 2007: Clinton to Sedalia
Day #1: Clinton to Sedalia
At the start of a trip, there's always a buzz of excitement and anticipation, and today was no different. We were up by 6:00 or so, and on the road by around 7:00. It was a short day (listed as 39 miles), which was just as well, as the adrenaline made us start off a little quicker than I would have liked.
Or it least it felt quick, but I don't know precisely, as I didn't have my cyclocomputer installed. In the rush of last-minute packing that morning, I'd forgotten it, and by the time I realized it was missing, the bag that it was in was already loaded on the truck, and I didn't want to go back and dig it out.
So I don't know exactly how far we went or how fast. We made it to Sedalia late in the morning, and set up camp at Liberty Park, a nice little city park with a nearby meeting room/auditorium. I didn't have any trouble locating my bag (score one for a bright blue bag!), and we secured a good spot beneath a tree near some picnic tables and set up our tents.
It sprinkled a few times during the ride, but didn't actually rain until late in the evening and again during the night.
The trail itself was a blast, as we rolled through farmland, primarily pastures and wheat. In some places it was open and elsewhere it was closed in by trees on both sides, sometimes arching over the trail to create a green tunnel.
The riders were nearly all friendly and courteous, except for two fellows riding together, who hogged the whole trail and didn't want to let anyone pass them.
The Katy Trail Ride uses an interesting approach to showers. On BAK, we stayed at schools and used their school showers, which provide no privacy at all. The Katy ride provides a "shower truck", which is basically a semi trailer with a dozen or so individual shower stall, divided into mens and womens sides. Each shower has a privacy curtain on the front, with rigid walls on the sides. This works pretty well, though you still end up undressing and dressing in a common ares. Still, this is an improvement over communal showers.
Tomorrow is the longest day of the trip, about 66 miles, so we'll need to pay more attention to pace. Today, I was fine, but Rob was tired by the time we reached our destination. I'm curious (and a bit concerned) about how he'll do tomorrow and in the coming days.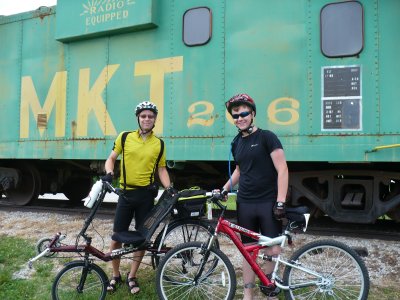 Me and Rob Leaving Clinton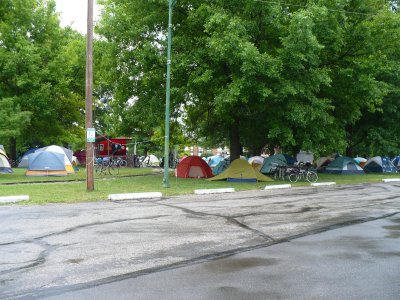 Tents at Sedalia's Liberty Park
Katy Trail 2007: Sedalia to Columbia
Day #2: Sedalia to Columbia
Any day that ends in a SAG-in is not a good day.
The day started off nicely enough, with a ride through Sedalia city streets followed by a long stretch on gently rolling terrain among farms and trees. The weather was cool but sunny, with a bit of a tailwind. It was nearly perfect cycling weather.
We had lunch in a Boonville cafe, crossed the Missouri River on the highway bridge (while viewing the old railroad bridge), and began cycling the river bottoms among corn and soybeans.
As we lost the trees and cycled in the open sun, Rob's energy level seemed to drop immediately, and it took us forever to reach the next SAG stop at Davisdale. We'd cycle for a bit, then he'd fall behind. We'd stop for a brief rest, then push on once more. This happened again and again.
We passed Salt Creek, where the trail ran beneath a highway bridge, and hundreds of swallows had built mud nests in the bridge undergirding, and flitted around as they brought food to their young. Bluffs then rose sharply on our left, offering nice scenery after the long ride through the cropland.
As I rode along looking up at the bluffs, I heard a sudden "POP", followed by a quick hiss, and the unmistakable feeling of a flat rear tire.
It wasn't just a flat though, it was a blowout. Examining the tire, I found a gash in the sidewall about a third of an inch long.
I upended the bike and got to work fixing the flat as riders passed by and asked if I needed help. A few minutes later a Park Ranger car came down the trail. By this time I had the old tube out and had replaced it with a fresh tube. As I set up my mini pump to air it up, the Ranger asked if I'd like to use his floor pump. I accepted and proceeded to air up the tire. I soon discovered that the tube was protruding from the gash in the tire. Time for a boot.
I opened my wallet and pulled out a dollar bill, folding it in half. I used this to cover the hole in the tire, and once again reseated the tire and pumped up the tube. It held. I could see the dollar bill through the gash in the sidewall, but it was good enough to make it to Rocheport, where there was a bike shop.
(I'd read about the dollar bill boot technique online, but had never had occasion to try it out. It works!)
I gingerly made my way into Rocheport and pulled into the bike shop. I started to ask if they could replace my tire, but discovered that the tech was deaf. This made it a little hard to communicate, but I eventually got through after he rounded up his young assistant, who fortunately could both hear and speak.
They did some looking, and eventually found a replacement tire. They didn't have another Prima Racer, or even anything similar, but found me a Kenda Komfort 26″ x 1.95″, 40-65 PSI tire. This is a fatter and lower-pressure tire than my old one, but I had little choice, so took it.
Since the tire was fatter, I also needed a new tube, as well as a back-up tube. Byt the time all was said and done, it was nearly $35, and took over an hour. On top of that, they messed up my rear brake somehow, it it only works at about 10% capacity now.
So I wasn't very impressed with the competence of the Trailside Cafe & Bike Shop. Yes, they got me back on the trail, but they weren't very fast, nor did they do a very good job.
While we were waiting for the tire to be changed, Rob looked at the seats they had in stock, and found a big 'ol wide one. I was dubious, but the one he had was giving him fits, so it was worth a try.
After all that, it was after 4:00 pm, and there was no way to make it to Columbia by the 5:00pm cut-off time. So we accepted a ride from a SAG volunteer, who drove us and our bikes to the campsite in Columbia.
I wasn't very happy about cutting our day short, but Rob was thrilled. He later confessed that just before my blowout, he'd been praying for a miracle to get him through the rest of the ride. Gee, thanks for hexing me, Rob.
But in the end, it was probably for the best. At the pace he was going, I don't think he would have made it anyway, and if he had, he might have been toast for the rest of the trip. As it was, he got his reprieve, and he now has a chance to rest up for our 55+ mile ride tomorrow.
Totals: 51.03 miles, 4:52:01 ride time, 10.49 MPH average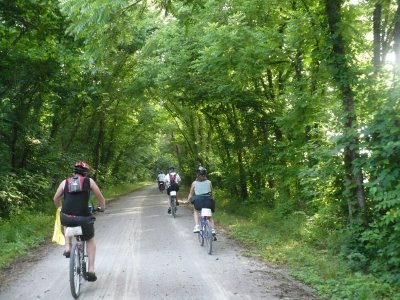 Shadows and Sunlight on the Katy Trail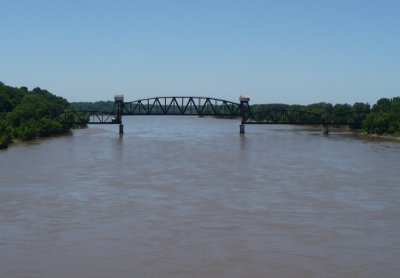 Old Katy Bridge at Boonville
Katy Trail 2007: Columbia to Mokane
Day #3: Columbia to Mokane
Today was a good ride, though a bit longer than it should have been. As we left the campsite, only one other rider was around, and we weren't sure the way out, so we asked for directions, and he pointed us to a likely-looking trail. After a half mile or so, when we hadn't seen anyone else, either ahead of us or behind us, we realized we'd been mislead. So we had to backtrack. This time, there was a line of riders to follow.
The ride from Columbia out to the Katy Trail was mostly downhill, and there were quite a few bikers, runners, and walkers out enjoying the early morning.
It was actually rather chilly, with crisp temperatures and a slight breeze. It was overcast the entire day, which made for a pleasant ride. It threatened rain a few times, and actually sprinkled once, but never actually rained. Despite that, the day didn't feel humid.
Just past Providence, we stopped for a short hike up to the Eagle Bluffs Overlook, which provides a spectacular view of the Missouri River valley and floodplain. Large white birds (Egrets?) were congregating in the trees below.
We had lunch in Hartsburg. We'd hoped to talk with someone at the bike shop there, but alas, it's gone. Instead, we stopped for ice cream at Dotty's Cafe, and ended up eating lunch there as well.
Rob followed a pattern similar to yesterday, starting off feeling strong and frisky, and then feeling weak and sluggish after lunch. At least today his posterior wasn't hurting him, so apparently the new seat did the trick.
There was a nasty little surprise at Mokane. The campground was at a school, which was about two extra miles, with a long climb out of the river valley and onto the bluffs.
As I write, it's late evening. The sun, which came out from the clouds just before dusk, has warmed the tent, and the air, which had been moving gently all day, is now absolutely still, and it's rather warm and sticky.
We have one more long day tomorrow, then a short day on Friday. The weather report is calling for warmer temperatures the next few days.
Totals: 56.68 miles, 5:16:49 ride time, 10.73 MPH average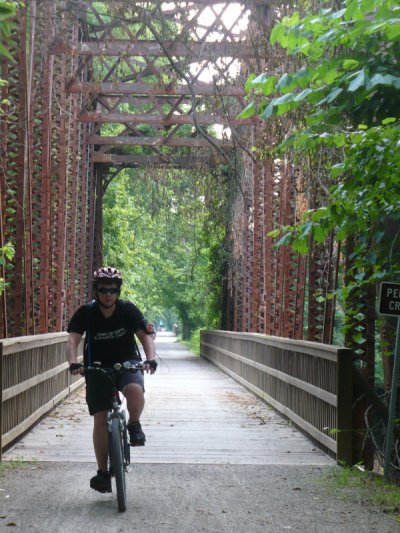 Perche Creek Bridge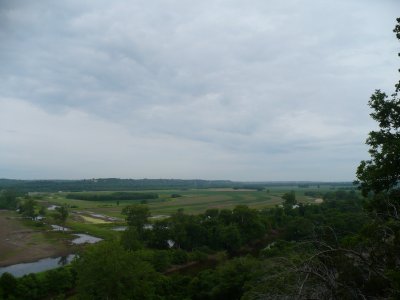 View From Eagle Bluffs Overlook
Katy Trail 2007: Mokane to Augusta
Day #4: Mokane to Augusta
The day once again started off cool, with dew heavy on the tents, but this time the sky was clear, and the day warmed quickly.
The ride from the school was a nice, long, mostly downhill run, then it was back to the trail. The first stop of the day was at Standing Rock, a large piece of sandstone around 20 feet high. It is marked with high water levels from Missouri River floods going back over a century.
The first SAG was at Portland, and the next at McKittrick, the next at Gore, and the next at Treloar. By this time we'd covered around 40 miles, and it was nearing noon. We attempted to get lunch at the bar and grill in Treloar, but after waiting for a half-hour or so, and still not getting served, we decided to take our chances down the road.
That turned out to be a good decision, as we found a country store in just a few miles, at Peers. I had the daily special, a pork sandwich, while Rob bought himself a pizza. This was a good-sized pie, and he simply inhaled it, finishing all but one or two small slices.
The noon-time fuel of pizza seemed to agree with the boy, as he avoided his normal after-lunch blahs, and we made good time to Augusta, after hitting SAGs at Marthasville and Dutzow.
Like Mokane, the campground was up on the bluffs. This time the distance was shorter (about half a mile), but steeper. I rode it, but was regretting that decision by the time I made the top of the double hills. Rob walked the first, steep hill, then biked the next one. He, too, was beat by the time he reached the campground. He watched the bikes while I rounded up the bags and found a campsite.
Flat ground was in short supply, so I settled on a slightly-inclined spot just barely in the shade. I set up my tent and got set to hit the shower. Rob was too tired to even set up his tent, and just unrolled it, plopped down, and went to sleep.
Totals: 61.12 miles, 5:15:56 ride time, 11.61 MPH average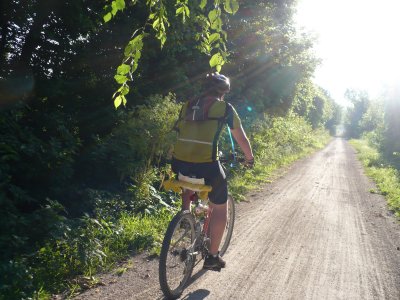 On The Trail in Early Morning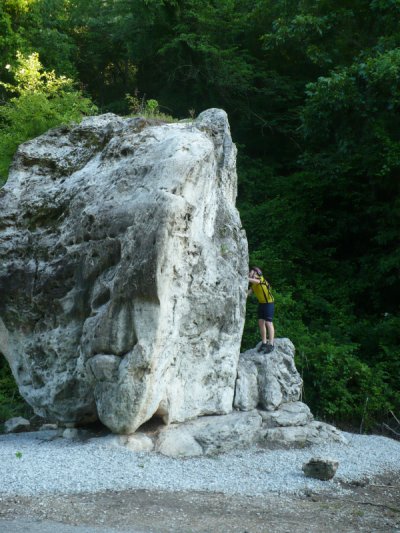 Standing Rock Marked with Flood Levels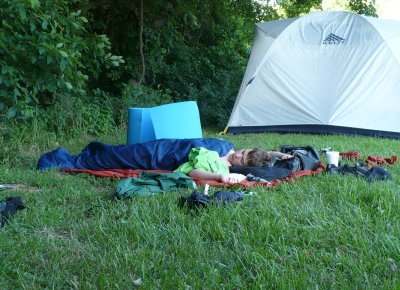 Tuckered Out After Long Day
Katy Trail 2007: Augusta to St. Charles
Day #5: Augusta to St. Charles
The last day of the trip turned out to be junk food day. It started with breakfast, which consisted of muffins, bagels, and donuts.
Several miles into the ride we hit a trailside stand. We hadn't gone far, but figured "why not". So we had some shaved ice. Then we hit the first SAG in Matson, which was followed closely by Katy Bike Rental in Defiance. Again, we stopped for a look-see, and ended up eating ice cream.
Next up was a SAG in Weldon Spring, followed by a final run along the bluffs. We came across a farm along the trail and were fortunate to see a white peacock in full display, with his glorious feathers spread wide.
A stop in Green Bottoms for the final SAG, where they had … leftover donuts from breakfast. Who can resist?
Finally, we arrived in St. Charles. We'd made it!
After a quick lunch, we headed over to a picnic shelter in the nearby park, where the bags had been unloaded. We grabbed some clothes and took a quick shower, then, rather than waiting around for a few hours for our transportation to arrive, we headed across the street to the Trailhead Brewing Co. restaurant, where Rob had a big burger, and I contented myself with a "Missouri Brown Dark Ale" … mmmm, tasty (and potent)!
Eventually we made our way back to the park, and shortly the buses arrived. It was a fairly long, four-hour ride, but time passed rather quickly, and soon enough we were back to Clinton. From there it was a two-hour drive back to Holts Summit to drop Rob back home. We stopped twice for ice cream along the way.
My sister brought me a hamburger and fries for a late supper – one final bit of junk food to top off a day full of the stuff.
Totals: 28.43 miles, 2:22:24 ride time, 11.98 MPH average

Peacock Farm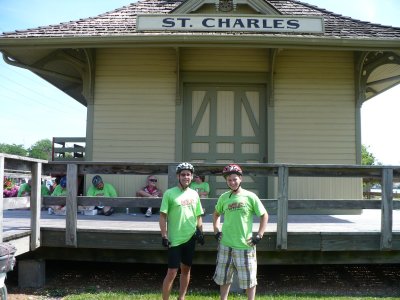 Arrival in St. Charles
Katy Trail 2007 Wrap-Up
Some notes from the 2007 Katy Trail Ride:
The Katy Trail is an excellent place to ride. The trail surface was in good shape for the entire distance, despite some recent flooding, and there is a good deal of outstanding scenery along the way, including farms, trees, small towns, bluffs, and the magnificent Missouri River.

The Katy Trail Ride is a good first trip for someone new to bicycle touring. It's relatively flat, you don't have to deal with cars and trucks (except for intersections and a few places in towns), and you can't get lost.

Although there were a few long days, I think overall this was a very positive experience for Rob. He was relieved, but very proud, to have finished. Back home, when we were telling his parents about the trip, he couldn't stop talking about it.

The organizers did an outstanding job putting this ride together. It was very well-organized and ran smoothly. Overnights were fine, the food was mostly excellent, the SAGs were frequent, and there were a lot of very helpful volunteers.

Although the SAGs were great, the one thing I could have wished for is a little more variety. Every SAG had water, Powerade mix, and bananas (and sometimes apples, grapes, and nectarines). The fruit was fine, but additional goodies would have been appreciates. The best SAGs (or at least the most memorable) were the very few with something different – trail mix, cookies, donuts.

The trail was dusty! My bike, particularly the wheels, carried a thick coating of very fine white dust. My drivetrain was quite filthy. I couldn't wait to get it home and cleaned up.

The constant pounding of the trail is hard on a bike. Casualties of the trip:

I blew out my back tire, ruining a brand new Primo Racer tire and tube in the process.
My handlebar-mounted Cateye BC-500G Mirror broke on the last day of the trip.
My brand new Third Eye Eyeglass Mirror broke.
My water bottle cage broke.
My cadence sensor came loose.

I packed very well. I can't think of anything major I forgot to take, and very little of what I took was unused.

Using dry-sacks and plastic bags to partition things worked out very well. Having one bag for clothing, one bag for electronics, one bag for toiletries, once bag for miscellaneous, etc. meant that my duffel bag was always organized. This is important when the bag is just one big open space.

Rob's organizing scheme – throw everything into a bag without any partitioning – was far less successful, as his bag was a constant mess. Also, his bag was a little too small. It survived the trip, but had several tears and rips by the end.

Taking the sleeping bag rather than individual blankets worked out very well. I could sleep on top of the bag when it was hot (though I found the material a bit uncomfortable in the heat), and sleep inside when it cooled off.

The new tent worked fine. It was considerably easier to put up and take down than my old dome tent (which Rob used on this trip), packed smaller, and felt like it had more space inside.

I wasn't happy with my chain lube. I'd lubed my chain with Finish Line Wet just before the trip, and had wiped it down well (I thought), but the chain slimed me numerous times, and also stained my duffle bag and a few other items. I need to look for something better.

Using a hip pack to hold my wallet, camera, and guidebook worked very well. I was able to pull the camera out, take pictures, and put it back, fairly easily and safely, even while riding. And having the wallet always on me made me feel more secure about leaving the bike unattended.

There were quite a few recumbents on this tour. I didn't get a count, but estimate them at about 10% of the total, maybe more.

My level of fitness was more than adequate for this ride. I think I had just over 1000 miles before the ride began, and with the slow-to-moderate pace, and lack of hills, I really wasn't taxed on this trip.

Rob's level of fitness wasn't quite as solid. He was having serious problems on day #2, and was stretched to his limit on day #4. However, because of his youth, he was able to "ride into fitness", and finished the trip far stronger than he started it.

My knees didn't give me any problems! I had one day where my lower back was sore, but other than that, the ride was pain-free.

I'm glad I carried cash as well as a credit card. The bike shop in Rocheport didn't accept Discover Card, so I had to dip into my cash reserves. Luckily, I'd brought sufficient funds to cover this little emergency.

Though I improved, compared to BAK, I still didn't take enough pictures!

Would I do the ride again? Probably not, unless I were riding with a newbie again. The route doesn't vary year to year (although the overnight stops do), so there's not much new to see. This trip might be fun to do again in ten years or so, just to see what's changed over time.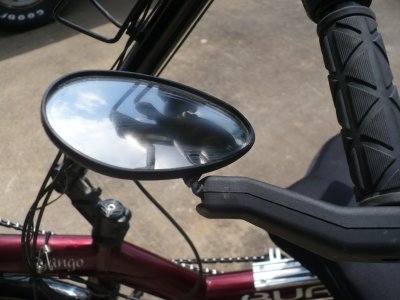 Broken Cateye Mirror

Broken Water Bottle Cage
Post tags: RecumBum