This is an account of my participation in the 2008 edition of Biking Across Kansas. It was originally published on my personal blog, and is republished here because that old blog has been retired, and I'm hopeful that the ride report may be useful or interesting for people contemplating (or remembering) BAK.
BAK 2008 Preparation
Biking Across Kansas (BAK) is an annual bicycle tour across the state of Kansas. The ride takes place each June, starting at the Colorado border and traveling east to the Missouri border. Each year uses a different route, this time across the norther tier of the state, starting in Saint Francis and ending in Atchison a week later: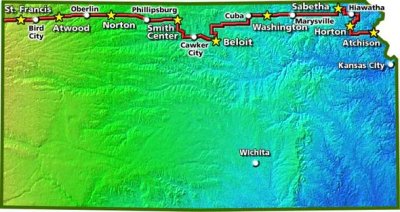 BAK 2008 Route Map
I rode BAK in 2006, but didn't get a chance to complete the journey, due to illness. So for me, BAK 2008 is a chance to take care of some unfinished business, as well as to see a part of the state I've never had a chance to visit before.
Here's a quick summary of the stuff I'm taking with me:
Bike & Gear:
1 Burley Django recumbent bicycle (w/accessories attached)
1 helmet
1 eyeglass mirror
1 spare 20″ tire
1 spare 20″ tube
1 spare 26″ tire
1 spare 26″ tube
1 tube patch kit
1 multitool
2 water bottles
1 tail light (Planet Bike Superflash)
trunk bag
This is basically the same as in prior trips, except that I'm bringing along spare tires. I took my bike to be checked out by a local shop, and they pronounced the tires fit for the trip, but they have about 3000 miles on them, so they're likely on the last half of their life. The spares are not exactly new either, being the Django's original tires. But they'll do in a pinch, and don't add any significant weight or bulk.
Camping Gear:
The only new item here is the chair. I'm still not sure about it, but it's reasonably small and light, so it's worth a try. I may review it later, after I've had a chance to give it a field test.
Clothing & Personal:
3 cycling shorts
3 cycling jerseys
2 pairs socks
1 pair riding gloves
1 pair riding sandals (Lake SPD)
1 pair off-bike sandals
1 pair off-bike shirt
1 pair zip-off-pants (World Wide Sportsman Pro IV Zip-Off Pants)
2 pair underwear
1 rain jacket (O2 Rainwear hooded jacket)
1 MSR Packtowl UltraLite, large
1 set earplugs
1 pair sunglasses
1 bottle ibuprofen
1 lip balm
1 MP3 player w/earbuds
1 small notebook w/pen
1 travel wallet w/credit card, ID, insurance card, cash
Toiletries (toothbrush, toothpaste, razor, shampoo, etc.)
Misc energy bars & gels
1 fanny pack
1 cell phone
1 camera
1 duffle bag
The only addition here is the zip-off-pants. I'm thinking I can use that as pants if the evening weather in western Kansas is cool, or as off-bike shorts if it's warm. Since the fabric is also supposed to be water-resistant, if could also potentially be used as rain pants on the bike.
Total: About 32 pounds, including everything except the bike itself.
BAK 2008 Day #0: To Colorado Line
Friday, June 6, 2008 – 29.26 miles, 2:09:27, 13.56 MPH average
My Biking Across Kansas started, as it did for many participants, with a long bus ride across Kansas.
My wife dropped us (myself and a friend, Reed) off in Lenexa at 6:00am on Friday morning. The night had been stormy, but by morning the skies had mostly cleared, and it was cool and the roads were still wet. We got checked in, got the bikes loaded onto the truck, and the bags and ourselves loaded onto the bus, and it was off by about 7:00am.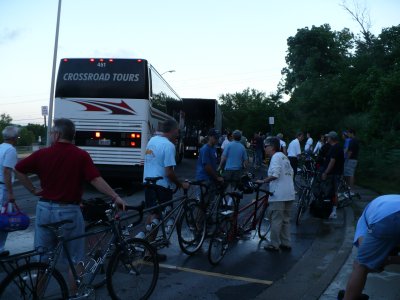 Boarding the bus in Lenexa
After stops to pick up more riders in Lawrence, Topeka, and Manhattan, we stopped for lunch in Salina, then for a quick pit stop in Oakley, before arriving in Saint Francis around 4:30pm.
After checking in, setting up our tents, and retrieving the bikes, we changed into cycling gear for the run to the border.
It turned out to be a very tough 14.5 miles, seemingly uphill all the way, and into a stiff and gusty 15-25 MPH southwesterly wind. The terrain here was flattish in places, but rugged in others. There were almost no trees, of course, but there was pastureland, row crops, and very gentle, but very long, hills.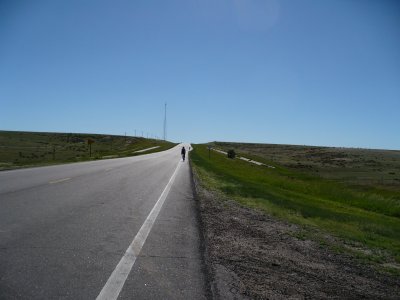 Riding to the Colorado Border
With the uphill tilt to the land, and the relentless wind, the border seemed to take forever to arrive, but once there we took the obligatory pictures and headed back, making good time with the now-friendly tailwind.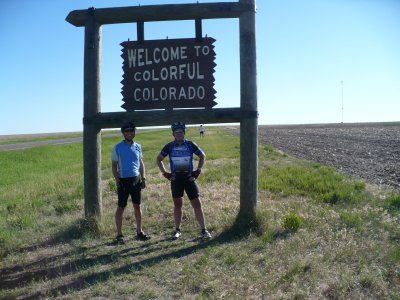 At the Colorado Border
Arriving back in Saint Francis, we were too late for the BAK kickoff meeting, so we stopped at the Dairy King for beer and pizza. Normally, I'm not much of a drinker, but after the tiring ride, we quickly consumed a pitcher of Bud Light, and decided to add a second BAK to our itinerary: Beer Across Kansas.
Back at the campsite, we settled into our tents, eagerly anticipating the official start in the morning.
I awoke once during the night, and stepped out into the clear and crisp darkness, with an amazing canopy of stars and the Milky Way clearly visible overhead. This was a far clearer vision of the night sky than I see in rural Johnson County, and it was simply stunning. Glorious!
BAK 2008 Day #1: Saint Francis to Atwood
Saturday, June 7, 2008 – 43.67 miles, 03:07:25, 13.98 MPH average
Knowing it was going to be a short day, we deliberately dilly-dallied around and got a late start, leaving Saint Francis at around 8:30am. There was a mild north-easterly wind, greeting us with a moderate headwind for a few miles. The terrain here was a mixture of flat fields with center-pivot irrigation, and dry grasslands dotted with yucca plants.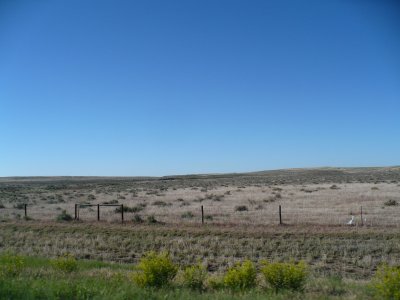 Terrain East of Saint Francis
The first town we hit was Bird City, and by then the winds had shifted to the northwest, giving us a welcome boost as we traveled due east on highway 36. Bird City was pleasant little town, with wide streets, a downtown cafe, and a beautiful city hall made of native stone. Contrary to my first assumption, the town was not named for the abundant avian population, but for Benjamin Bird, president of the Northwestern Land Cattle Company, which founded the town in the 1880's.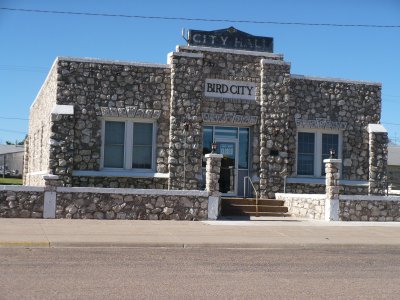 City Hall in Bird City
The terrain was rather flat for awhile, and the town of McDonald was a welcome break, especially once we realized that they were selling home-baked pies, cakes, and cookies at the town park. I indulged in the first of many pieces of pie, enjoying a great slice of chocolate pie at the park, and packing a brownie in my bag for later.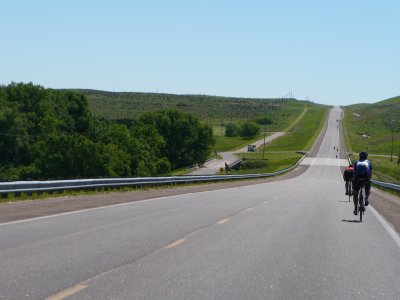 Hills east of McDonald
East of McDonald we encountered a few long hills. Many of these had very gradual grades, and seemed to go on for miles. The one shown above was one of the shorter and steeper hills, but with the gentle tailwind and fresh legs, they were no problem at all.
Further east we came across an American Flag and cannon perched on a rocky ridge south of the highway, among grass and yucca, I'm not sure what its purpose is, but it was rather stirring with the flag flapping in the breeze.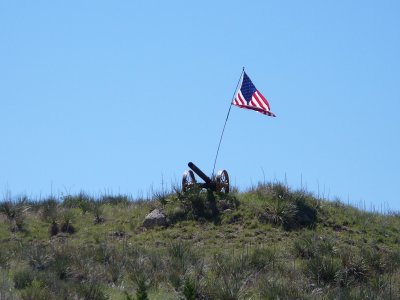 American Flag and Cannon
Pulling into Atwood, we dropped into the Beaver Creek valley, and there was one final steep little hill to climb before turning south to find the high school.
After setting up camp, we showered, then grabbed a quick lunch of BBQ pork and cowboy beans before hitting the town, touring around the city lake (which the locals were excited about, because it had water, and is often dry in the arid land of the high plains) and through the little downtown.
We stopped and enjoyed a beer at the steakhouse/pub before continuing our tour with chips, salsa, and additional libations at the Mexican restaurant. Next stop was the pool hall, where we played 8-ball for a couple hours and consumed additional refreshments.
By about six we were back at the school for a dinner of bratwurst and entertainment provided by a local band. Finally, I attend the group meeting and learned of the next day's forecast — crosswinds but no headwinds for 62 miles into Norton. Good enough!
BAK 2008 Day #2: Atwood to Norton
Sunday, June 8, 2008 – 63.65 miles, 04:29:11, 14.19 MPH average
During the night, the strong and gusty wind never let up, flapping the tent fly and making it difficult to sleep. But eventually I managed, and work up around 6am. After packing up and getting some breakfast, we hit the road about 7:00am, bucking a stiff wind and heading east for another day on US-36, 62 miles to Norton. The wind was from the north, perhaps 15 MPH, with gusts making is difficult to keep a straight line sometimes.
The hills started immediately, not steep, but long and gradual. With the early start and the overcast sky, the first few miles were dim, though the clouds soon began to break up, and patches of sunlight raced across the grasslands around us as we pedaled.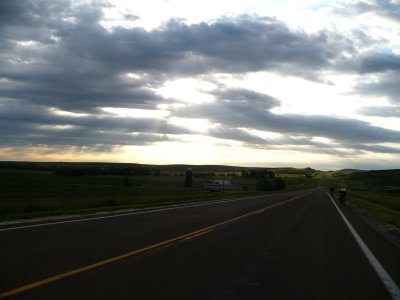 Early Morning Hills East of Atwood
Lunch was scheduled for Oberlin, but it was only 9:30am when we arrived, so we skipped the food and visited the Last Indian Raid Museum, which told the history of the last Indian raid in the state of Kansas, which occurred in 1879 while the Northern Cheyenne were fleeing from reservations in Oklahoma, back to their ancestral homes in the Dakotas.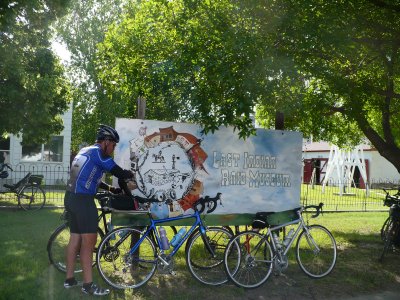 Last Indian Raid Museum
The ride from Oberlin to Norton had some scenic sections, some flat sections, and some more of the long hills.
The pace today was comfortable — not too hard and not too slack. The countryside offered a few long, scenic views of rugged pastureland, as well as fields of wheat and newly-planted corn. There was evidence of recent rain, and the grass and fields were green, but the soil appeared bone dry, and most of the ponds (of which there were very few to begin with) were only half full, and few creeks were running.
Still, the land in northwest Kansas is far more inviting than the land in southwest Kansas, where the predominant color is brown, and cacti and thorns are common.
Throughout the day, the northerly wind never let up, though it was thankfully just a crosswind and not a headwind. The miles ticked by, with a few well-placed SAG stops along the way, and we rolled into Norton around 1:00pm.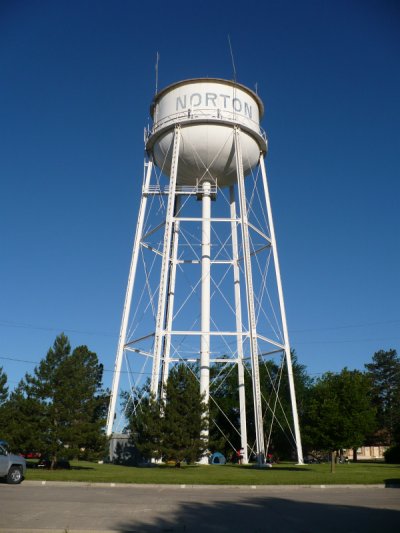 Norton, Kansas
After tent set-up and showers, we took in lunch at a Chinese restaurant, joined by Jason from Clearwater (one of the overnights on BAK 2006), who was enjoying his first bicycle tour.
Libations followed at the local pub, then we rode back to the school, attended the nightly meeting, and enjoyed ice cream from the Dairy Queen up the street. Once back at the school, we hit the tents quickly as the sun was setting and the mosquitoes were coming out.
BAK 2008 Day #3: Norton to Smith Center
Monday, June 9, 2008 – 62.67 miles, 04:02:15, 15.52 MPH average
After a few sprinkles of rain just after we turned in, the wind died down and it turned cool, and for the first time on the trip, it was easy to get a good night's sleep. With a somewhat short day ahead of us, and nice weather predicted, we resolved to get a late start and enjoy the trip. But with everyone packing up tents around you, it's harder than you'd think to sleep in, and we were up and around by 7:00am or so.
But breakfast took care of the late start for us. After parking the bikes at the old drive-in cafe, we placed our orders, took a seat inside, and waited, and waited, and waited some more. The cafe was overwhelmed with cyclists, and it took at least an hour to get our food. Oh well, it was worth the wait.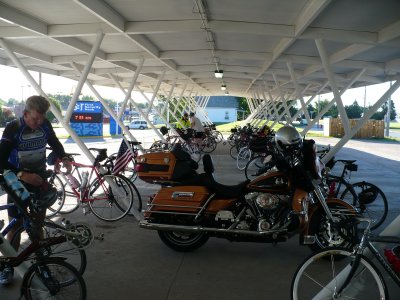 All Kinds of Cycles at Breakfast in Norton
Once on the road, the wind was a pleasant surprise, hardly noticeable early in the day, and providing a welcome push later in the morning.
Lunch was in Phillipsburg, where we enjoyed apple pie and lemonade on the town square in front of the courthouse.
The terrain today transitioned from rugged pastureland to farm crops — wheat, corn, and soybeans, as well as hay being cut and baled. The wheat here is a bit further along than it is further west, just starting to ripen and turn the gold/green color I love so much.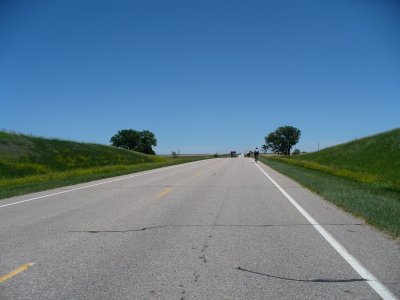 The Road East of Phillipsburg
Pushed along by the helpful wind, the remainder of the ride passed quickly and almost effortlessly, with only a few mild hills, and we reached Smith Center by 2:00pm.
After getting settled in, we tooled around town for a bit, taking in the sights.

Old Dutch Mill in Smith Center
Supper was beer and a huge plate of spaghetti at a local pub, followed by live entertainment at the school. I had a chance to enjoy a bit of Internet access provided by the school, but I was a bit slow on the draw with the homemade ice cream being offered outside. I bellied up to the table just as they were scraping the last bits of goodness from the ice cream buckets. Dang!
Tomorrow, we head south for a bit, then east, passing by Waconda Lake. The forecast is calling for strong southerly winds, so we're planning on an early start in hopes of beating the breeze.
BAK 2008 Day #4: Smith Center to Beloit
Tuesday, June 10, 2008 – 58.03 miles, 04:19:17, 13.43 MPH average
It was another calm night, but with the weather forecast calling for stiff winds from the south — the direction we were heading — we got an early start in an attempt to get in some miles before the wind got cranked up, since they're usually stronger later in the day.
There were no food opportunities on our way out of town, so we ate on the run. Our strategy ended up working perfectly, as the wind didn't pick up until we turned east. We had a gusty crosswind the rest of the day, but that was far better than a headwind.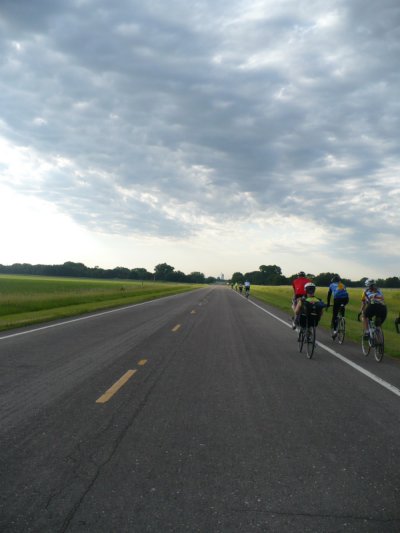 Riding under Threatening Skies
Lunch was in Downs, followed by a quick tour of the town.

Old Train Depot in Downs, Kansas
After exploring Downs, we headed back onto US-24 and on to Cawker City and the world-famous Ball of Twine, with a circumference of over 40 feet, a weight nearing 18,000 pounds and using over 7 million feet of sisal twine.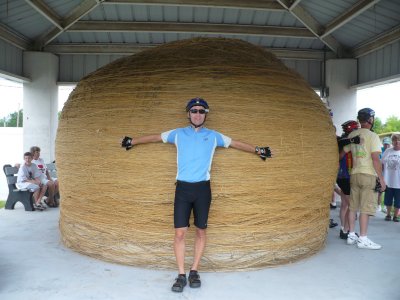 World's Largest Ball of Twine in Cawker City
Following twine town, we traveled along the northern shore of Waconda Lake, which was whipped into whitecaps by the strong wind. The small town of Glen Elder, situated near the lake's dam, was the next stop for exploration before continuing on down the road.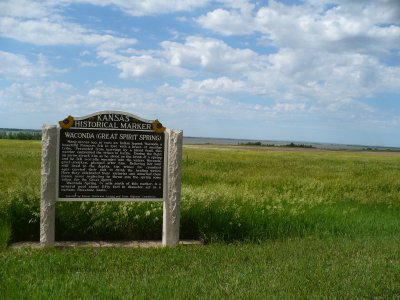 Waconda Lake
The terrain in the last segment wasn't too difficult, but the relentless wind made it a bit of a slog, and we were happy to reach Beloit a little after noon.

Beloit, Kansas Water Tower
Clean-up, exploration, food, and drink took up the rest of the day, followed by an early bed-time. The next day was due to be our longest, at 84 miles, and the weather looked foreboding, with event stronger and gustier winds predicted, as well as the threat of severe weather later in the day.
BAK 2008 Day #5: Beloit to Washington
Wednesday, June 11, 2008 – 85.63 miles, 05:59:01, 14.31 MPH average
Wow, what a great day!
It was windy as the dickens (at least 25 MPH sustained, with 35-40 MPH gusts) and hot at times, but there was an awesome route and wonderful scenery. This is my favorite day of the trip so far.
Not the easiest day. Hardly. But satisfying. Oh yeah.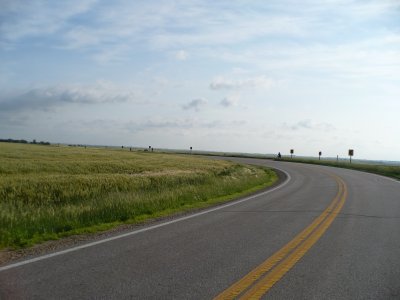 Turning North, Anticipating a Tailwind
We were off by 6:15am with no breakfast, and headed north with the stiff tailwind, arriving quickly in Jewell for homemade cinnamon rolls. I had one there and grabbed one for the road.
Then we turned east and were buffered by the cross-winds for the next 15 miles or so, broken only by two short, but very welcome, northerly legs.
The hills began to increase in frequency and amplitude as we moved east through rolling farmland, as did the trees, which began to look more and more like the landscape I'm familiar with in eastern Kansas. Perhaps that's another reason I felt so comfortable today, despite the conditions.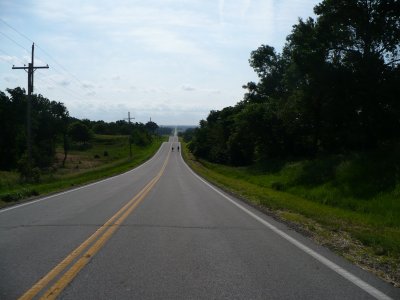 Rolling Hills of Central Kansas
SAG stops were in short supply on this tough day, with only one SAG in the first 50+ miles. Around mile 45, I pulled out the spare cinnamon roll and munched it on the fly, holding it with one hand, unwrapping it with my teeth, and holding the handlebar with the other. It was sweet, messy, and difficult to unroll and eat while riding and fighting the wind, but I managed, and it was a great pick-me-up.
The first two SAGs offered a wider variety of treats than we'd experienced on earlier days. In addition to the familiar fare of bananas, oranges, and candies, this day's SAGs added beef jerky and fig newtons, which were a welcome addition.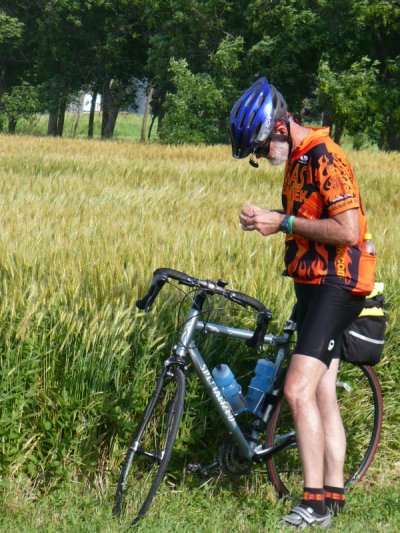 Examining the Wheat
Lunch was in Cuba, after about 60 miles on the road, with BBQ beef sandwiches, pasta salad, fresh fruit, and cookies. Good stuff.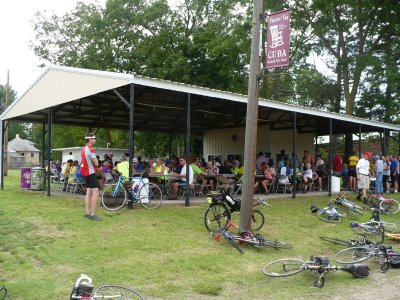 Lunch at Cuba, Kansas
The last leg of the day's journey was tough, as we were back on US-36, and the traffic volume had picked up, the shoulders were small and rough, and the wicked wind constantly threatened to push us out into the path of passing cars and trucks.
But still, I finished strong, cruising into Washington a little after one.

Welcome to Washington
First stop was at the Pie Ladies stand, for a slice of strawberry-rhubarb and a thirst-quenching Coke.
After rounding up our bags and grabbing a choice tent spot in front of the school, protected a bit from the wind, we continued our Beer Across Kansas tour with a big draft of Bud Light at a local bar, followed by chicken strips and fries for dinner.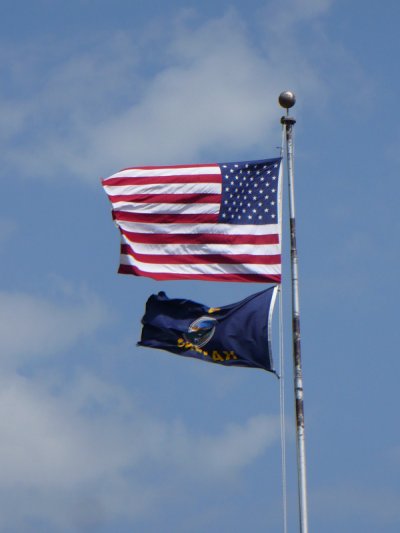 Yes, it was Windy Today
In thinking back, I wonder why I so thoroughly enjoyed today's wind-fest, when so many other riders were suffering. Reed told me he thought a recumbent had an advantage on a day like this, but I'm not so sure I buy that.
I guess it was just my kind of day. I appreciated the terrain today, which featured rolling farmland, of which wheat was the predominant crop, but there was also cord, beans, alfalfa, and pastureland. There were also some significant hills today, at least three or four of which required the granny gear.
I think I did a good job of pacing myself, and was constantly marveling at how good I felt and how much I was enjoying the ride. It felt like one of those days that I could just ride and ride, rejoicing at every pedal-stroke.
BAK 2008 Day #6: Washington to Sabetha
Thursday, June 12, 2008 – 73.27 miles, 05:09:52, 14.19 MPH average
Last night was a bit rough, but we got through it.
At the nightly meeting, we learned that there was a tornado warning for the area, and BAK officials were recommending that tenters pack up their gear and come inside. By this time it was already raining, so we decided to ride out the storm outside. We figured that since we were near the main entrance to the school, if things got really bad and the sirens went off, we could high-tail it inside then. I packed up all my gear (except for the tent, pad, and sleeping bag) for a quick get-away, but it never came to that.
Foolish decision? Perhaps, but it turned out well.
We did get some wind and rain during the night, and awoke at 5:30am to wet tents and bikes, but the tents did their job, and kept us and our gear dry.
After packing up the went tents, we breakfasted at the Casey's store on the highway, then headed out into a cool, cloudy, and nearly calm morning.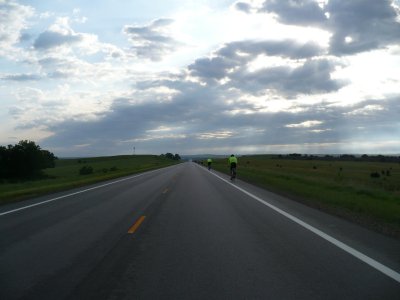 Heading East into the Morning
The route took us due east on 36 all the way to Sabetha, and with the light breeze and cool temperatures, it was, despite the 73 miles, an easy day, at least compared to the previous ride.
The first SAG was located at the intersection with KS-48, the turn-off to Hanover. My mom was born in Hanover, and I'd been contemplating a short detail to visit her old hometown. But with many miles yet to be ridden, I kept to the straight and narrow, but not before viewing the historical marker and sign for the Hollenberg Pony Express Station.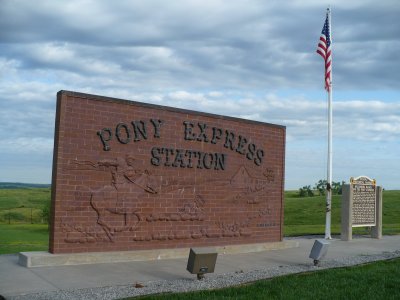 Hollenberg Pony Express Station Historical Marker
The next stop was in Marysville, where there was another Pony Express monument, as well as a museum we didn't take the time to visit.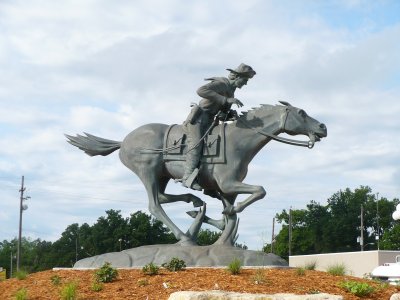 Pony Express Rider
During the first segment of the day's ride, my chain started making a lot of noise, and examining it closer, I fund a lot of rust had already formed along the entire length of the chain.
In Marysville, we found an Orscheln's farm store. Now, normally this wouldn't be the place to look for bicycle chain lube, but it so happens that the lube I was using, Gunk Liquid Wrench Industrial Chain Lube, was available at farm-supply stores. And indeed, Orscheln's had it in stock, so I bought a can and some rags, and we proceeded to re-lube the chain.
After we got back on the road, the chain was still squeaking a bit, but the noise disappeared after awhile, as the lube worked its way into the chain innards. Crisis averted.
The next stop was on western edge of Seneca, where we enjoyed a slice of pie and homemade ice cream before hitting Seneca proper and taking lunch at an Italian restaurant, where there was a fine buffet offered to BAK riders at a special discount price.
The traffic on US-36 definitely picked up today, with a lot of bug trucks, a few passing rather aggressively. The shoulder kind of went to pot, too. In places it was wide, but covered with loose gravel, plus deep rumble strips. In other places the shoulder was thin, but of inconsistent quality, sometimes smooth and clean, other times broken and rough.
By the time we reached Sabetha, I was happy to be off US-36, as it was becoming a tense and uncomfortable place to ride.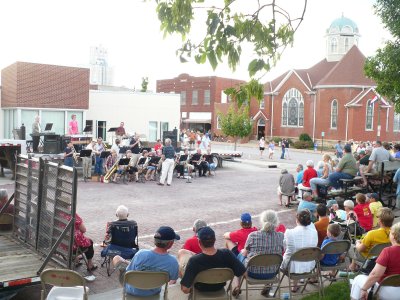 Entertainment in Sabetha
Sabetha really welcomed BAK, closing off a couple blocks of their downtown and offering food and entertainment. After putting up the tents and showering, I re-lubed my chain, then Reed and I continued our beer tour. As he continued drinking, I explored the downtown before heading back to camp. I wanted to make some phone calls, but the signal was so weak that each call I made was cut off mid-conversation. Very frustrating.
But still, after the tough conditions on Wednesday, today was pretty easy, even with the 73 miles and increased traffic. The lack of wind made all the difference in the world.
BAK 2008 Day #7: Sabetha to Horton
Friday, June 13, 2008 – 51.30 miles, 03:56:13, 13.03 MPH average
There was a bit of rain again just before morning, and tents were packed up wet. Anticipating a short day, we were nearly the last riders to leave camp, rolling out around 8:00am and taking breakfast in the cafe downtown, where I encountered my bike's twin parked outside.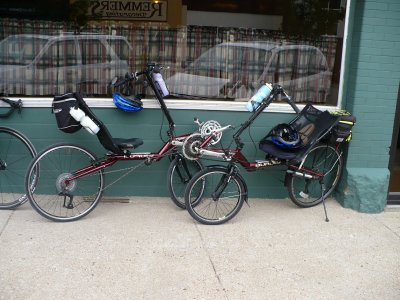 Twin Djangos
Outside of a few details such as tires, rack, and bags, the two bikes were nearly identical — same year, same color, same seat, same partially-scratched-off decals. I didn't run into the owner at the cafe, but talked to her later on the road. It's amazing we didn't find each other until the next-to-last day of the trip!
Once on the road, about 9:00am or so, we took it easy, just enjoying the sunshine, light breeze, light traffic, and beautiful countryside. There were plenty of hills, which continued throughout the day, but they were all manageable without resorting to the small chainring. For awhile, it seemed we were the only ones on the road, as there were no cyclists visible in front or behind, but eventually we started to reel in some of the ones ahead of us, even though were were cruising at low speed.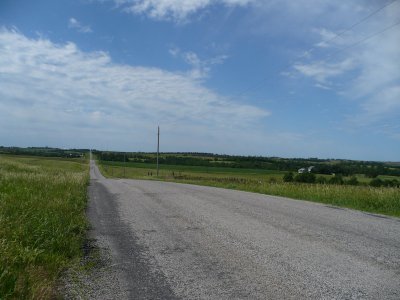 Rolling Countryside of Northeast Kansas
There were a couple SAGs between Sabetha and Hiawatha, then the best SAG of the day just as we entered the town. It was a fun stop, with the SAG hands sporting patriotic hats, and the American flag flapping in the breeze.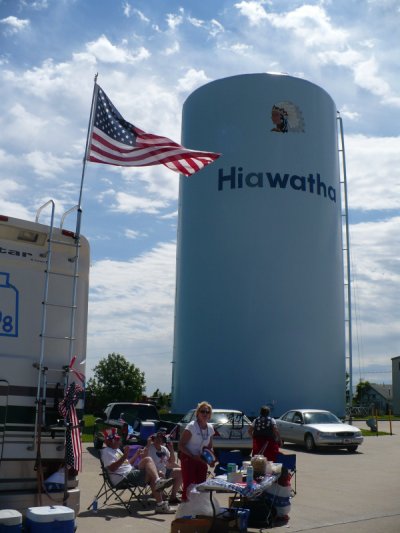 Hiawatha SAG Stop
After tooling around Hiawatha for a bit, and visiting the Davis Memorial. we were off again, heading east for awhile, then south, with a nice long downhill as we passed under US-36 and on into the town of Robinson, home of the Sprint de Robinson race that takes place each August.

Taking a Break in Robinson
The final few miles were on US-73, going west (the wrong way!) into Horton. Things in Horton were a bit confusing, with the school and campgrounds separated by a considerable distance. We stopped in the school (parking near the "No Bicycles" sign – ha!) to sort things out, then found our gear, showered, and settled in.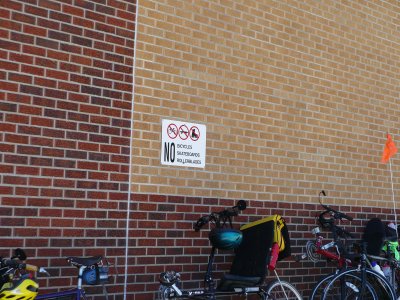 Parking Beneath the 'No Bicycles' Sign
Local vendors were selling food, and I snarfed down a bowl of Minestrone soup, and a huge piece of chocolate pie. We then adjourned to the local pub for the last night of our Beer Across Kansas tour. I had one beer and a slice of Gooseberry pie before slipping away after a few hours. Reed, meanwhile, closed down the joint, reporting the next day that he stayed till about 1:00am. Crazy!
BAK 2008 Day #8: Horton to Atchison
Saturday, June 14, 2008 – 36.04 miles, 02:37:26, 13.74 MPH average
After a breakfast of pancakes and sausage, provided courtesy of BAK, we were off on the final short jog to Atchison. There was a bit of wind coming from the southwest, but with just a bit over 30 miles to go, it wasn't a factor.
The pace was leisurely, and the hills modest, as we rolled out of Horton, through Muscotah, Effingham, and Monrovia before the route hit US-73 and the last push to the river.
Along the way, we passed a number of folks we'd seen during the week, including Handcycle Man: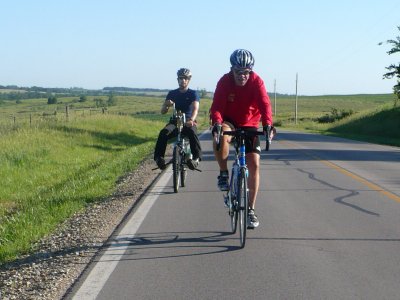 Passing Mr. Handcycle Man
The countryside was lush and green, with continuous rollers, though none of them particularly long or steep. Traffic was light, even once we hit US-73. It didn't pick up until we entered Atchison, and made our way through the historic downtown, and to the river.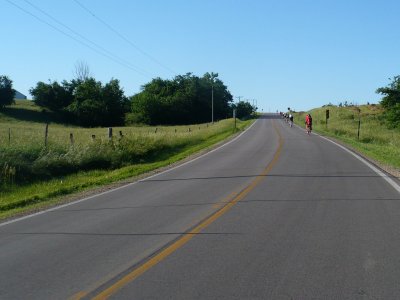 Riding the Hills to Atchison
We made it!
It felt great to roll the final few feet, dismount, ceremoniously dip the wheels in the river, and take the victory photo.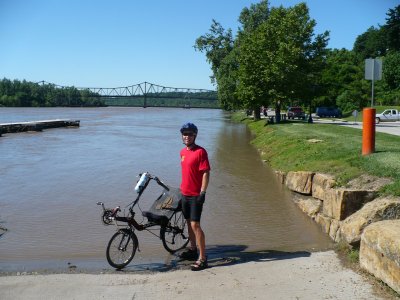 At the Missouri River in Atchison
Even after hitting the river, though, the ride wasn't quite finished. We spent some time exploring Independence Park and watching the muddy waters of the Missouri River roll past, and enjoying the view of the Amelia Earhart Bridge downstream. We saw the beginnings of the Independence Creek Trail, which I'd like to go back and explore sometime. But not today.
After the brief break at the river, we re-mounted the bikes and rode up the bluffs to the school. We found our bags, changed shoes, and grabbed an early spot in line for the celebration lunch in the school. After a nice lunch of fried chicken and lasagna, salad, and cookies, we went off to find the bus and bike truck for the trip back to Lenexa. After loading up the bikes and gear, we loitered a bit in the shady green grass of the schoolyard before boarding the bus and heading home.
BAK 2008 Wrap-Up
Now that the 2008 edition of Biking Across Kansas (BAK) is in the books, here's a quick summation of the trip.
I'd rate this as a "good" tour. Not great, certainly not bad.
The distance (a total of 503 miles, including the ride to the Colorado border) was just fine. The daily distances were quite manageable — 50's and 60's most days, on 70+, one 80+. By the end of the week, I was a bit fatigued, but definitely not exhausted. (After getting back from the trip, I took one day off, then rode again for 7 days straight.)
The route I'd also rate as good-not-great. Taking Highway 36 basically straight across the state sounds like a good plan (and it is designated as a cross-state bicycle route by the Kansas Department of Transportation), but it's rather boring when the directions for the day can be summed up in a single sentence: "Head east on 36 all day." The scenery on 36 wasn't bad, and the traffic, for the most part wasn't bad, but it was just kind of mind-numbing to ride straight and never turn for days on end.
That probably explains why my favorite parts of the ride where when we deviated from the "stay on 36" routing. I far preferred the days where there were some twists and turns to the route, and where there was less traffic, and it was slower.
The scenery along the route was consistently good. There were only a few short sections where I found flat roads and endless similar-looking fields to be tedious. The rest of the trip, from the rugged high plains in the west, to the fertile farmland and rolling hills in the east, I found very enjoyable to look at, with plenty of variety and interesting things to see.
The two areas where I knock this particular route down a couple pegs are with regard to traffic and degree of difficulty.
Traffic in the western part of the state was mostly light, and mostly considerate. Sure, there were a few motorists who passed too closely or who didn't slow down as much as I'd like, but that's typical (and to a degree, understandable). But as we moved into the eastern half of Kansas, particularly on US-36, traffic became heavier and more aggressive. In places, it felt like we were riding along an interstate. There were wide shoulders, but they were often in poor repair, and featured sometimes-nasty rumble strips. And where there were wide shoulders, the passing traffic didn't slow down much. It was OK, but just not particularly pleasant riding.
As for degree of difficulty, the tour was just too easy! I'm sure that sounds like a really stupid thing to say, but that's how I felt about it. With helpful winds most days, moderate mileage, and no-turns routing, the first few days were just not very challenging at all, either mentally or physically.
I think it says it all that my favorite day was the most difficult — the 85-mile day through winding, hilly roads with a wicked crosswind. And my second-favorite days was the next-to-last day, with lotsa hills and turns.
I'm sure many people (most, probably) appreciated the low degree-of-difficulty, but I was kind of disappointed. Not that I wanted the full-on headwind-fest that was BAK 2006, but I would have liked a little more challenge.
Still, all-in-all it was a good tour. The scenery was great, food was great, people were great, and I enjoyed camping out for 8 nights straight.
I wouldn't mind doing BAK again — there's still plenty of Kansas I haven't seen!
And finally, thanks for David Wiebe for this photo he took of me somewhere along the route: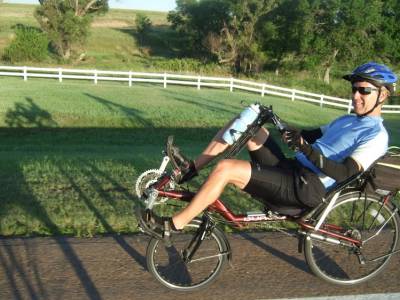 You can see more of his photos from the tour here and here.
Post tags: Biking Across Kansas, RecumBum