This is an account of my participation in the 2006 edition of Biking Across Kansas. It was originally published on my personal blog, and is republished here because that old blog has been retired, and I'm hopeful that the ride report may be useful or interesting for people contemplating (or remembering) BAK.
These were originally published as separate posts, but have been consolidated into a single post for this site. Also, note that at the time of this tour, I wasn't really taking that many photos, so this is text-heavy, and you'll need to use your imagination…
BAK 2006 Introduction
I first heard about the Biking Across Kansas (BAK) tour when I was researching Kansas bicycle shops, back when I was looking for my first recumbent, and remember thinking that it was something I might want to try some day, even if I couldn't quite imagine myself being able to ride all the way across the state of Kansas.
But nearly two years later, I chose BAK as my first organized tour. It still seemed a little far-fetched, but I could finally see myself doing it. For 2006, the route was across the southern portion of the state, starting in Johnson City and ending in Mulberry, for a total of 485 miles.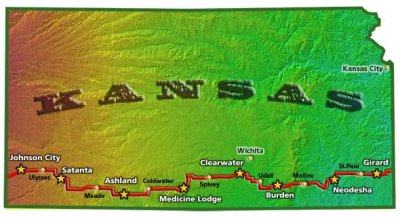 BAK 2006 Route Map
I chose to do a supported tour rather than a self-contained tour, because I wasn't entirely sure what I was getting myself into, and having someone else deal with the logistics of planning the tour, arranging for places to eat and to stay, and handling the gear, gave me many fewer things to worry about. All I had to do was get myself and my bike and gear ready.
It was January when I made the decision, and February when I signed up. Over the next three months I put in a lot of training (over 1200 miles), and procured the equipment necessary for my first bicycle trip.
It was an exciting time, and I was nervous in the weeks and days leading up to the trip. I knew I was ready physically, but it was simply the fear of the unknown.
The subsequent posts contain my journal for BAK 2006. This is more for my own recollection than for public consumption, but I'm hoping that someone else may find this interesting and perhaps useful as well.
BAK 2006 Preparation
I prepared for BAK for months, both in terms of riding and in deciding what I needed to bring. Since this was my first tour, I really didn't know what I was doing, but I'd been reading others tour notes and packing lists, and I finally put together my own. Here's my list:
Camping Gear:
I ordered a sleeping pad mailorder, and didn't get what I expected. The description on the web site was not real clear. I thought I was getting a self-inflating pad. but it was just foam, and didn't roll up very small. I ended up sending it back for a refund, and driving to a local Cabella's and purchasing their 72″ x 20″ x 1.5″ self-inflating pad (XPG Ultralight Sleeping Pad, Regular). It's not really very self-inflating, but it's light (1 lb. 12 oz.), packs small, and seems reasonably comfortable.
I had a bit of trouble deciding whether to take a sleeping bag or not. My bag is fairly light and small, but I didn't think I needed the insulation, though the extra padding may be nice. I ended up taking two fleece blankets, a large one (72″ x 58″) and a smaller one. These are a bit lighter and less bulky than the bag. They won't provide any additional cushioning, but are more flexible than the bag.
I decided to use my old dome tent. This is a very old tent, probably at least 20 to 25 years old. But it's still functional. I set it up in the yard at home, and all seemed well. The only problem I found was that the elastic in the rainfly straps is brittle and broken, but I decided that it should still work OK. Setup seemed harder than it should be, with three rods that need to be threaded thru pockets on the outside of the tent. Perhaps a newer tent would be lighter, or easier to set up, but this one was sufficient for this trip.
For a pillow, I bought one of those squishy microbead pillows. It's very formable, and reasonably light. It's actually made with a strap on the back – intended as a travel pillow for car seats – but it serves two purposes for me. I can use it as a sleep pillow, and can also use it as a lumbar support pillow on the bike.
I bought an Energizer head-mount lamp for use around the campsite. It offers several modes – beam, flood, beam + flood, and red lamp. It also features an adjustable angle, and I think it will work well for reading.
Alarm clock (Timex travel)
Bike & Gear:
1 Sun EZ-Sport recumbent bicycle (w/accessories attached)
1 helmet
1 eyeglass mirror
1 spare 20″ tube
1 spare 26″ tube
1 tube patch kit
1 set tire tools
1 15mm pedal wrench
1 bicycle toolkit (multitool, etc.)
1 trash bag to cover seat at night
Clothing & Personal:
3 pair of riding shorts
1 jersey
3 short-sleeve wicking t-shirts
1 long-sleeve wicking shirt
3 pairs socks
1 pair riding gloves
1 pair riding sandals (Lake SPD)
1 pair off-bike sandals (cheap Walmart)
1 pair off-bike shorts (doubles as swimming trunks)
1 rain jacket (O2 Rainwear hooded jacket)
1 MSR Packtowl UltraLite, large
1 set earplugs
1 pair eyeglasses, 1 pair sunglasses
1 bottle ibuprofen
1 lip balm
1 MP3 player w/earbuds
1 portfolio w/paper & pen
1 travel wallet w/credit card, ID, insurance card, cash
Toiletries (toothbrush, toothpaste, razor, shampoo, etc.)
Misc energy bars
I packed all this into two duffel bags. One weighed 18.4 pounds, the other weighed 17.4 pounds. Together they were 36.8 pounds, just under our 40 pound weight limit. This weight included some stuff that would ultimately be carried on the bike (bike bag, tubes, tools, rain jacket, gloves, helmet, etc.).
BAK 2006 Day #0
June 9, 2006 – It's the day before the official BAK start, and I had trouble sleeping last night – nervous anticipation, I suppose. Going over everything in my mind, hoping I hadn't overlooked anything in my packing or preparation. I had to get up at 4:30 in the morning to be in Lenexa by 6:00 to check in and load my bike on the truck and my bags on the bus.
To pack the bikes as tightly as possible in the trucks, the organizers required pedals be removed. I wasn't sure how to take off the pedals, so I'd taken the bike to a local shop yesterday and had them show me. (For future reference, pedals tighten in the direction the pedals are used – at the top of the revolution, the pedals are moving toward the front of the bike. Therefore, to remove the pedals, they are loosened the opposite way. Looking at the left pedal, the wrench turns clockwise to loosen, counter-clockwise to tighten. Looking at the right pedal, the wrench turns counter-clockwise to loosen, clockwise to tighten.)
The buses left Lenexa at about 7am, with two nearly full buses and two moving trucks to carry the bikes. We stopped in Lawrence, Topeka, and Manhattan to pick people up. There was an early lunch in Salina, then a long ride to the edge of Kansas. We stopped in Dodge City to stretch our legs and restock with drinks and snacks, then arrived in Johnson City at about 4:45pm.
After registering, I had a choice of sleeping indoors or outdoors. I chose to set up my tent, figuring it'd be easier to sleep away from others. It was hot at that time, but soon clouded up. Our bikes didn't arrive until some time later — too late to make a run for the border. So I put my pedals back on and headed downtown for a very good all-you-can eat buffet at a local restaurant. Brisket, ribs, sausage and sides for $8 – a good deal and good food. I resisted the urge to stuff myself.
I turned in at around 9:00. It was quite windy, and even rained a bit during the night. Luckily, I had set up my tent so that the door was away from the wind, so I could keep the door open, but not get wet. It did get quite cool during the night, and I was glad I'd brought an extra blanket. Probably should have brought the sleeping bag. I did have to close up the tent door once to prevent sprinkles from blowing in.
BAK 2006 Day #1: Johnson City to Satanta
Saturday, June 10, 2006 – The wind was still blowing when I awoke. I'd planned on a late start, since it was a short day, but I ended up awakening at around 6:00. Surprisingly, a lot of my fellow campers were already packed and gone.
I'd decided to skip the ride to the Colorado border and back. I didn't want to start with an 80+ mile day. Plus the wind was blowing from the west, so the ride to the border would have been tough.
Breakfast was fruit, biscuits and gravy, and coffee in the school cafeteria. It wasn't very good, really, but it was something.
I got away around 7:00, and with a brisk tailwind, made great time, arriving in Ulysses (our scheduled lunch stop) at around 9:00. Stopped at the McDonalds and had a McGriddle (which was actually quite good), then sailed on to Satanta, arriving around 11-something.
There were several great SAGs along the way, and a stand serving shaved ice by the school in Satanta. It wasn't Hawaiian shave ice, but cool and refreshing nonetheless.
After helping to unload the truck, and setting up my tent, I went for a shower. The showers were interesting. It was the first time I'd shared a communal shower since high school – 25 years ago or so. Seeing all that naked and wrinkled man-flesh was quite a shock for the system…
I spent the afternoon cruising around the town, ending up with a snack and a cold drink in the park. By that time it was quite hot, but very comfortable under the shade trees.
A cool start, nice tailwind, and short day made this a great start to the trip!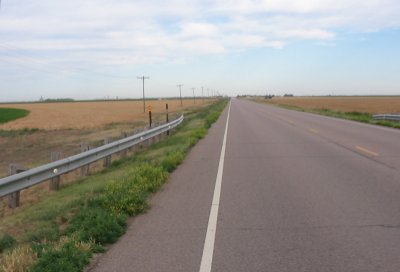 The Road Leaving Johnson City – Straight and Flat
BAK 2006 Day #2: Satanta to Ashland
Sunday, June 11, 2006 – As easy as yesterday was, today was just as hard. During the night the wind picked up, hard, from the northeast. I was up at about 5:15am, breakfast at 5:30 (some really nasty egg casserole), and on the road by 6:00.
I'm not sure how hard the wind was blowing, but it was simply brutal. (Towards evening it was reported to be 20-25 MPH, and morning had been just as strong.) It seemed like most of the day – 90% of the time, at least – heading directly into the wind, which had swung around to due east by mid-morning. It was slow going, and I seldom left my small chainring. Even going downhill took an effort – I actually lost speed if I attempted to coast downhill.
Lunch at Meade was excellent – a huge variety of food, including hamburgers, salads, and fruit for only $5.
By afternoon it was hot (high nineties, at least), and the relentless headwind never let up for an instant. By the time I reached the overnight stop, I'd been on the road for 12 hours – eight and a half hours riding. The total distance for the day was 84 miles.
It was my longest day on the bike, by far, and probably the most physically challenging thing I've ever done.
The surprising thing was that I actually felt pretty good at the end of the day. I was tired, of course, my back wasn't bothering me, my feet weren't too bad, and my legs weren't terribly tired. I think I could have done 100 if I wanted to, but really didn't see the point. The only problem was a painful right knee, which started bothering me about half way through the day. I took some ibuprofen and just kept cycling. It hurt, but was bearable.
All in all, it was a very tough day, but my sense of accomplishment at the end of the day was very strong, and I was very encouraged about the rest of the trip.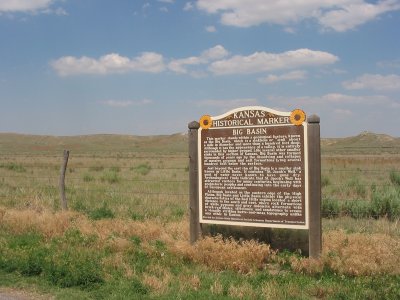 Kansas Historical Marker: Big Basin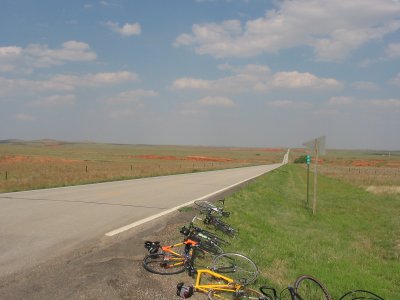 The Red Hills, West of Ashland
BAK 2006 Day #3: Ashland to Medicine Lodge
Monday, June 12, 2006 – I was up again at 5:00 and only the road by 6:00 or so. There was still a headwind to contend with, though slightly gentler than yesterday. The temperature was also a bit milder, topping out in the low nineties. Those two changes, along with a slightly shorter route (73.11 miles, 7:32:12 time, total time 11 hours), made for a somewhat easier day.
My knee was still giving me problems off and on all day, worse towards then end, but was manageable with ibuprofen. Today was pretty hilly, with a route through the Gypsum Hills, a region which offered spectacular scenery in places. Small mesas made the land look like the desert southwest.
Lunch in Coldwater was at a restored old-time movie theater, which was pretty neat. Dinner was at the school in Medicine Lodge. It was OK, but nothin special.
I was able to hang with a couple of pacelines today, which helped a lot. The wind switched to the south for an hour or so after lunch, which was also a relief.
All in all, a good day. Just hope my knee holds up for the rest of the trip.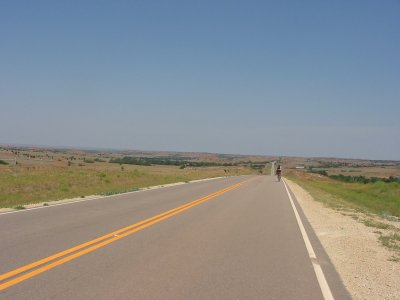 Gypsum Hills, West of Medicine Lodge
BAK 2006 Day #4: Medicine Lodge to Clearwater
Tuesday, June 13, 2006 – Today was a much nicer day than the last two – a bit longer than yesterday, but cooler, with less wind. There were a few hills, but they didn't feel too severe. The total for the day was 78.34 miles, 6:53:13 ride time, with an 11.8 average.
Lunch in Zelda was very good – burgers, fruit, and cookies. The fresh pineapple was especially welcome.
I don't know what the weather holds for tomorrow, but the topo makes it look pretty hilly. Tomorrows the first day we actually end up at a higher elevation than we start.
The knee was hurting quite a bit at the start of the day, but the pain lessened within a few miles, and didn't bother me much the rest of the day. I doubt that it's actually better, more likely just dulled by the medication. I did feel some fatigue in the legs today. I think I may have tried to draft off too fast a group mid-morning. Either that or the miles are just catching up to me.
The overnight was in Clearwater, just south of Wichita, and the town offered BAK a great reception, with the main street blocked off, live music, special deals from local merchants, and lots of booths featuring food, desert, and drinks. I had ice cream early, then grilled chicken and blueberry pie later. I had a chance to use a computer at the library, then enjoyed a local bluegrass band performing.
Clearwater offered the best welcome of any town so far.
BAK 2006 Day #5: Clearwater to Burden
Wednesday, June 14, 2006 – Left Clearwater around 6:00 and arrived in Burden a little after noon. The total was 58.47 miles, 5:03:56 ride time, and an 11.5 average.
The day started cool, with a very mild wind, and the early-going was very easy and fast over flat farm country. Lunch was at Udall, after which the route turned south into a stiff wind. The southerly with was active the rest of the way, though thankfully the route turned east and then north, though the terrain became hillier.
I arrived in Burden just in time to help unload the last of the bags from the trucks. This time I got a prime tent site on the east side of the school building. It was in sun as I set up, but was in shade by the time I settled in for an afternoon nap.
Burden, like Clearwater, offered BAK a fine welcome, with a blocked off main street, a free swimming pool, and live music. It's a smaller town, so it didn't offer quite as many choices for food and entertainment. But, they did offer a beer garden at the city park!
The knee was still barking at me today, but was kept in check with pills, and didn't affect me too much. My leg fatigue was still present. Even though this was a short day, I was pretty beat by the end. Tomorrow's longer, and the wind is supposed to pick up again.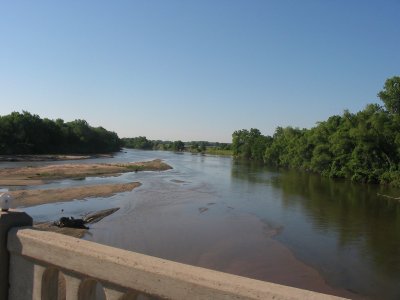 Crossing the Arkansas River
BAK 2006 Day #6: Burden to Neodesha
Thursday, June 15, 2006 – Up at 5:00 or so again, tore down the tent, packed away the bags, and went to the school cafeteria for breakfast – egg and cheese biscuits. Unfortunately, I could only eat a few bites. I don't think the food was actually that bad, but I found it disgusting. That was a bad sign.
On the road, the morning started cool with little wind. The land was flat to gently rolling, and progress was quick and smooth, but by lunch I knew that I was done. I could only eat a few bites of the sandwich I bought, and had to make two trips to the restroom for diarrhea. I lay on the grass in the shade and rested, but it wasn't getting any better.
Eventually, I ended up hitching a ride with a private SAG, who took me to the next SAG, with one stop along the way for a vomit break (yuck). After purging, I was feeling well enough to consider riding on from there, but common sense prevailed, and I caught another SAG ride on into Neodesha. Things were a little confused at the high school, and I had to ride my bike another three blocks to get my bags at the elementary school.
By this time I was tired again, and set up my sleeping bag in a hallway of the school. It was crowded and noisy, but cool. I slept for an hour or so, wakening to people discussing a virus that was going around. I heard that the county had set up a mobile health center at the high school, and thought that perhaps I should check that out.
I walked up to the high school and found an RV-style vehicle containing the health care people. I checked myself in, and they checked my vitals and asked a bunch of questions. By this time I was feeling relatively good, so they let me go, but advised me to move out of the school and pitch my tent in an area they'd set aside for sickies.
I had to walk back to the elementary school, deflate my sleeping pad, pack my bags, and load them back onto the bike, and push the bike and bags three blocks to the park. Once there, I found a spot and set up the tent, but didn't have the strength to blow up the sleeping pad. I just unrolled it and lay down to rest for awhile.
After a bit, I wasn't feeling any better, so decided to go back to the mobile health van. I didn't make it.
I ended up puking just a few hundred feet from my tent, near a utility pole. I went back to the tent to rinse my mouth out with water and was approached by some men who had noticed me being sick, and suggested I accompany them to their ambulance and get checked out. Seems I'd been sick in front of some firemen and EMT personnel. I had my blood pressure, pulse and temperature taken, and was told that I appeared to be dehydrated, and should probably go to the hospital to be checked out. I could have refused, but decided to take their advice. I was set up with an IV drip, taken to Wilson County Hospital, and parked in a room with another BAK rider.
I stayed there until about 10pm when they released me. The nurses told me they'd probably hold me overnight, but the doctor turned me loose. I probably should have stayed, but I think they needed more space for the additional BAK riders coming in. It was just a small rural hospital, after all, and appeared to be a bit overwhelmed.
Someone took me back to the park and I bedded down for the night. Luckily my tent was already set up, so all I had to do was blow up my sleeping pad and settle in.
The night didn't go well. I had to get up several times during the night for a restroom run, and I'm pretty sure there was some fever as well. I don't think I slept much.
The next morning I was feeling sort of OK, but still didn't feel capable of eating anything. I was able to pack up the tent without incident, and went back to the school to wait for my wife, who'd been called by the hospital the previous evening. She showed up shortly, and ferried me and the bike back home. I spent the rest of the day sleeping and recovering, and was able to eat a bit by that evening.
The Kansas Department of Health later released a report that identified the illness as Norovirus, and found that at least 126 BAK participants (out of 847 total) experienced at least some of the symptoms.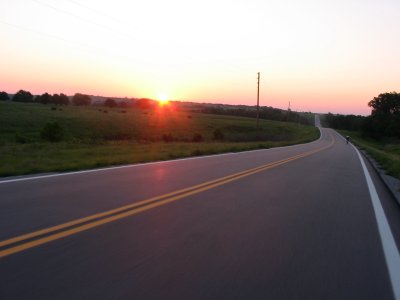 Sunrise Leaving Burden
BAK 2006 Wrap-Up
So what did I learn from my Biking Across Kansas 2006? Even though I didn't make it all the way across the state, succumbing to illness after 385 miles (of 485 total), I count my first tour a success. I had fun, even though I got sick, and I proved to myself I could do it.
Some things to remember for my next trip:
Be careful of personal hygiene! Wash hands and avoid eating food that other riders may have touched.
Take more pictures! I took far too few on this trip, and many of the ones I did take didn't turn out so well. Take time to compose a picture, and review it to make sure it's OK before moving on. With a digital camera, a picture costs almost nothing to take, but if you miss the chance, that opportunity is gone forever.
Take it easy. It's not a race.
Spin. Tackle the hills and headwind with a high cadence.
If the going gets too tough, don't be too proud to join a pace line. It can really help with headwinds.
The blankets in lieu of a sleeping bag worked out OK, but I still think a sleeping bag would have been a better choice, regardless of the extra bulk.
A new tent would be a good investment. My old one, which still functional, is about done for. I'm not sure how it would have performed in rain, and the wind was nearly too much for it. Also, a new tent would be easier to put up and tear down, and likely pack smaller. Also, a ground cloth for the tent is worth purchasing.
I didn't grossly overpack, but still ended up with more clothing than I really needed.
Take more time to keep the journal. My notes were minimal at best.
Get to know more people. I did some of this, but certainly missed the opportunity to do more.
Be sure to eat well. Riding for 8-10 hours burns several thousand calories more than normal, and it actually takes a lot of food to refuel.
So am I ready to do it again? You bet!
Post tags: Biking Across Kansas, RecumBum