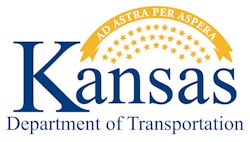 The Kansas Department of Transportation is hosting a series of public meetings around the state this fall, to discuss transportation projects and priorities.
According to KDOT:
A series of regional meetings that give Kansans the opportunity to discuss their transportation priorities with the Kansas Department of Transportation and the Kansas Turnpike Authority have been scheduled for this fall.

The eight local consultation meetings, which begin Sept. 24 in Kansas City, will include regional discussions on highway and other modal needs, including rail, aviation, transit and bike/pedestrian.

"We are looking for common goals at the state and regional level," said Kansas Department of Transportation Secretary Mike King. "It's important that we get feedback from communities as well as explain how the current transportation plan, T-WORKS is going."

This year for the first time there will be the chance to pre-register and express any particular transportation topic that participants would like to discuss. Pre-registration is available at www.ksdot.org or here: pre-registration survey.
Here is the schedule of public meetings:
September 24th 9-noon, Kansas City
The Hilton
520 Minnesota Ave.
Kansas City, KS
September 29th 9-noon, Garden City
Clarion
1911 E. Kansas Ave.
Garden City, KS
September 30th 9-noon, Hutchinson
The Ramada
1400 N. Lorriane
Hutchinson, KS
October 1st 9-noon, Wichita
WSU Eugene M. Hughes Metropolitan Complex
5015 E. 29th Street North
Wichita, KS
October 6th 1-4 p.m. Chanute
KDOT Complex
411 W. Fourteenth
Chanute, KS
October 7th 9-noon, Topeka
KDOT
Eisenhower State Office Building
700 SW Harrison
Topeka, KS
October 14th 9-noon, Hays
KHP Conference Room
1821 W. Frontier Rd.
Hays, KS
October 15th 9-noon, Salina
KHP Training Center
2025 E. Iron Avenue
Salina, KS
These meetings are an important opportunity for citizens to speak up and tell KDOT about their transportation priorities. Topics you might consider discussing include:
Bicyclist safety along and across federal, state, and local roadways (e.g. bike-friendly shoulders)
Bridge safety for bicycle traffic
Bicyclist and pedestrian safety along state routes within Kansas municipalities
Support for the U.S. Bicycle Route System in Kansas
Signage and motorist education for the 3-Foot Passing Law
Status of the Kansas Bicycle and Pedestrian Transportation Plan update and implementation
Status of efforts to build trails along Kansas byways and along historic trail routes, as recommended by the Travel Industry Association of Kansas
Of course, feel free to bring up any local issues within your community or region.