With winter now in full force, and temperatures regularly in the sub-freezing or single-digit ranges, it's a good time to revisit the topic of bicycling through winter.
Like many, I try to keep riding all year long, no matter the weather. It's not always easy, but I've found that it's usually possible to stay reasonably comfortable.
Before I detail my own strategies, I wanted to share an article, published in the March 3, 1897 edition of the Coffeyville Daily Journal, which shows that people have been riding bicycles in winter as long as there have been bikes:
Wheeling in Winter 1897

Some Simple Precautions That Should Be Observed Strictly.

Heretofore the majority of cyclists have laid their wheels "on the shelf" as soon as the autumn winds commenced to blow, but from present indications it is evident that it will be a common sight to see numbers of cyclists of both sexes taking a spin over the packed snow or ice throughout the winter. If one is properly fortified against the winds he finds that in no season is cy-cling so exhilarating as in the winter.

"Provided we adhere to the laws of nature," said a prominent physician the other day, "I see no reason why the riding season should end with the fail. The winters of late have been very open. with but little snow, and the roads nave been such as to allow of wheeling nearly the entire winter. But those who ride during the winter months must exercise a bit of caution and be particular to dress in windproof costumes, which will be properly ventilated and at the same time be of sufficient warmth. The most important thing to bear in mind is to keep in motion while out of doors, and in no case should a person stand still in the open air after exercising unless one is suicidally bent.

"A heavy chest protector, covering the back as well as the chest, is almost indispensable, particularly on windy days. A newspaper buttoned under the vest will be found very comfortable but not heavy and will keep the wind away from one's person, at the same time retaining the natural heat of the body."

There have recently been manufactured several articles of apparel designed expressly for the cyclists' comfort during the winter months. A western firm is advertising garments of a texture which is said to be wind proof. They make up skirts, coats and chest protectors.

Innumerable complaints of cold hands were made by last winter's riders, and indeed this has been one of the chief objections to winter riding. The cold steel of the handle bars and the lack of circulation in the hands caused many a cold finger. A heavy, tight-fitting wristlet worn with a glove that will reach well over the coat sleeve, will remedy the evil. A sort of mitten of heavy felt covered with leather has lately been devised. It is about 15 inches in length and reaches over the coat sleeve well up to the elbow; a hole is cut in the lower end, which allows the mit to fit over the cork grip, encasing the hand very warmly.

Hoods, ear mufflers, or such a head covering as that used by skaters, while perhaps not particularly handsome, will be quite comfortable, and if one wishes to be fully equipped he can get a felt gaiter which will pull up over the entire shoe. A loose-fitting shoe is preferable; as it gives the freest ventilation.
Most of the advice in that piece should sound familiar — principally, protect yourself from wind chill and provide a way for sweat to evaporate.
It's very interesting to note the "sort of mitten of heavy felt covered with leather" as a remedy for cold hands — that sounds an awful lot like the modern "pogie".
My Advice/Recommendations/Strategies
Here's what I wear, top to bottom:
Head: A fleece skullcap usually does the trick for me, sometimes with an extra headband to provide an additional layer over the ears. A helmet can help to retain some warmth as well.
Eyes: Some sort of eye protection is critical. I usually just wear the same sort of sunglasses I wear during the summer, with a lens color appropriate for the conditions — dark for sunny days, amber/rose for cloudy days, clear for night. If it's really frigid, I'll wear ski goggles, otherwise tears can be a problem.
Neck: I usually wear a neck gaiter, a simple fleece tube that slips over the head and provides protection from wind. If particularly brutal, I can pull it up to cover my chin and ears. A balaclava can also work well.
Torso: A lot of variability here, depending on conditions. I usually start with a wool or polypro base layer. If it's above freezing and not too windy, top that with thick fleece. If it's coder and/or windier, top the base layer with a thin fleece or wool, then heavier fleece. For the coldest conditions, use a heavier jacket or a windproof layer. Ideally, the outer layer(s) need to be fully zippered so you can vent as needed.
Hands: I have the most trouble with my hands, and what I've found works best is pogies. As suggested in the 1897 article, there are two ways your hands get cold — heat loss through air exposure, and heat loss through conduction to cold handlebars. The pogies (I use Bar Mitts for drop bars, and ATV Handlebar Mitts for flat bars) provide two benefits — they block the wind, and they create a pocket of air that your hands can keep warm. For conduction loss, gloves are still required to provide insulation between the bar and your hands; some types of grips may be warmer than others as well. If not using pogies, then I'll wear liner gloves covered by heavier winter gloves.
Legs: I'm still a fan of the BDU pants, with thin running tights for coldest conditions.
Feet: I have two strategies here. If I'm doing a fast-paced road ride, I'll use regular SPD shoes and 2 or 3 layers of wool socks (thin to thick). I purchased a pair of used shoes, one size too big, and added duct tape inside to block off the vents. If I'm doing a "normal" ride, I'll wear a pair of waterproof insulated hiking boots over wool socks, and use flat pedals.
As for other equipment, it's not all that different from the rest of the year. When the roads are clear, I'll ride my road bike with normal tires. For "bad weather", I ride either my mountain bike with its regular tires (for trail rides), or my touring bike with knobby "mountain bike" tires (for snow-covered roads). I avoid ice if at all possible.
Obviously, snow can be slick, particularly loose snow over ice, packed snow that's turned into glare ice after exposure to sunlight, and partially-melted packed snow. The only advice I have is to pay the utmost attention to conditions (including nearby motor vehicle traffic), keep your speed in check, and avoid sharp turns or hard braking. I find flat pedals helpful, as they give you a chance to catch yourself if traction gets sketchy.
Of course, use lights, as required by law, if riding in darkness. In low visibility conditions, bright colors (yellow, orange, or red) can help make you more visible to other traffic. Be aware that batteries may not last as long in cold temperatures.
One very important consideration (this applies all year, but especially in extreme weather) is to have a bail-out plan. If you have a mechanical problem miles away from home, in extreme temperatures, it's more than just an inconvenience, it can be life-threatening. Have someone you can call, plan your route with frequent stops in towns, or be prepared to walk to the nearest farmhouse to ask for help.
Bicycling in winter can be fun and safe, and the world can be stunningly beautiful with a fresh snowfall muffling sounds and making even familiar surroundings seem new and different. As always, your bike can handle it, your body can probably handle it, but it's your mind that holds you back. Just layering up and getting moving is the hardest part. Once you're out there, you'll find it's probably not as bad as you feared. And if it is, well, turn around, head home, and try again. Embrace the adventure that is winter biking!
A few of my favorite snow-biking photos: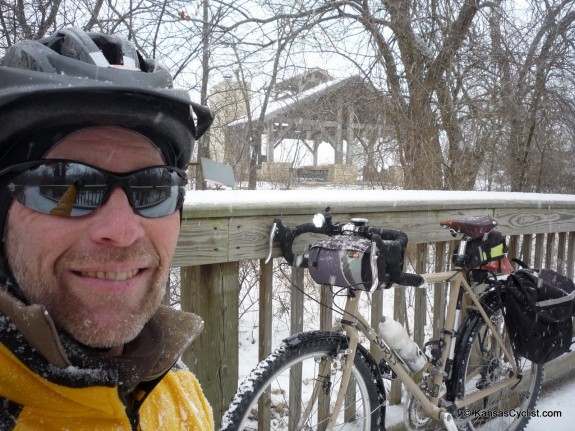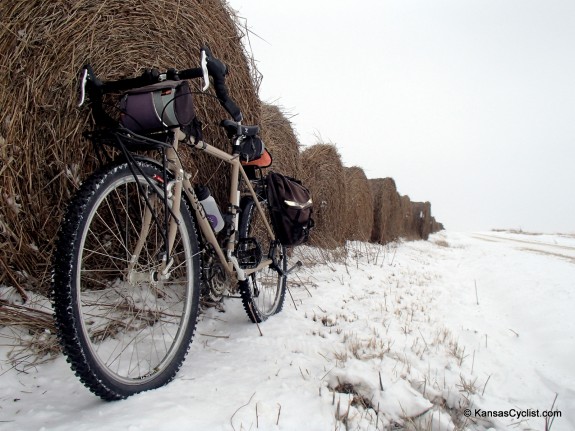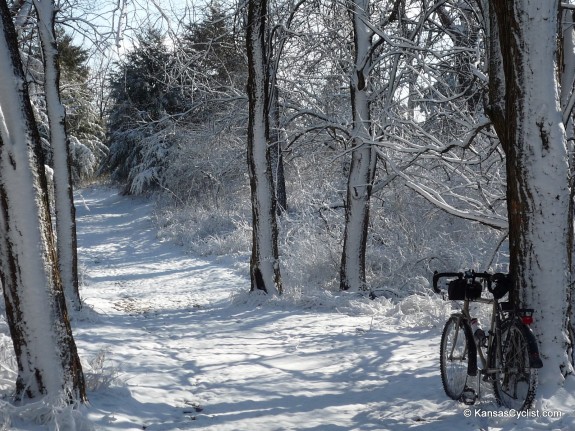 You'll note that all of these photos are of my Long Haul Trucker touring bike, with knobby MTB tires. These photos were taken before I purchased my pogies, so I would have been wearing heaving winter gloves. That works!
Other Winter Bicycling Guides
There are lots of winter bicycling guides and tip collections — just try a few web searches, and you'll turn up plenty of opinions — but here are a few guides I've found particularly helpful:
Post tags: history