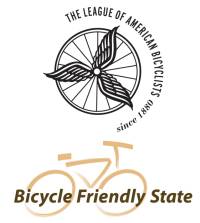 The 2015 edition of the League of American Bicyclists Bicycle Friendly State rankings has Kansas at #48:
The state's report card gives Kansas a score of only 19 out of 100. While Kansas does have a 3-foot passing law, an advocacy group, and a Share The Road campaign, it lacks many other critical elements of bicycle friendliness, including a state Complete Streets Policy, dedicated state funding for bicycling, an up-to-date Bicycle Plan, and a Vulnerable User Law. Those deficiencies are reflected in the dismal rate of commuting by bike (less than 1%).
In 2008, Kansas was ranked #25. In 2009, we dropped to #33. In 2010, we jumped way up to #13. In 2011, we slipped to #23. 2012 saw a big drop to #34. In 2013 well fell again, to #40. In 2014, Kansas was at #46. Now #48.
How Are Our Neighbors Doing?
Yep, Kansas is ranked the least bike-friendly state in the region, though Oklahoma and Nebraska are right there with us, maintaining a huge swath of suckage in the heartland.
Bleh.
See also: 2015 Bicycle Friendly State Rankings
Post tags: Bicycle Friendly