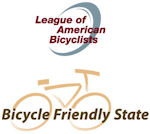 The League of American Bicyclists has just released the 2012 edition of their Bicycle Friendly State rankings, and Kansas has dropped from #23 to #34, a discouraging slide from just two years ago, when Kansas was ranked #13 in the nation.
Here's how the League graded the state:
Legislation and Enforcement: 3
Policies and Programs: 2
Infrastructure and Funding: 2
Education & Encouragement: 3
Evaluation & Planning: 2
All grades are on a 5-point scale (1=low, 5=high).
In 2008, Kansas was ranked #25. In 2009, we dropped to #33. In 2010, we jumped way up to #13. In 2011, we slipped to #23. Now we're back at #34. That's not an encouraging trend…
But does it say more about how what's happened in Kansas, or about what's happening elsewhere around the nation?
On the positive side, over the last few years Kansas has launched a statewide advocacy organization (KanBikeWalk), implemented a safe-passing law, added a dead red law, and strengthened the hit-and-run law. Earlier this year, the Kansas Senate passed a Livable Streets Resolution (though it does not actually commit the state to implement anything concrete).
Kansas has added several bicycle friendly businesses and increased the number of bicycle friendly communities (from 2 to 3).
So progress has been made.
But we have no silver, gold, or platinum-level bicycle friendly communities, and the number of bicycle friendly businesses is still quite small. None of our colleges have made the Bicycle Friendly University list. And most of our largest cities remain ambivalent towards bicycle transportation.
Facility-wise, Kansas has added a few miles of bike lanes, and the trail network continues to grow (largely due to the initiative of private organizations, and in spite of government resistance). But streets, roads, and highways are still routinely built with little consideration given to non-motorized transportation.
The LAB's Kansas BFS Report Card offers these suggestions for improvement:
Develop a Police Officer Standards and Training (POST) curriculum for bicycling enforcement both for new officers and continuing education –- focus on laws related to bicyclists, interactions between motorists and bicyclists, and bicycle collision investigation.
Adopt statewide National Complete Streets Policies. The National Complete Streets Coalition has a model state policy and a variety of other resources to ensure adoption and implementation.
Adopt federal funding project rating criteria that incentivize bicycle projects and accommodations. The state is spending a low amount, less than 1.18 percent, of federal funding on bicyclists and pedestrians.
Hold a bicycle ride sponsored by the Governor and/or legislators to show their constituents that their elected officials support bicycling.
Update the statewide bicycle plan that addresses each of the five "Es", has clear implementation actions, and performance metrics to gauge success.
This quote from Andy Clarke, president of the League of American Bicyclists, says it pretty well: "There's much work to be done in critical areas like infrastructure and funding. Overall, we see states — and especially state Departments of Transportation and state legislatures — lagging behind cities and the expectations of local cyclists, despite the many well-documented benefits of a more active lifestyle."
Bike Friendly States In Our Region
Here's what happened with the Bike Friendly States rankings in nearby states:
Arkansas: #50 (#48 in 2011)
Colorado: #4 (#12 in 2011)
Iowa: #16 (#6 in 2011)
Missouri: #28 (#26 in 2011)
Nebraska: #43 (#45 in 2011)
Oklahoma: #35 (#43 in 2011)
So, our neighbors went up (CO, NE, & OK) and down (AR, IA, and MO). The region as a whole dropped slighted (from a #29 average to a #30 average).
See also: 2012 State Rankings Released, 2012 state grades by category.
Post tags: Bicycle Friendly, NewsBlog