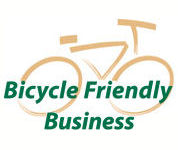 The League of American Bicyclists has released their latest Bicycle Friendly Business (BFB) list, and two Kansas businesses made the grade!
Big Poppi Bicycle Company in Manhattan, Kansas was awarded the Bronze level certification.
The City of Leawood City Hall earned an Honorable Mention.
Congratulations, and well done!
These two businesses join previous Kansas Bicycle Friendly Businesses:
Other businesses in our region that received awards in this cycle include:
Left Hand Brewing Company, Longmont, CO — Bronze
REI Boulder, Boulder, CO — Bronze
Rockwell Collins, Cedar Rapids, IA — Bronze
Bike Stop Bicycle Stores, Lee's Summit, MO — Bronze
SWT Design, Inc., St. Louis, MO — Honorable Mention
Cycle Works, Lincoln, NE — Silver
Pepe's Bistro, Lincoln, NE — Silver
The Bike Rack, Omaha, NE — Silver
University of Nebraska, Lincoln, NE — Silver
Union Bank & Trust Company, Lincoln, NE — Honorable Mention
No businesses in Arkansas or Oklahoma made the cut this time.
For more information, you can view the full Spring 2012 Bicycle Friendly Business List, or see the master list of previous certifications.
Bicycle-friendly businesses "encourage a more bicycle friendly atmosphere for employees and customers." Being bicycle-friendly is not only good for people, but good for business as well!
If you own, work at, or are aware of, a bicycle-friendly business that has not yet been officially recognized, check out details of the Bicycle Friendly Business program. The program provides technical assistance and information to help companies and organizations become even better for bicyclists.
Incidentally, I was also gratified to learn that my web host, Pair Networks (located in Pittsburg, PA), was certified as a Bronze-level Bicycle-Friendly Business. I've used these folks as my web hosts for years. They offer reliable performance, solid service, and fair pricing. Highly recommended.
Post tags: Bicycle Friendly, Leawood, Manhattan