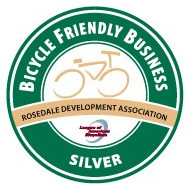 The League of American Bicyclists has released their latest Bicycle Friendly Business (BFB) list, and another Kansas business has made the grade!
Rosedale Development Association, which is a not-for-profit community development corporation serving the Rosedale area of Kansas City, Kansas, is the first business in Kansas to earn the "silver" level Bicycle Friendly Business designation.
The Rosedale Development Association's mission is to "work in partnership with residents, businesses, and institutions to build a strong and healthy community and to improve the quality of life for those who live, work, and play in Rosedale."
The Rosedale Development Association is not only the first silver recipient, but they are also the first non-profit in the state to be designated.
Other Bicycle Friendly Businesses in Kansas include:
Other businesses in our region that received awards in this cycle include:
REI Fort Collins, Fort Collins, CO — Gold
RDG Planning & Design, Omaha, NE — Gold
Big Shot Bikes, Fort Collins, IA — Silver
Hottman Law Office, Golden, CO — Silver
Mountain Bike Specialists, Durango, CO — Silver
REI Denver, Denver, CO — Silver
City of Colorado Springs, Colorado Springs, CO — Bronze
Xilinx, Longmont, CO — Bronze
Arkansas Blue Cross and Blue Shield, Little Rock, AR — Honorable Mention
Flat Tire Lounge, Madrid, IA — Honorable Mention
Garver, Fayetteville, AR — Honorable Mention
Waverly Health Center, Waverly, IA — Honorable Mention
No businesses in Missouri or Oklahoma made the cut this time.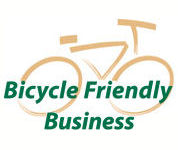 For more information, you can view the full Fall 2012 Bicycle Friendly Business List, or see the master list of previous certifications.
Bicycle-friendly businesses "encourage a more bicycle friendly atmosphere for employees and customers." Being bicycle-friendly is not only good for people, but good for business as well!
The Bicycle Friendly Business program awards designations at five levels: Bronze, Silver, Gold, Platinum, and Diamond (with Diamond being the most bicycle-friendly).
If you own, work at, or are aware of, a bicycle-friendly business that has not yet been officially recognized, check out details of the Bicycle Friendly Business program. The program provides technical assistance and information to help companies and organizations become even better for bicyclists.
Post tags: Bicycle Friendly, NewsBlog