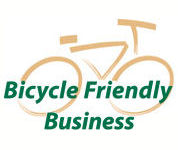 The League of American Bicyclists has released their latest Bicycle Friendly Business (BFB) list, and a Kansas business finally made the list!
Foth IE, located in Corporate Woods at 8717 West 110th Street, Overland Park, KS, earned the Bronze-level Bicycle Friendly Business designation.
Here's how they describe themselves:
Foth Infrastructure & Environment, LLC, offers a full range of strategic planning, consulting and engineering to governments and businesses. Our clients enjoy peace of mind as our solutions protect and restore water, land and air, keep people and products on the move and help communities effectively deliver necessary public services.
Foth Companies is headquartered in Green Bay, Wisconsin, and has offices in 18 locations in the United States. They offer "personalized consulting, engineering, manufacturing and installation solutions to government, industrial and commercial clients in the areas of infrastructure, environmental engineering and science, production solutions engineering and manufacturing." The Overland Park office is the only location to earn BFB designation.
In addition to Foth's bronze award, Kansas also had three Honorable Mentions: the City of Mission, the City of Shawnee, and Sprint Nextel in Overland Park.
Just across the state line, Family Bicycles and 360 Architecture in Kansas City, Missouri earned silver level BFB status. Also in KC, Mid-America Regional Council and UMB Bank received honorable mentions.
Thanks to RevolveKC for leading the effort to recruit Kansas City area businesses for the BFB program.
Other new regional awardees include:
Bike City Recyclery, Fayetteville, AR (Silver)
Garver, North Little Rock, AR (Silver)
Gearhead Outfitters, Jonesboro, AR (Silver)
City of Fayetteville, AR (Bronze)
Ecologic Design – Green Guru Gear, Boulder, CO (Silver)
In-Situ Inc., Boulder, CO (Bronze)
Loris and Associates, Lafayette, CO (Bronze)
Pearl Izumi, Louisville, CO (Bronze)
Big Shark Bicycle Company, St. Louis, MO (Silver)
Peckham & Wright Architects, Inc, Columbia, MO (Silver)
Urban Eats Cafe, St. Louis, MO (Bronze)
Walt's Bicycle, Fitness, and Wilderness Company, Columbia, MO (Bronze)
Boone County Lumber Co., Columbia, MO (Honorable Mention)
Daniel Boone Regional Library, Columbia, MO (Honorable Mention)
Trailnet, St. Louis, MO (Honorable Mention)
Tribune Publishing Co, Columbia, MO (Honorable Mention)
LandPlan Consultants, Tulsa, OK (Honorable Mention)
See also: Fall 2010 Bicycle Friendly Businesses Press Release, Complete List of Bicycle Friendly Businesses
Who will be the next Bicycle Friendly Business in Kansas? We'll have to wait for the next round of announcements (Spring 2011) to find out!
Post tags: Bicycle Friendly, Mission, Overland Park, Shawnee